The Last Man on Earth Season 2 Episode 5 Review: Crickets

Caralynn Lippo at . Updated at .
The jig is up! Todd is a no good, rotten, dirty bacon hoarder.
While it may not sound all that serious, in the post-apocalyptic earth of The Last Man on Earth, that crime is a locked-in-the-stockade-level of punishable offense.
The Last Man on Earth Season 2 Episode 5 dealt with Todd's secret, Carol's increasing tension with Erica over other-Phil, and Gail trying to convince Melissa to allow her to stitch up Melissa's gouged finger. It was a relatively amusing, standard episode (certainly not the greatest), but featured a legitimately heart-warming final scene.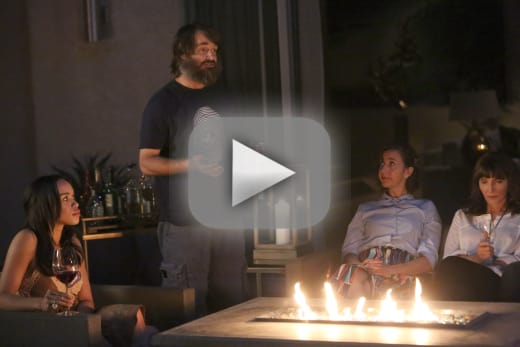 In the overall scheme of things, "Crickets" was actually important in the show's arc, specifically as it related to Phil's redemption.
After desperately trying to convince the other survivors that he'd changed as a person, Phil finally managed to get through to Todd. Of course, it took both of them getting locked in the stockades by the others, but in the end they did reconcile. Bromance back on!
Phil and Todd's bacon-eating adventures were the highlight of the episode, by a landslide. Everything from Phil's initial confrontation of Todd (those terribly awkward stomach caresses...) to the exuberant scenes of the two enjoying the bacon – it was all just perfection.
It's all taken care of! All the evidence is gone. If you took a bacon-sniffing dog out there, it wouldn't even notice. In fact, it'd probably take a nap because it was so bored.

Phil
Particularly noteworthy was the hair-blowing, religious choir music effect when Phil had his first bite of the bacon from Todd's stash, and the two men gorging on peanut butter-covered bacon strips.
Did anyone honestly expect Phil not to indulge in the bacon-y goodness stashed in that random house that, for some reason, hadn't been scoped out by the others?
Yeah, me neither.
Clearly, Phil has matured leaps and bounds since the early days of The Last Man on Earth Season 1, but if you try to tell me with a straight face that you would resist the call of bacon in the midst of a resource-wiped post-apocalpytic Earth, I will laugh in your face.
Will Forte does such a low-key, amazing job of portraying all of Phil Miller's nuances. A big theme so far this season is Phil's desperation for companionship, his fear of being ostracized. All he wanted was to get back in the good graces of the group.
That made the several moments early in "Crickets" where he tried to bond with Todd, only to be rebuffed by his former friend, all the more upsetting.
Thanks to Will Forte's portrayal, you just have to root for Phil in his redemption arc. 
Hands down the best scene was the cat's-out-of-the-bag reveal at the very end. Todd, being Todd, immediately confessed all when Melissa pressed him for the truth ("Surprise, surprise, fat guy ate the bacon"). Kudos to Phil for attempting to cover for Todd. That was another legitimately selfless moment on the Phil Miller Redemption Tour.
Also, just in general, Phil's dramatic, totally fictional reenactment of Todd standing up to him and insisting on sharing the bacon against Phil's orders. Loved the whole self-deprecating bit there in his speech.
So I pulled a gun on him. You guys know I do that from time to time.

Phil
Elsewhere, the building tension between Erica and Carol over Phil 2 reached its peak. Carol is such an intensely likeable person (thanks in no small part to Kristen Schaal's general hilarity and adorableness) that the whole Erica-is-a-jerk-to-her thing was making me really dislike Erica.
Erica: You don't think I see all the flirting you've been doing with Phil?
Carol: If anything I'm doing the opposite! I mean for Pete Sampras, look at this dumb outfit I borrowed from Melissa.
Erica: I don't know, you look fine to me.
Carol: This needs like a pineapple on it or a giraffe or children sliding down a rainbow. I mean, this is not me.
Not that Erica was ever particularly one to root for, but I didn't actively dislike her before.
Luckily, Carol's Feminist 101 conversation with Erica about the Phil 2 situation seemed to snap Erica out of her eye-rolling bitchiness. It initially seemed like Erica was going to blow off Carol's plea for female solidarity altogether, but in the end she really put Phil 2 in his place.
Erica: Phil. Why don't you take that comment, put it inside a bottle, and shove it up your butt?
Phil 2: What?
Erica: And then take that bottle back out, put it inside a bigger bottle, and shove that up your butt too.
That was a wonderful moment, and Cleopatra Coleman's delivery of Erica's lame insult was very funny.
A minor subplot saw Melissa cutting her finger open on a can and Gail angling to play doctor. It wasn't particularly engaging, but at the very least we got a bit more character development (Gail is totally an alcoholic, for one).
And it's always good to see the inter-group relationships on display because it makes it easier to root for/have interest in others besides Carol and Phil.
Speaking of inter-group relationships – what will become of Todd/Melissa now that his bacon-thievery has been outed? Has Erica snapped Phil 2 out of his Carol-obsession, or is there still drama to be had there?
Stray Observations:
The cut from Phil and Todd both weeping and trying to take the blame to the two of them in the stockade was "frickin' hilarious," as Phil would say.
Still wondering if Phil 2 is going to develop any kind of personality aside from "likes Carol" and "is guy in charge."
Drunk Melissa is best Melissa! Catty/bitchy Melissa is a close second.
Re: cricket stew – "It really dances on your tongue. Oop. That one's still alive." Ack. So much gagging.
What did you all think of "Crickets"? Was it "all about the bacon" for you? Watch The Last Man on Earth online right here at TV Fanatic, and be sure to chime in with your thoughts by commenting below.
Caralynn Lippo is a staff writer for TV Fanatic. Follow her on Twitter.