Agents of S.H.I.E.L.D. Season 3 Episode 6 Review: Among Us Hide...

Henry A. Otero at . Updated at .
I'll admit, the writers got me good. Like Daisy I assumed Banks was the killer.
After last week's brilliant Jemma-centric hour, I expected Agents of S.H.I.E.L.D. Season 3 Episode 6 to be a tad underwhelming. Well, I could not have been more wrong. I found myself completely engrossed from the opening moments to Daisy and Andrew's chilling closing conversation. May's ex got some 'splainin' to do.
Major shout out to all our dedicated commenters that guessed the big reveal!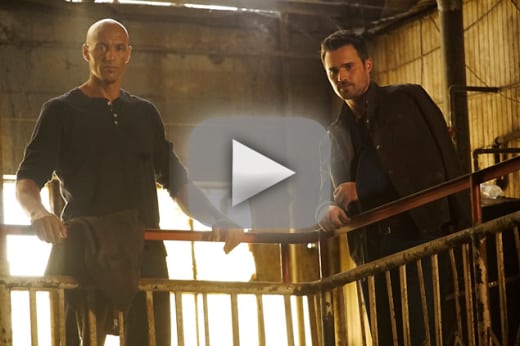 Learning that Andrew survived the explosion definitely raised a red flag. That was the first time I thought to myself the fan theories about the good doctor might be correct. Sure, his details of the events made perfect sense, until he mentioned the blast must have thrown him clear.
Yeah, that part was just a tad fishy if you ask me. I thought back to Werner/Alex's expression after the explosion and realized perhaps he saw Lash. Either way, the kid was in deep doo-doo.
Hunter deserved to be benched, but I was surprised how much fun the guy had despite his predicament. Besides, his misfortune allowed May to officially return to the team and track Ward down properly. Hunter's plan was as sloppy as Ward's was.
The von Strucker kid wasn't ready for a field mission. I understand he needed a college age guy, but how about a little more training first?
Ward knows that S.H.I.E.L.D. wants him dead, and I'm not sure he's going to survive the season. Many people feel the traitor has overstayed his welcome on the show, but I'm hoping the writers figure out a way to keep him around.
Daisy's theory about Banks was killer, though he did seem too obvious.
Daisy: Lash was tracking us. He knew where our truck was. He needed inside info for that.
Coulson: You think he's got access to ATCU information?
Daisy: No, I think he's in the ATCU. We know that he can transform himself into a regular size guy and back. What if he's hiding out as one of them?
Coulson: That's a scary thought.
While it stood to reason that someone in the ATCU was Lash, the Inhuman killer's purpose is now much less clear. More on that in a minute. How about that fight sequence between May and Bobbi? Badass choreography. I'm glad the whole thing proved to be a test, as it was unlike May to react the way she did with Bobbi.
With Jemma back in the lab, Bobbi needed to get out in the field so everyone's back where they belong.
Werner was right to panic, though turning to Gideon Malick proved a deadly mistake. As a fan of the MCU, it was wonderful to see Powers Boothe again. That's right, you might remember him as a member of the World Security Council in The Avengers. I'm assuming he's playing the same character and probably knew Redford's Hydra leader, Alexander Pierce.
Needless to say, this is one bad dude and Ward might finally be in over his head. If anyone takes Ward down though, I'm hoping it's S.H.I.E.L.D, not Malick. How do you feel about that?
It didn't take long for Gideon to reach out to "Director" Ward.
Gideon: You've made some mistakes in your game play. Using von Strucker's son as a pawn when he shouldn't even be on the board yet.
Ward: You see, that's just typical of guys in your generation. You don't even know the game I'm playing. Von Strucker is more than just a pawn.
Gideon: And now he's a liability. He knows too much. Just tell me if I'm wrong. You burned that asset. S.H.I.E.L.D. is looking for him, which means so are you. And I know where you can find him.
Ward: And you'll just tell me that? Why?
Gideon: Sometimes you sacrifice a player to save the game. You just remember, when I come calling that I chose a side.
The subplots involving Coulson/Price and Fitz/Simmons were interesting, but after an entire episode dealing with Jemma's story I confess I wanted a little more. Did Hunter plant a seed of mistrust? Is Fitz now looking for dirt on Will as an excuse to leave him stranded on the other side?
I want to believe Fitz will do the right thing. He did promise her he'd get a chance to know Will, right?
As far as the Coulson/Price relationship, I'm a little confused. Like Coulson, I found myself questioning whether she had staged the break in, but after she came clean about the ATCU facility I started to sympathize with her. I mean, I'm sure she still has her secrets, but now I understand her side of the story. Is there more to the ATCU though? I guess we'll find out soon enough.
Daisy's little consult with Dr. Garner was important because she brought up the fact Lash spared her life. Why is the Inhuman killer targeting specific powered folks? He definitely has it out for Lincoln, but what has the guy done to deserve Lash's wrath?
I can't figure out why a man who was trying to help Inhumans is suddenly executing his own kind. Is he eliminating Inhumans he feels are unworthy of their gifts? Is Lash working with someone else?
The mission to get a sample of Banks' DNA was a blast, as was Hunter's part in it. The guy is reckless, but he did get the answer they were looking for. With Banks proving to be human, I was fairly certain Andrew was Lash. May and Bobbi's Cayman Island stuff was great as well. I loved those two characters teaming up and I hope they're paired together again soon.
They're both tough agents, but their approach proved quite different. Naturally, May ended up kickin' ass and Bobbi went along with no problem.
Wasn't it great that Daisy swiped Fitz's newest dwarf? She has her issues too.
Hunter: Is that a person?
Daisy: Oh God.
Hunter: Is he dead?
Daisy: No they're monitoring him. He's alive.
Mack: But in, some kind of what... a coma?
Daisy: This is ATCU. This is where they're storing Inhumans they find. Like animals in cages.
Naturally the camera would pan over to reveal Coulson standing at Rosalind's side. I hope this doesn't mean Daisy will begin to mistrust Coulson. Sure, Rosalind's point of view was valid and the story of her husband very touching, but Daisy is not going to care. Coulson will be walking a fine line between Rosalind and Daisy from here on out.
It feels like a romance is blossoming between the two leaders, I just hope Coulson's emotions don't get the better of him affecting his decisions. It's not like that hasn't happened in the past.
May and Bobbie arrived in time to kick some Hydra booty, but I was surprised Kebo killed von Strucker. The kid played his part, but I thought he'd stick around longer. Bobbi proved she was back, better than ever, and that electrocution was brutal. Ouch! Bye bye to Ward's right hand man. Of course, the real shocker was May learning from Werner that her ex-husband is Lash. "We had him, but I didn't know he'd change into that thing" the kid said.
Watching the true events go down was brilliant, as was Andrew's transformation. That Lash is one scary Inhuman, yet there's so much we still don't know about him.
Will May remain in denial, or will Andrew's DNA be secretly tested? The Doc's confrontation with Daisy in the final sequence was chilling, now that we know he's the killer and has his sights set on poor Lincoln.
So, what did you think of "Among Us Hide..."? Did you guess Andrew was Lash? Why is he killing Inhumans though? Was Rosalind telling the truth about her facility? Will Fitz dig up some dirt on Will? It's your turn guys, sound off in the comments below. We've got tons to talk about! Look for our Agents of S.H.I.E.L.D. round table later this week.
Relive the big Lash reveal now! Watch Agents of S.H.I.E.L.D. online via TV Fanatic.
NOTE: Agents of S.H.I.E.L.D. Season 3 Episode 7 is titled "Chaos Theory" and airs on Tuesday, November 10.