I just watched Castle Season 8 Episode 8 and it's hard to know just what to share. I could say that about any early screener but this one is particularly difficult as LokSat, the Caskett separation and yet another new character are all in play. I'll start with the obvious…
SPOILERS AHEAD: Although I try not to give away any important plot points, if you want to go truly spoiler free for "Mr. & Mrs. Castle" you should stop reading now.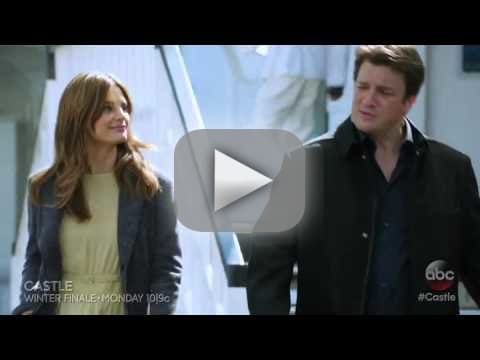 You've been warned...
There was more behind that mystery text than new information on LokSat.
Rick finally asks some important questions and gets some answers.
Perlmutter is back with a new look.
Martha gives some more questionable advice but she's been doing a lot of that this season. I'm reconsidering buying her book. 
There's a lot of Vikram and Hayley. One I found more tolerable while I was hoping someone would put a bullet in the other. I'll let you watch and decide which is which.
Caleb Brown, the new public defender is nothing like what some fans were speculating when they first read about him.
There is definite movement on LokSat and the Caskett separation but I won't give away in what direction. You'll simply have to watch.
Bonus Quote: (You'll have to guess who they're talking about.)
Esposito: So you're going full hipster now.
Ryan: Have you started jarring artisanal pickles yet?
Check back in on Monday night for my Castle review and join me on Twitter @TVFanatic to live tweet the east coast viewing. 
if you can't wait until then, you can always watch Castle online here at TV Fanatic. 
C. Orlando is a TV Fanatic Staff Writer. Follow her on Twitter.