Chicago Fire Season 4 Episode 6 Review: 2112

Stacy Glanzman at . Updated at .
There is some serious conflict brewing at Firehouse 51. 
Things are not looking good for Boden and Severide by the end of Chicago Fire Season 4 Episode 6. 
What's going to happen?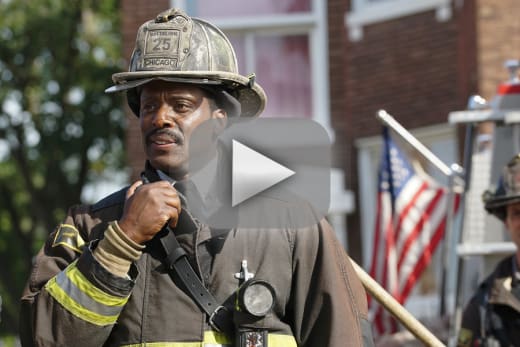 Let's start with Boden's situation. Riddle obviously paid this woman to pull this crap on him. We knew he wanted Boden gone, but did we know that he would stoop this low?
It's not enough to get the guy fired; he wants to take him away from his wife and baby and send him to jail? The man is plain evil. 
Riddle needs to go, and Patterson needs to go with him. Patterson is not quite to the level as Riddle, but he's on a power trip and is letting his stubbornness compromise his duty. He made the wrong call at the fire, but punished Severide for insubordination anyway. 
He also had no business approaching Severide off shift at Molly's. That's a conversation that should be had in a private office during working hours. It was completely unprofessional. Now Boden is facing serious charges and Severide is suspended. How will they get out of this mess? 
Something tells me the Intelligence Unit will come to Boden's rescue, but he could also probably use a good lawyer. With him dealing with the bogus charges, it leaves the door open for Patterson to take charge of the house in the interim. I have a feeling that will not bode well.
In other news, Chili and Jimmy are taking their relationship to the next level. If their plan was to be discreet, they should really look up what that means in a dictionary. If Otis knows, chances are everyone else does too. 
I laughed at Brett and Dawson giving Chili advice on in-house romance. They've both been there with very different results. 
Brett and Chili got called to another random medical emergency, and I think we all knew immediately that it was the little boy who shot his father. I understood why Chili lied for him, but the police are going to figure it out the same way she did. Really all she did was buy him some time. 
It's been awhile since they have mentioned Cruz's brother or his gang affiliation. It was a nice call back to have the old friend show up. I admit when he first asked for Leon's contact information, I was as skeptical as Cruz. I worried he wanted to drag Leon back into the gang life. 
The scene with Otis and Cruz opening the box was really funny. 
Otis: What if there's an ear in there? Or a single bullet?
Cruz: What is wrong with you?
Otis: I'm talking about gang stuff. Ooh, a rattlesnake.
Cruz: What do you know about gangs, Otis?
Otis: I watched the Wire.
I hope we see Freddie again and that Cruz is able to help him get out, but I also worry that this could put Cruz in danger. 
Mouch and the Rush concert was some fun comic relief. It was hard not to feel bad for him when he completely froze in front of the band. Luckily his buddy Hermann was there to bail him out. I can't believe they all left just because they had bad seats! It's a concert, you go for the music anyway.
I have been to lots of concerts in my life. I've been up close and I've been way in the back. I've always had fun. Those guys deserved to miss out on the front row seats for bailing on Mouch.
It was nice to see Boden's wife again, but I would have liked to see baby Boden too.  
Your turn, are you worried about Boden and Severide? Hit the comments!
Remember, you can watch Chicago Fire online any time!
Stacy Glanzman was a staff writer for TV Fanatic. She retired in March, 2019.