What better way to celebrate a memorable season of Dancing with the Stars than with an even more memorable finale?
On Dancing with the Stars Season 21 Episode 13, all of this season's contestants returned to perform one more time, and the final three couples danced for one last round of the competition.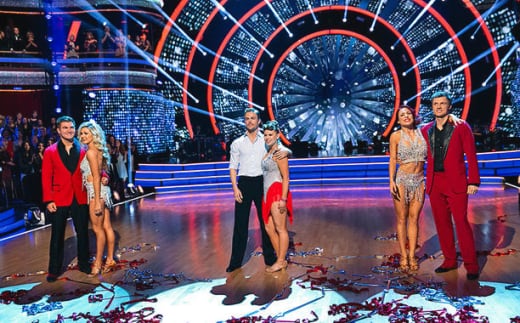 The finale special also celebrated some of the best moments, special guests, and even some behind the scenes footage we've never seen before. There were also some extra special performances, including numbers by Chaka Khan and Andy Grammar that we won't soon forget.
There was even a very special message from Len Goodman! Oh, how we miss Len. And guess what he announced?
Len is coming back next season, you guys!
The final round of the competition was definitely intense. Each couple performed a 24-hour fusion routine to earn one more set of judges' scores.
Nick and Sharna's fusion was a Salsa/Tango, and they certainly didn't hold anything back for this final performance. They earned a perfect score of 30.
Alek and Lindsay's fusion was a Rumba/Tango that the judges loved, but it wasn't perfect. They earned a score of 27.
Finally, Bindi and Derek danced a fusion of Cha Cha/Argentine Tango that pretty much blew everyone away. They earned a perfect score of 30.
Following those amazing performances, the winner of the competition was finally announced. So, who went home with the mirror ball trophy?
The winners for Dancing with the Stars Season 21 are Bindi and Derek!
So, that's a heck of a record for Derek Hough. If anyone is keeping score, this makes his SIXTH win on Dancing with the Stars.
But there's no denying that Bindi is deserving of that trophy with her hard work and positive attitude. She was totally amazing.
In second place were Nick and Sharna, and in third place were Alek and Lindsay.
What did you think of the finale? Do you think the right couple won the mirror ball? Share your thoughts in the comments below!
Ashley Bissette Sumerel was a staff writer for TV Fanatic. She retired in September 2017. Follow her on Twitter and on Google+.