Once Upon a Time Season 5 Episode 10 Review: Broken Heart

Christine Orlando at . Updated at .
Multiple Dark Ones made for plenty of trust issues in Once Upon a Time Season 5 Episode 10 as the lies came out and darkness inhabited Storybrooke in a new and frightening way.
It appeared that all of Emma's decisions were motivated by one of two things: love or fear. 
When she saved Killian, she did it out of love but also out of the fear of losing him. When she handed him Excalibur, she trusted him enough to believe he would fight the darkness with her, and when that backfired badly, her fear drove her decision to fight the darkness completely on her own.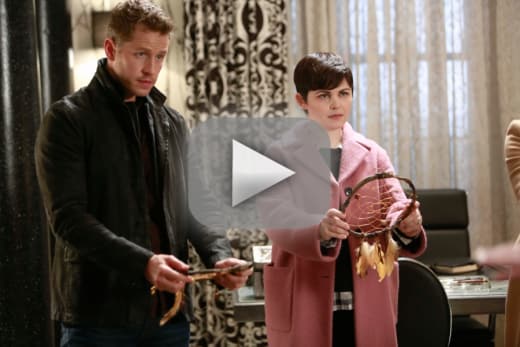 But she wasn't the only one being controlled by fear. David made it clear he didn't trust Hook, and none of Emma's family or friends were willing to take off the cuff keeping her from using magic.
There were trust issues all the way around. The one that probably hurt Emma the most was her conversation with Henry in this Once Upon a Time quote…
Henry: The minute things got tough, you didn't come to anybody. You decided that you would figure it out on your own. We were a team.
Emma: Operation Cobra. I remember.
Henry: But now, you just want your dark magic back so you can do it alone.
Henry's blunt talk helped get through to Emma and change her path. But was it too little too late?
I was shocked to find out that Hook not only killed Merlin but took his heart. As dramatic as it was, it still delivered one of the funniest lines of the episode…
Careful Deary. That's the oldest heart in all the realms. Let's cut it open and count the rings.

Rumplestiltskin
In a way, the plan was ingenious. Instead of crushing Emma's heart, he could crush Merlin's for the same effect. That must mean he still loves Emma enough to not want to kill her.
But has Hook gone too far over to the Dark Side, and why bring all of the Dark Ones to Storybrooke? Does he truly want the darkness to wipe out the light?
Elsewhere, Rumplestiltskin fought with honor and survived his duel with Hook only to have Belle figuratively rip his heart out afterwards. Her cool demeanor had me wondering if someone was holding her heart and manipulating her. I'm really unsure. 
Zelena finally getting to hold her daughter was a really sweet moment. When she called her her "little green bean," I couldn't hold back the Aww.
I was happy Robin and Regina decided to give her a chance to be a mother, even if it did come with restrictions, and rightfully so. Will this little girl do for Zelena what Henry did for Regina? And will she ever get a name?
Check back later in the week to see what our Once Upon a Time round table team has to say about this installment and then next Sunday for our Once Upon a Time Season 5 Episode 11 review. 
if you can't wait for more magic, you can watch Once Upon a Time online here at TV Fanatic.
C. Orlando is a TV Fanatic Staff Writer. Follow her on Twitter.