American Horror Story Season 5 Episode 10 Review: She Gets Revenge
Miranda Wicker at . Updated at .
Was that a cliffhanger at the end of American Horror Story Season 5 Episode 10 or did the previews for the show's 2016 return immediately spoil what could've been a suspenseful moment? 
The answer: Yes, it was, and yes, they did. Bummer.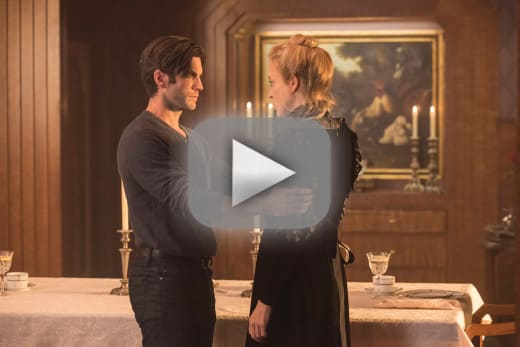 I'm sure the fact that I watched this episode of American Horror Story: Hotel and then wrote this review while loaded up on cold medicine and anti-histamines isn't helping me process everything that just took place, but guys, it finally feels like this story might be moving along at a decent pace. Maybe. A little bit.
Let's give a round of applause to Denis O'Leary for his portrayal of Liz this season. He could've played another well-endowed con-man, but instead the writers gave us a beautiful story of acceptance and self-love and security and empowerment.
Liz met her son in order to finish up her earthly business so that she and Iris could depart this mortal coil and through her son's acceptance, any lingering traces of shame she may have been carrying around vanished. Good on ya, Douglas! Your mom raised you well!
(By the way, did anyone else expect a confession of sorts from Douglas? I did. I half expected the son to reveal that he's fallen into his father's footsteps with the revelation that he, too, likes wearing women's clothing.)
John is almost finished with his Ten Commandments tableau, but now that Alex is back in the picture, it's unclear whether or not he'll finish it. If the parts of him who long for Sally have any say, the next time we see him, he'll be putting someone's body parts under that glass bell jar. 
If Alex wins out, well...if Alex wins out John might end up dead because Sally doesn't play. At all. 
Not that I completely understand how locking a group of kids into a hallway with a starving, homicidal notvampire is what Alex needed to get her engines going again, but hey, asking for his help with her little problem gave the two of them a moment wherein they acknowledged the fact that, oh yeah, they do have another daughter, and nope, they haven't been to visit her at all. 
Finally. A conversation about the other kid. Was that too much to ask? Consider my Christmas wishes fulfilled, writers. I knew I'd been good this year.
I still think there's a solid chance John will end up living at the hotel because he's going to die inside it's walls, especially once Sally gets an opportunity to end things for John for good. There's no way he's walking out of this one alive.
Speaking of alive, we now know that Liz is the sole human resident of the Hotel Cortez, having lived there for over 31 yeas. That should totally give Liz a stake in what happens at the hotel. You know, just in case walking into the penthouse guns a blazing wasn't enough of a sign that Liz and Iris are finished with the Countess' crap.
And they should be.
She hasn't really done much for the "lowly" people of the hotel except 1) allow them to stay and 2) well, yeah. Just see #1. 
I dislike the notion that it takes a willingness to die to show proof of one's romantic love for another, but somehow it worked between Donovan and the Countess. As she realized he was willing to die, and happily, if only it meant proving his love for her, she was overcome with happiness and love for him, having been moments away from taking his life.
These two just take, take, take. They take from each other and they take from everyone else and they don't often think about giving it all up and starting over someplace new. The Countess stayed because she believed Rudy would return to her one day. 
Donovan stays because he loves her. 
That's sort of depressing. Maybe a smidge beautiful, Mostly just depressing.
What did you think of "She Gets Revenge"? Who's the "she"? Are you shocked that Liz and Iris attcked Donvan and the Countess? Sound off in the comments below and then don't forget you can watch American Horror Story online right here!
Miranda Wicker is a Staff Writer for TV Fanatic. Follow her on Twitter.