Madam Secretary Season 2 Episode 10 Review: The Greater Good

Samantha McAllister at . Updated at .
Who else is still trying to catch their breath?
This season has been building up to a major conflict with Russia and it was kicked into high gear on Madam Secretary Season 2 Episode 10 when Maria Ostrov decided to declare war. It has been angering watching how President Dalton's team views President Ostrov, but she certainly proved she's not a force to be reckoned with.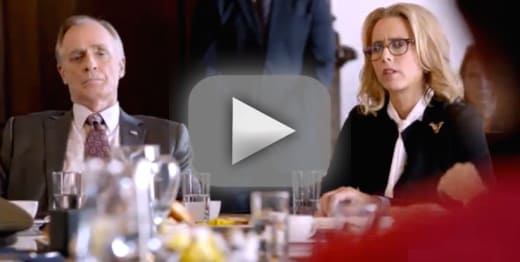 I always figured Maria Ostrov had something to do with her husbands death, but those opening moments were especially chilling. It didn't shock me to learn she didn't kill her husband because of his cheating ways, or the fact he treated her like dirt, but instead because she wanted to see Russia restored.
Even though Maria is absolutely crazy, I do admire the love she has for her country. I can't blame the woman for getting angry about the United States retaliating when it wasn't Russia who hacked Air Force One in the first place. Who wouldn't want to protect the country they love from being attacked? 
Thank goodness Elizabeth saw the bigger picture and wanted to get out of the battle with Russia. I understood where President Dalton was coming from, but it was the United States who basically initiated the cyber attack on Russia without getting all the facts. They could have easily done more digging into the matter and found out the truth before engaging in a fight. 
Elizabeth did bring up some good points about what could happen if they kept egging Maria Ostrov on. There would, undoubtedly, be a point where Russian forces would overtake Ukraine and US forces, so why not stop it before it gets worse? I also figured Maria would figure out it was the Ukraine who was the true hacker of the President's plane. 
Did anyone else find it odd the FBI didn't have more on Maria Ostrov? At least Elizabeth, and her team, had the sense to do some digging into Maria's past to find some dirt on her. It was interesting watching the team put together all the pieces of the puzzle when it came to the truth about her murdering her husband. 
I do admit it was pretty awesome listening to President Dalton and Elizabeth list everything they learned about Maria at the peace talks. There were finally presenting themselves as a team – even when Maria demanded to know who the spy in her team was before signing the peace treaty.
When brings me to Dmitri. I knew the moment Maria asked about the spy that Dmitri was a goner. My heart broke for him because he never wanted any part of this and was only wanting to help his sister. I can't imagine what's going to happen to him, but I hope they continue his story because I want him to be saved.
Of course the craziest moment came at the very end when a soldier, presumably Russian, fired at the President's limo – with Elizabeth standing next to it. Will President Dalton survive? Will the United States go to war with Russia? Unfortunately, we will have to wait to find out.
Did you miss out on the mid-season finale? Don't feel bad because you can watch Madam Secretary online via TV Fanatic anytime. Just make sure to come back to let us know what you think.
Samantha McAllister was a staff writer for TV Fanatic. She retired in November 2018.