NCIS: New Orleans Season 2 Episode 11 Review: Blue Christmas

Kathleen Wiedel at . Updated at .
Did anyone actually think for even a moment that Danny was guilty of being involved with those burglaries? Anyone? Bueller? Yeah, I didn't think so.
To be perfectly blunt, NCIS: New Orleans Season 2 Episode 11 made for a blandly predictable Case of the Week, despite the personal stakes. As soon as the commander mentioned that Sofia had lost her biological mother, it was painfully obvious that Sofia was the one who killed her stepmother.
Given that this revelation was made within about the first five minutes of the episode, I was practically twiddling my thumbs for the remaining 40 or so for the team to discover Sofia's involvement.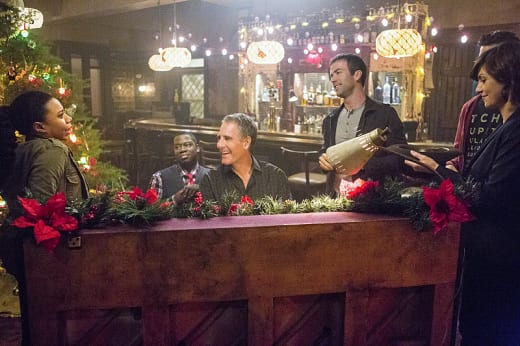 The icing on the cake came when Sofia shot Alonzo at the church. This is word-for-word what I wrote in my episode notes as that scene took place: "They hear a gunshot, go in, find daughter Sofia, the little sociopath, who has just shot Alonzo."
Oh, those crocodile tears. I was pretty much rolling my eyes the whole time.
NCIS did something remarkably similar in NCIS Season 12 Episode 6, where the daughter murdered the mother so she could spend more time with her father. In an eerie echo of that comes Sofia:
[regarding the murder victim, her stepmother] It was her fault. I told her to stay away. She should have listened.

Sofia
I was a little surprised that Sofia readily confessed to being a part of the burglary ring, thought she probably figured that she would play the peer pressure card and get off with a slap on the wrist. Obviously, she forgot that, regardless who pulled the trigger, she could still be charged with felony murder.
Honestly, I was more impressed by the look of utter horror and shock on her father's face as full realization dawned on him. Yes, Commander, your daughter is a total sociopath. Would he ever be able to forgive himself?
Danny, of course, made a pain of himself by attempting to push Loretta away. She wasn't having any of it, as she demonstrates in the NCIS: New Orleans quotes:
Danny: I see how it is. Once a gangster, always a gangster, right?
Loretta: Don't you ever play that card with me. I'll come back later when you stop feeling sorry for yourself.
Loretta is a tough love sort of mother. She holds the boys to a high standard, because she knows very well that they're capable of reaching it, and she's not willing to compromise that faith.
Pride, meanwhile, demonstrated unwavering belief in Danny's innocence, staking his entire reputation on it, despite Danny's father being a notorious career criminal. Pride would know a thing or two about not being like his father; Pride the elder, remember, is in prison, too!
These character moments kept this episode from being an utterly predictable drag. Frankly, I could probably watch CCH Pounder all day; she's absolutely excellent and elevates everything she's in with a grace and poise all her own.
The episode concluded with Sonja Percy giving her Secret Santa present to Pride. After some razzing from Brody over a cooking lesson with Emeril Lagasse, Percy treated everyone to an absolutely stunning musical performance, accompanied by Pride on piano. Shalita Grant, you have a beautiful voice.
A few final thoughts before I turn the discussion over to you:
We got another cheeky "Roll Tide" out of LaSalle after he opened his Christmas present.
As I understand it, if a death happens in the commission of a felony, anyone participating in the crime can be charged with murder. Theoretically, the entire burglary crew could be charged with the stepmother's death, in addition to the burglary, vandalism, false imprisonment, armed robbery, assault...
Do you think that Brody was pulling Percy's leg about Pride, Emeril, and the 2008 Gumbo Cook-off?
Pride's bar is nearly ready for its grand opening. For any Chicago Fire fans out there, do you think this is going to be the NOLA version of Molly's? Will there be any obnoxious new neighbors complaining about the noise?
We got a Remember the New Guy moment in this episode with the introduction of NOPD Detective Donna Clark, whose partner was nearly killed by Danny's criminal father. Brody's been there a year and a half now, and they're only now just meeting? I know, I know...
So, what did you think of "Blue Christmas"? Did you find it predictable? Did you like Percy's Christmas present to Pride? Were you surprised that Sofia was the killer? Let us know in the comments section below!
That's all of NCIS: New Orleans for 2015, folks! If you missed something, or maybe you just want to relive the adventures of the team, be sure to watch NCIS: New Orleans online. I'll catch y'all back here in 2016!