Scorpion Season 2 Episode 12 Review: Dam Breakthrough

Allison Nichols at . Updated at .
Does anyone else want to sled down some fake snow with Ferret Bueller?
On Scorpion Season 2 Episode 12, Ferret Bueller was back in an adorable hat, and everything was right with the world. I should have known pain was coming, I really should have. I swear if anything bad happened to Ferret Bueller, there would have been hell to pay.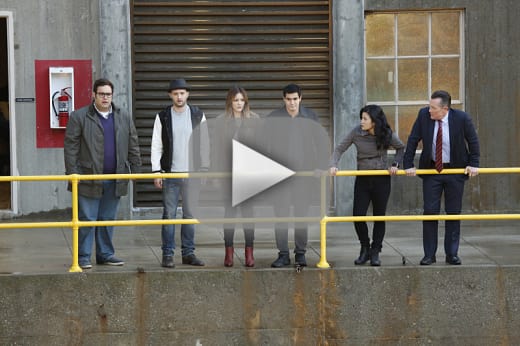 As soon as Walter noticed Ferret Bueller was missing, I was yelling at the TV. You do not take away a beloved pet, especially not so soon after a death. Ferrett Bueller was a fantastic and unexpected way to have Walter break down over Megan's death. First of all, it meant that we got to see how much Ferret Bueller meant to Walter.
Also, this meant that Walter's breakdown happened naturally.
It wasn't brought on by Toby or Paige. No one pushed Walter into opening up. This was Walter showing how utterly afraid he was to lose someone close to him.
You can't really blame anyone when a loved one dies from a disease. Okay, some people might blame God, but Walter wouldn't. Walter can't blame anyone for Megan's disease. So when she died, he felt more like he had failed her because he didn't save her. Walter could only blame himself.
When he thought someone had left Ferret Bueller's cage open, Walter had someone else to blame. When everyone pointed out he was the one to put Ferret Bueller away, Walter got to put into words why he would never do anything to risk losing Ferret Bueller. Walter wouldn't make that kind of mistake with someone he loved because Ferret Bueller means everything to him. At that point, Walter was talking about Megan.
I didn't want to lose her. I didn't want to lose my sister.

Walter
Walter's speech, and the fact that we saw him so completely devastated, was heartbreaking. He's never one to show much emotion, and he's certainly not one to be that vulnerable and broken. This was more than I could have ever hoped for when imaging how I wanted Walter to handle Megan's death. Brava. 
Walter winning the prize money that he was going to use to work on a cure for Megan was a punch in the gut. However, it led to him having a very sweet idea on how to spread Megan's ashes. I'm also really glad that we had Walter and Sylvester bond a little bit more over Megan. Plus, Sylvester brought up the whole brother in law situation, which Walter made ever more emotional by saying that they are brothers.
Just 19 minutes to save the whos down in Whoville.

Happy
The case was alright. It was back to the fun Scorpion that we know and love. I really enjoy when the case starts out simple, and then basically everything they do leads to something else going wrong. There's not really a case to solve. Instead, the team has to solve one problem after another. This keeps everything from getting too crazy and convoluted. 
Paige and Toby conferring on Walter's condition made me so happy. I love seeing different pairings because it speaks to the friendships that are developing within Team Scorpion. Toby and Paige are both concerned about Walter, and it was great to see them both try to reach him in their own ways. 
Kiss in reverse is some strange logic, but like Toby said, I'll take it.
My cuties are slowly making their way back together. I'm very interested to see how Quintis Round Two works. I'm hopeful that it will lead to some super cute and super fun times. What are your Quintis hopes and fears?
What did you think of the midseason finale of Scorpion? Do you think Walter and Paige will finally go on a date when Scorpion returns?
What was your favorite moment? Mine was definitely the helium sing along that kept getting better and better. Leave me your thoughts and hopes for the second half of this season in a comment below.
Remember you can watch Scorpion online anytime via TV Fanatic.