Supergirl Season 1 Episode 8 Review: Hostile Takeover

Stacy Glanzman at . Updated at .
Well, that was an action packed and also rather informative mid-season finale, wasn't it?
We learned an awful lot of new information on Supergirl Season 1 Episode 8 that will affect how our characters move forward. 
So let's dissect it all, shall we?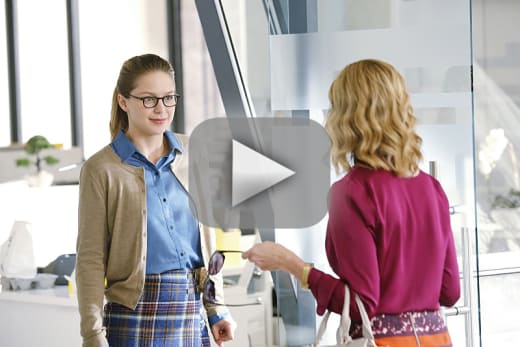 First of all, thanks to an email hack, we learned that Cat has another son. The huge secret was enough that she was willing to step down as CEO of CatCo, but luckily that didn't end up being necessary. 
That can't be the end of the story for this kid though, right? I assume he'll come up again, and perhaps even make an appearance some day. 
Then Cat learned something, or rather, figured out something. She knows Kara is Supergirl!
It was only a matter of time until she figured it out, and I am glad they didn't drag it out too long. It would have been an insult to Cat's intelligence if she didn't eventually put all the pieces together. I really liked that they had Cat list the clues that brought her to the realization, but it was funny that all she needed to be sure was for Kara to remove her glasses. 
I mean, what if someone just knocked into Kara one day and her glasses fell off? It's really not much of a disguise. 
How will this affect things going forward? I can't really see Cat becoming part of the Supergirl team, but that doesn't mean she can't occasionally be helpful. At the very least, Cat can be trusted to keep the secret. 
Alex also learned a little more about Hank (for the record, I'm still going to call him that, it's just easier). He can read minds, but it doesn't work on Kryptonians. You know Alex was wondering if he's ever read hers. 
As expected, Kara questions Alex's trust in Hank, but she lets it go when Alex just asks her to trust her. There was an awful lot going on at the time, but Kara has to wonder what happened. She has to find out the truth sooner or later. 
While Kara and Astra are on opposite sides, things between them are not that cut and dry. It is clear that they both have emotional ties to the other, and both are reluctant to kill. 
Alex: Kara, this is war, and to win a war, sometimes the enemy has to die. But can you look me in the eye and tell me that you are prepared to kill?
Kara: Superman doesn't kill.
Alex: If that's your answer then you shouldn't fight her.
Alex is concerned about Kara's reluctance. Will Kara eventually be forced to kill Astra? 
Kara's frustration to find out that her mom used her to lure Astra out of hiding was really well done. That whole scene of watching her scream at the computerized version of her mother was heartbreaking. 
What other truths about her mother will Kara uncover? 
We are left wondering what Astra's ultimate plan really is as her husband and other alien underlings attack Lord Technologies. Whatever it is, we know that Astra is determined to bring Kara to her side, while her husband is more than prepared to kill her. 
I have to assume an escape mission to get Astra out of the DEO is also in the books. 
Then we have the little heart-to-heart between James and Winn. What are we to make of that?
I understand that Kara is special, and not just because of the cape. She's the kind of girl worth risking it all for. Hey man, if I were you, I'd risk it.

James
Is James really encouraging Winn to pursue Kara, or is he just trying to talk himself out of it? It seems that he's suppressing his true feelings. It'll be interesting to see if Winn takes his advice. 
Other notable things we learned about Cat:
She invested in Jekyll and Hyde: The Musical
She auditioned for Undercover Boss (on a dare from Anderson Cooper)
She slept with John Stamos
She participates in a Secret Santa exchange with Martha Stewart 
So, what did you guys think of the midseason finale and what do you think of the series as a whole so far? Personally, I'm loving it and can't wait for it to return in January. 
But, until then, we can all watch Supergirl online and re-live our favorite moments!
Stacy Glanzman was a staff writer for TV Fanatic. She retired in March, 2019.