Karma always has a way of coming back and biting you on the ass. 
On American Crime Season 2 Episode 3, the article about the sexual assault made its debut online, and everyone basically freaked out. While the article wasn't exactly what Anne envisioned, it did exactly what she wanted – people started asking questions.
Let's get right down to it and discuss, "The Article."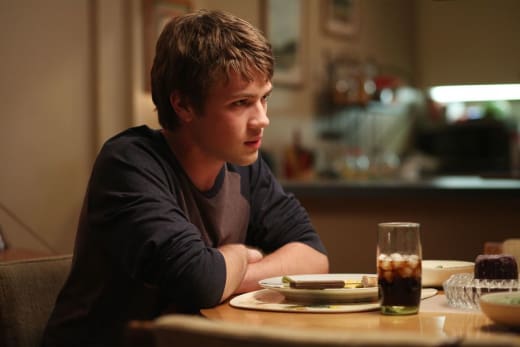 Leslie continued trying to save face by claiming she spoke with Anne on three occasions. I guess she's not completely lying, but she should have mentioned she feels it was Taylor's fault. I figured Leslie would give the reporter the suspension papers on Eric to try to make it seem as though the school was helping out.
The only problem with giving the papers over to the reporter is it's even more proof the school didn't care. All the reporter had to do was give one look at the paper and realize they were just trying to punish someone to make Anne happy. Leslie made herself seem even more heartless when she tried to turn it around to Taylor drinking heavily.
Everyone knew Taylor was drinking at the party, this isn't a secret, but instead of just focusing on him, maybe she should have a talk with the entire school. Leslie was turning a blind eye to the growing problem in her school. If this happened to one student, doesn't she think it may have happened to another?
She also needs to stop saying every student is equal when she's proven that's not true. Not only did she single out Taylor as the problem, she also singled out Eric as the only one responsible. Why didn't Kevin get punished since he's also a captain? It can't be because she's afraid of Terri.
Speaking of Kevin, instead of his parents focusing on hating pretty much everyone, maybe they should teach him how to respect women. Terri wants to be a tough, no nonsense woman, but she hasn't opened her eyes to how her son treats other women.
It's pretty clear Kevin views women as sex objects and nothing else. I get Terri and Michael want their child to succeed and want to push for excellence, but they really don't know their son at all. I even had a hard time feeling bad for him when his name was published in the article.
At least with the article out there we got a little more information on what this party was. I'd have to agree with Terri because it did sound like it was basically a sex party. I'm a little surprised more hasn't come out about the party. These kids really do know how to keep a secret. 
What gets me about the whole article situation is how the police all of a sudden want to investigate the assault. I was pleased with how Mr. Dixon handled the police when they wanted to talk to Evy. It's nice to see a school official care about the kids and make sure everything is done properly.
I did agree with Evy about Taylor going back to public school. If Taylor were to go back to his private school more rumors would be spread about him and he would be a pariah. It wouldn't benefit Taylor at all to go back.
I can't say I'm shocked everything is starting to get to Taylor. The poor kid had no chance to wrap his head around what happened to him. While Anne had good intentions, she didn't take into account what Taylor was going through. She should have given him more time to come to terms with things. 
It was interesting to hear there's more to the relationship between Taylor and Anne. I've been curious why Taylor was so apprehensive about talking to Anne, but figured it had to do with him being a teenage boy. It sounds like there may have been something that happened in the past between the two.
In the end, Taylor was honest with his mom about wanting to drop everything regarding the assault. I do agree he should continue counseling. He's gone through so much in a very short amount of time. He needs someone to talk to who won't judge him or jump the gun.
Of course, the best moment came at the very end when Leslie was finally put in her place. The look on Leslie's face after the detective told her what was found on Taylor made me incredibly happy. She had the chance to help out and she refused to do so and now everything is going to be thrown at her. 
Don't feel bad if you missed out! You can watch American Crime online via TV Fanatic anytime. Just make sure to come back to let us know what you think.
On American Crime Season 2 Episode 4, faculty members at the school scramble to get ready for the basketball team to be DNA tested, but Eric may have something to add to the case. Will he come forward with what he knows? Find out Wednesday, January 27 at 10/9c on ABC. 
Samantha McAllister was a staff writer for TV Fanatic. She retired in November 2018.