Blue Bloods Season 6 Episode 11 Review: Back in the Day

Christine Orlando at . Updated at .
"Everything changes" was the underlying theme of Blue Bloods Season 6 Episode 11, as Frank came face to face with a past he wasn't sure he could be proud of, and Jamie and Eddie got a glimpse at differing paths for their futures. 
Frank Reagan was completely torn when ex-partner and pal Lenny decided to write a tell all book about their exploits as cops on the streets. Why? Because he wasn't sure his current image could withstand the walk down memory lane.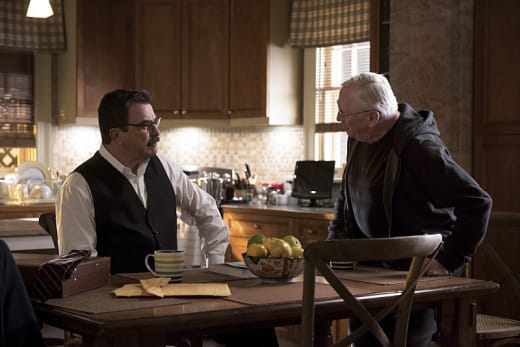 The question was, should the past change the way Frank is seen at his current job? Garrett certainly believed it would…
What I do know is if that book gets published, you're handing your enemies a bat to beat you with, with nails sticking out of the business end.

Garrett
But no one ever said that Frank and his cohorts did anything illegal. Certainly much of what they did is either frowned upon now or against regulations, but the standards were different then. Garrett was right in that Frank's enemies would certainly look to use this book against him, but should that concern trump everything else?
Danny and Jamie held a mirror up to Frank, and he didn't seem entirely pleased with the pristine image…
Danny: You're like the pope of cops.
Jamie: You're infallible.
Because Frank isn't, and he knows it. He may have preferred to keep those stories private, but that doesn't mean they aren't true. Will the fallout be bad enough that Frank would consider retiring after it's published? Anything is possible, but I know it's a book I'd love to read just the same. 
Erin and Tony faced an intriguing corruption case concerning $3 billion of state money going to rigged bids for rebuilding after Hurricane Sandy. As someone who lives in the NYC area, I wonder how much truth was peppered into this story because years later there are supposedly still places that haven't been rebuilt.
When David Harris overheard Erin's conversation and went for his office, I knew exactly what he was about to do. Erin got lucky that he didn't have time to pull the trigger because I can't imagine how long it would have taken to build a rock solid case against Senator Harris, especially with that kind of money, power, and the mob behind him. 
Elsewhere, Jamie and Eddie realized that their futures may take different paths. Eddie wants to be a detective while Jamie explained why he's not headed down that road in this Blue Bloods quote…
For now, I like the idea of actually preventing something bad from happening instead of mopping up after it.

Jamie
As for the Officer in Trouble call, I saw both sides. Eddie was following orders, and her instincts helped put a dangerous criminal who was doing home invasions behind bars. 
Jamie's first thought was for a fellow officer in need of assistance, but by the time he ran the two blocks to get there, there were plenty of other cops that had already showed up. I'm also not sure that ditching his partner under any circumstances was the right move to make. 
Either way, it seems clear that these two may be moving on from their patrol car in the near future. Will the end of their professional partnership mean that they'll be free to start a more personal one? We'll have to wait and see.
Finally there was Danny. I applaud Danny's ability to get his son to open up and his desire to help, but his plan could have gone horribly wrong. Yes, it seems like a funny prank, but if Jack got caught, I could just imagine the headlines: Police Commissioner's Grandson Poisons Fellow Student!
In this day and age, Jack could have gotten expelled or even had charges filed against him. I actually had a knot in my stomach waiting to see if there would be fallout from this stunt. 
So what do you think? Should Frank have banned the book? Did Eddie or Jamie make the right call, and am I taking Danny's plan too seriously?
Check back next week for my review of Blue Bloods Season 6 Episode 12, and if you can't wait for more of the Reagan family, you can watch Blue Bloods online  here at TV Fanatic. 
C. Orlando is a TV Fanatic Staff Writer. Follow her on Twitter.