Chicago PD Season 3 Episode 10 Review: Now I'm God

Stacy Glanzman at . Updated at .
The conclusion of the three show crossover took an interesting turn as the doctor misdiagnosing and mistreating his cancer patients turned out to have a connection to Voight.
It was a little odd that they couldn't find a way to fit anyone from Chicago Fire into Chicago PD Season 3 Episode 10, not even with a scene at Molly's or something. 
But, the crossover still worked as the case continued through the shows and was solved by Intelligence, with some much needed help from Dr. Charles from Chicago Med.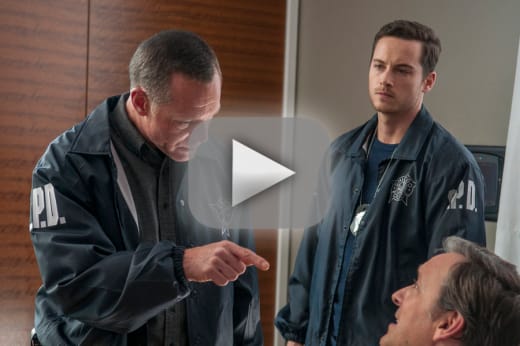 If you haven't checked out the reviews for Chicago Fire Season 4 Episode 10 and Chicago Med Season 1 Episode 5, you might want to do that now.
Voight finding out that the doctor could have killed his wife could have been a disaster. We've seen Voight go off the rails for much less, and his involvement could have easily screwed up the case. He arrested the doctor after being told not to make any arrests, and it was understandable why the DA was reluctant to put him on the stand. 
Thankfully, he actually saved the case, and his testimony was needed to get the guilty verdict. 
Of course, Dr. Charles helped too by testifying that the doctor was a psychopath. Is eight miles really that far to go to a coffee shop? I mean, I know they're all over the place, but he could have easily had friends or colleagues in that neighborhood. Or, maybe he had another errand to run in that area and decided to get a cup of coffee. 
We don't see the soft side of Voight too often, but I like when it comes out. Watching him watch his home movies of his wife was sweet and heartbreaking. I can't imagine what he must be thinking now that he knows the truth about what happened to Camille.  
Lindsay's story of Camille was also really sweet. We haven't really heard her talk about her much before, and it was nice getting a little more background into her growing up with Voight. It was funny that she believed Camille didn't like her at first, but came around because she was important to Voight. 
Did anyone else think about the parallels there with Olinsky and Meredith? The difference of course is that Michelle is actually Olinsky's daughter (probably) and Meredith still hasn't come around. It is a similar situation regardless, as Michelle is a kid in need and she's important to Olinsky. I'm still holding out hope that Meredith will at least give her a chance. 
Just because we had to conclude the crossover doesn't mean we forgot about the crazy cliffhanger we were left with at the end of Chicago PD Season 3 Episode 9. That did not go the direction I thought it would.
I was expecting Voight to get involved and maybe even go as far as planting a gun on Richie, but instead Burgess came through for Roman.
She did have a little help from Platt, who is still as awesome as ever: 
Platt: I'm gonna paint you a picture here, Denny. You lie to an officer, that's impeding an investigation, you make a false statement on the record, that's obstruction of a justice, you keep a gun, that's withholding evidence in a murder.
Denny: You brought your mom?
So, Denny gets to basically return the gun, claim the reward, and get off scot-free even though he almost ruined Roman's career and life. Whatever, I'm just glad that didn't get dragged out too long. 
There was no mention of Platt's engagement, which was surprising. I would think she would have been excited to share that with Burgess, especially considering their bet. I'm looking forward to seeing her browse her giant wedding book at the desk in future episodes. Hey, maybe there can be a double wedding! (Yeah right). 
So, were you guys satisfied with the conclusion to the crossover, and the crossover as a whole? Were you disappointed the Fire crew didn't make an appearance? 
If you missed anything, you can watch Chicago PD online and catch up!
Stacy Glanzman was a staff writer for TV Fanatic. She retired in March, 2019.