The cliffhangers from Code Black Season 1 Episode 11 weren't the only stories to get wrapped up on  Code Black Season 1 Episode 12. After quickly resolving Mario and Christa's situations, two characters were jettisoned from Angel's Memorial. With new characters being brought in to fill the voids, the ER is as busy as ever.
The big question is what will these shake-ups mean for our core characters. Will the changes draw them together, or create divisions that may never be healed? Only time can tell for certain, but we can have a lot of fun speculating in the mean time!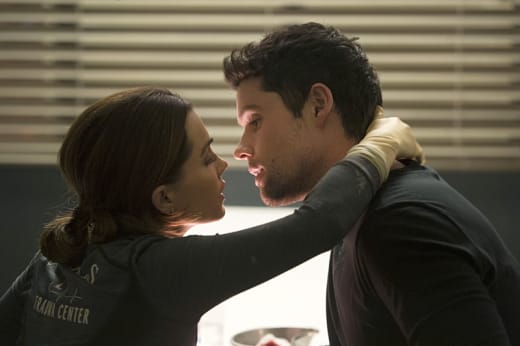 Winning first place for most awkward reveal of the episode was the news of Cole's departure. While I was never on board with his romance with Leanne, it's still a shame to see him go. There was lots of good drama to be mined from his relationship with Guthrie.
Still, we probably shouldn't be too surprised. Since his arrival on the scene, Cole's attendance has been spotty. And his surgical position is being covered with Neal moving to split his time between surgery and trauma and new surgical resident Heather Pickeney showing up to cause some mayhem. 
Here's hoping that Cress Williams has found a new project to sign onto. He's a talented actor, and Code Black would have been that much better if he had been able to stay. And hey, it's not like he's dead – cross your fingers that he'll show up again someday. 
And at least Rollie has Angus to dispense his sage advice to. 
This is what he does -- he leaves.

Rollie (about Cole)
Speaking of surgeons, Heather is looking to become the Yoko for Mario and Angus' budding bromance. She may be sending some mixed signals Angus' way, but honestly, the problem rests with both of the boys on this one. 
Angus is totally misreading the situation, with no idea that he has been well and truly friend zoned. At this point, he's probably the better choice for boyfriend material,  but Heather's priorities seem like they might be more...recreational...than relationship focused.
Mario does have that hot bad-boy thing going for him along with their shared traumatic experience. I can't really say that he's wrong to accept her advances, but it was disappointing to see him so quickly give up his resolve to adhere to bro-code. Not saying something to Angus was a big mistake.
Mario: By the way, we can't ever do that again.
Heather: Get held at gunpoint?
Mario: Kiss.
Even with the physical and emotional upset the other doctors went through, nobody had it worse than Malaya on "The Fog of War." In between worrying about her patients outcome (and that of the state investigation), she had to help her (ex)girlfriend give birth and die with dignity.
There are still some aspects of this story arc that bother me, but Shiri Appleby gave a great performance. I'm mostly mad that there wasn't some miraculous last minute save for Carla, as trite as that would have been. 
I'm still curious as to what's going to happen to baby Phillip, and how Malaya is going to conceivably stay in his life. Having him just disappear seems wrong, but it's seems unrealistic to have him stick around for Malaya to play mommy or auntie to. 
Other Thoughts
Did everyone (including the writers) just forget about Mario's little HIV scare a few weeks back? And would a cut under (and presumably through) his glove prompt another round of anti-viral protocols?
And what happened to Christa's injuries? I know Lilly helped her relocate her shoulder, but she should have been thoroughly checked out.
What's the likelihood of a state investigation going away just because everything managed to turn out alright?
If Code Black manages to pull off an ER and stay on the air for a decade or more, who else is in favor of Lilly coming back as a med student someday?
How cool was that REBOA procedure? 
How would you feel if you were in Mr. Martin's position? Would you rather have your life be a blank slate, or have to live with the memory of losing your love? I'm firmly in the "keep my memory" column. 
This is a repeat, but it bears mentioning until the show addresses the issue: When are we going to get more depth for Jesse, or for some of the other nurses?
There was no direct mention of Leanne's family! 
Neal: If we're going by the rules, it's not approved for the OR, either. It's experimental. Also, it's our only option.
Gina: I'm gonna close my eyes. When I open them, I don't want to see you here.
Leanne: Gina, welcome to Angels.

Code Black Season 1 Episode 13, "First Date," will air on January 20th, and it looks like more family is coming to town. Angus' insecurities are sure to reappear with his older brother in town, but I have a feeling he'll get a chance to prove himself to us all. But will the title refer to Heather and one of the boys or long-simmering Neal and Christa? We'll have to watch to find out. 
If you missed the return from hiatus, you can catch up and watch Code Black online. Let us know how you felt about the outcome of this two-parter in the comments section!
Elizabeth Harlow was a staff writer for TV Fanatic. She left the organization in October 2018.