Code Black Season 1 Episode 13 Review: First Date

Elizabeth Harlow at . Updated at .
Heavens to Betsy!  What a shift!
In addition to a good old-fashioned case of religious objections to medical care, Code Black Season 1 Episode 13 featured some great medicine and some serious upheavals in the doctors' personal lives. A lot went down tonight, so let's dive on in!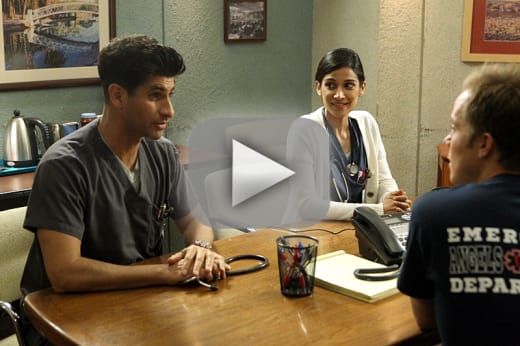 Another new character arrived on the scene – but how long will he be sticking around? His character won't leave immediately, but we all saw how long the last family member brought into Angels lasted.
I'm hoping he sticks around for good. Not only is Tommy Dewey a nice addition of eye candy, but Mike really brings out a side of Angus that we haven't seen much of. Sure, as Malaya pointed out, there's some Freudian insecurity, but his brother also pushes him in ways no one else can.
That sibling rivalry will only help Angus be a better doctor. But with any luck, the writers will flesh Mike out and give him his own stories and chances for growth. That kind of perfection could certainly have some twisted roots underneath it all. 
It's just always been so easy for him -- medicine, uh, girls, everything. Tonight, when I came in and saw Heather Pinkney, you know what I did? Hid behind some old lady.

Angus
The writers took on another medical drama cliche – they're blowing through those awfully fast, there won't be any left for a second season. But at least they approached the religious objections story with some fresh eyes.
Gina's attempts to contact a judge were spot on, although no judge being up at 2 am seems a stretch (haven't they ever seen Night Court?). And having Tia be of an age to give her own consent was a curve ball for this trope as well. 
What I really liked about this story was that it gave Heather a chance to shine. We haven't seen much of her (okay, we have seen a lot, but you know what I mean), and this gave some good insight to the character. She adroitly handled the Tia's possible objections, and then stood up to Leanne. 
That took some chutzpah, and earned her some respect to boot.
I'm not going to stand here and get scolded like I'm in high school. We did the right thing. Deal with it.

Heather
The only dark side to Heather (and it's not her fault, per se) is the whole situation with Mario. Mario's really the one screwing up, and it almost feels self destructive. He knows that his friendship with Angus is still in the baby stages, and that Angus has a thing for Heather, but he's hooking up with her in places that almost ensure getting caught.
Angus has been patient and forgiving in the past, but this kind of deliberate betrayal could severe their bro-mance for good. Now that Malaya knows, it's only a matter of time until he figures out something is going on.
I'm more interested in Neal and Christa myself. Heather and Mario may be hot and heavy and shirtless, but the older doctors have more depth to their relationship. There's also more potential for professional fallout, though I suppose that just about evens the dramatic score for the two couples.
Dr. Hudson, let me give you some advice, and please, listen carefully. Check yourself before you wreck yourself.

Gina (about Christa)
Other Thoughts
What do think about Leanne possibly leaving Angels? I'm doubtful it will happen, but then I didn't see Cole's sudden departure coming at us either.
What was up with that patient of Malaya's? 
How cute were the couple on their first date, J.J. and Kamilla? Once again, this show has the best guest characters. If the Code Black gets a second season, Leanne better get an invite to that wedding!
Did anybody else feel a little ambivalent about Trevor's parents? There was plenty of blame to go around there. At least Christa wasn't assigned the sad kid case yet again.
I loved how asthma patient Kelly and her husband talked about their kids. It might not have been very charitable, but it was hilarious -- and who hasn't felt that way about kids before?
Somebody needed to explain to Tia's a-hole father that maybe the doctors were the answer to the prayers for healing.  
Leanne: You know, I would get more privacy working in a strip club.
Jesse: Have you ever actually been in a strip club?
Leanne: How do you think I paid for med school?
On January 27th, CBS will air Code Black Season 1 Episode 14, "The Fifth Stage," which is the first of the additional scripts ordered by the network. The title could be in reference to Leanne and her grief as she confronts the man who killed her family, or it could have to do with Malaya's new admirer stepping up his creepy factor. We'll have to watch to find out.
If you missed "First Date," you can always watch Code Black online. We love it when you join in the conversation down in the comments section, but you need to be all caught up first!
Elizabeth Harlow was a staff writer for TV Fanatic. She left the organization in October 2018.