Code Black Season 1 Episode 14 Review: The Fifth Stage

Elizabeth Harlow at . Updated at .
Well that escalated quickly.
As predicted, the title of Code Black Season 1 Episode 14 had a duel meaning – referring to both Leanne's grief (acceptance) and Malaya's stalker (escalation to violent behavior).  
Meanwhile, the rest of the staff deals with various rumors flying around, and with the obligatory tough ethical issues.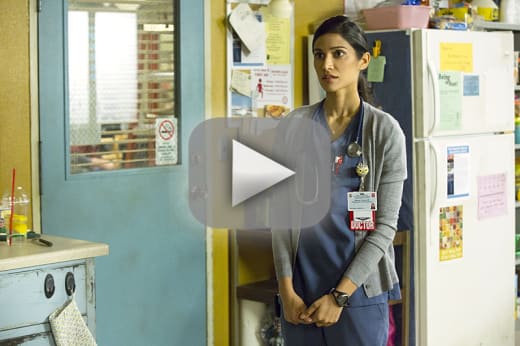 Leanne's journey finally provided the payoff for the painfully drawn story of her family's death. I can't exactly say it was worth it, since it often felt like teeth were being pulled, but the resolution was touching, and I appreciated that it acknowledged that there is no correct timeline for grief. 
I wasn't entirely sold on the kid that Leanne picked up. It was hard to believe that if he had that much of an impact on her that that would be the end of their interactions. It also seemed a little irresponsible to just drop the kid at the jail and not make sure that he had a ride back.
I was a little afraid that there would be some attempt to have her adopt him or something, which would have been a step backwards for her. Taking on a kid isn't a way to heal yourself, despite the happy-ever-afters that  are common on TV and in movies. 
I've let this...this place fill the vacuum that my family left behind. I never figured out who I am without them. I need to do that.

Leanne
Of course, as Malaya pointed out, there are no secrets in a hospital, so word of her leaving quickly got around. The Armenian crime family's feud allowed Mike to show everyone, including himself, that he was qualified to take over for her.
Except that it didn't really explain why a hospital would choose someone with only a few years experience over someone with decades. Rollie's absence was felt again, and it didn't seem fair that he wasn't even there to promote himself for the job.
Setting Mike against Neal could have worked if it was dragged out a little longer, since it would have meant Neal having to choose between a position he's coveted and his burgeoning romance with Christa. That kind of strife always makes for some good drama.
Neal: This could get complicated.
Christa: Why? Because you're managment and I'm labor?
Of course, we all know that it's even odds that Neal is going to end up heading to the surgical department, at least part time. Or maybe he'll have to step up into another role in the ER.
Malaya's stalker was not at all subtle, but somehow she missed it. I thought a psych was a required rotation in med school? I know that we have the benefit of omniscience, but Gordon was pretty obviously creepy, with his shifty eyes and manic attitude, not to mention the touching. 
What surprised me most about this plot was that it escalated so quickly. In just a day, Gordon advanced from initial attraction to violent behavior. And he was able to find out intimate details of Malaya's life to try and force a connection. And he figured out how to fake an illness. He'll totally turn out to have been stalking the hipster girl he "saved."
I don't care if it's innocent. You don't want to give him the wrong impression. He's not your friend. Trust me on this, Malaya, as a woman, you have to be aware that the appearance of a situation matters just as much as the real.

Gina
Other Thoughts
Did Mario have the right to be upset with Heather? Is she doomed to be slut shamed, or will anybody defend her (ill-advised) choice to exercise her sexual freedom?
Was I the only one that thought that the last scene was eerily reminiscent of the ER episode Be Still My Heart? hopefully Gina isn't as unlucky as Lucy Knight was.
Can Neal and Christa possibly last? A lot will be riding on how she reacts to his more level-headed outlook on patients. 
Sharing a workplace secret that requires the caveat "don't tell anybody this" in the middle of said (crowded) workplace is just plain dumb.
Gonorrhea in your knee?!?!  Remember to always, always, always wrap it up! Safe sex or no sex people. 
Christa should have been taken off that DNR case in Gina's office. The way she treated the wife was unacceptable.
But Rebecca Field (one of my favorites going back to October Road) did an amazing job as a wife advocating for patient's rights. The guest stars on this show never let me down!
Gina: Let's go. Out.
Gordon: That's a little rude, isn't it?
Gina: Well, this isn't a diner. You're not guaranteed a smile and a slice of pie, and the customer isn't always right. Do I need to call security?
We won't know Gina's fate until Code Black Season 1 Episode 15 airs on February 3rd. It looks like Gordon is going to end up in center stage, but how is anybody's guess. Does it have something to do with the secret between Mike and Mario? Or is that Angus? Hard to tell from the back of a head.
You can watch Code Black online; you'll want to be all caught up before the conclusion to this cliffhanger! Join us in the comments and let us know if you think Gina will make it, and who you think the other injured doctor will be. 
Elizabeth Harlow was a staff writer for TV Fanatic. She left the organization in October 2018.