Girlfriends' Guide to Divorce Season 2 Episode 7 Review: Rule #14: No Means...No

Carissa Pavlica at .
You guys, these women are going to be the death of me. They can be so frustrating!
After Girlfriends' Guide to Divorce Season 2 Episode 7 and some great decision making by Abby and Harris, they've both managed to come off smelling like roses. Jo, too, finally realized she's not worth the Tinder crap to which she has been subjecting herself.
Phoebe made a typical move for her character, and Delia? She's unrecognizable. Let's discuss.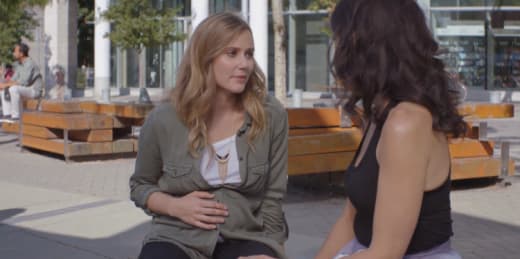 The whole Phoebe situation was frustrating because she continually wants to do the same thing time and time again.
Phoebe meets a man and gets involved. Every single man who approaches her is her next relationship. That's not normal. And while she did get rebuffed by Graham because he's closeted, she quietly followed behind the person who pointed it out, dating him instead.
It's kind of disturbing, especially because she understands that she does it and is unwilling to stop it.
Is our takeaway from the end with her paint stained hands that her new baby jewelry is now painting? Or will she become a graffiti artist? Why was she looking at a wall under an overpass? Please use canvas, Phoebe. You're too old to begin a career as a tagger.
Then we have the cat on a hot tin roof otherwise known as Delia. 
Albert: Wait! Somebody could see us.
Delia: Yes. It's dangerous. I like it.
Albert: Not if my wife or your fiance found out.
What the hell has become of the calm, cool and collected woman we first met? She's embarrassing herself. When she eventually comes to her senses and realizes what she has been doing, she's going to have to leave her law partnership.
That's very serious, but not for a second do I think she's thinking rationally. Sure, sex turns even the average person into a lunatic, but to have to put so much on the line for...what? What is she getting out of it?
I suppose she's getting the same thing Jo was getting out of her Tinder garbage. A reason to make herself feel like, well, garbage.
For some reason, neither of these women believe they are worth joy and happiness. Up until marriage was on the table, Delia seemed to have it all under control. Now she has lost it completely. She'll likely pay a great price for her actions.
Jo, on the other hand, had a terrible breakup and was treated like crap by her awful Frumpkis. Certainly not so badly that she should be whoring it up with every loser who would accept a Tinder swipe and fellow with ribs and a napkin stringed around his neck, but a close call pulled her back to earth.
I think Jo will miss her new friendship with Jake very much. She said as much. I will miss her new friendship with Jake. They were/are terrific together.
Jo: So the people out there eat a lot of potatoes. Take it easy. I don't want you comin' back lookin' like Michael Moore.
Jake: Noted.
Hopefully now that Jo and Abby are on speaking terms again, they can get their friendship back on track and Abby can be Jo's new Jake.
Because Jo is going to need a Jake if she cannot find the papers saying she received 60% of the money for the bakery by way of inheritance. If she loses that, it could break her. But did anyone else get the idea Scott might be able to lend a hand if he had an idea was going down?
I was really holding out hope that Jake wouldn't make his trip to Latvia. I suppose time flows rather quickly on GG2D since Becca is already showing. Surely he won't be gone throughout the rest of Girlfriends' Guide to Divorce Season 2. Right? 
They've talked a lot about Abby's parents, but I wasn't prepared for the trash that walked into her door. Bless her for turning out as well as she did considering who raised her. Then again, it sounds like she raised herself.
They came all that way just to get back her inheritance. How sweet of them to squeeze in the visit. 
I loved that Jake immediately came to her rescue and wanted to ensure Abby would do what was right for her first, knowing she always puts others before herself. Selling the place where they got married means letting go of yet another piece of their history, too.
Just so her parents can continue to ride out their twilight years in the style to which they have become accustomed. Which, apparently, means away from home.
Everything happened so fast for Abby, from almost going to Ecuador to becoming friends with Becca and not regretting it. Harris staying behind to work with Becca was a surprise, as well, showing he really did understand about Abby and her family commitments.
Miracles do happen!
It's too bad everybody was so wrapped up in their own stuff to notice what was happening with each other when they all got together as Delia picked out her wedding dress. Gorgeous, by the way, but I don't think a happy marriage it will make.
The look on her face as she tried it on was anything but conducive to walking down the aisle. But Abby was thinking about her parents, Jake leaving and coffee with Becca. Phoebe was thinking about her "date" with Graham and Jo was considering her next Tinder date while worrying about losing Rize.
They need to step back and really tune into each other, be there for each other, because some of them are hanging by a thread.
What did you guys think? How is Delia going to crack? What will she lose before she does? Is Jo safe now or still in jeopardy? Which characters can you tolerate at this point and who do you want to sit down with and talk to sternly?
Don't forget! You can watch Girlfriends' Guide to Divorce online anytime right here via TV Fanatic!
Carissa Pavlica is the managing editor and a staff writer and critic for TV Fanatic. She's a member of the Critic's Choice Association, enjoys mentoring writers, cats, and passionately discussing the nuances of television and film. Follow her on Twitter and email her here at TV Fanatic.