Jane the Virgin Season 2 Episode 9 Review: Chapter Thirty-One

Amanda Steinmetz at . Updated at .
Welcome back everyone!
The holidays are over, but Jane the Virgin is the gift that keeps on giving. This was a fantastic episode where all the plot lines moved at a pace that was quick, but not overwhelming.
A number of long-held secrets were revealed on Jane the Virgin Season 2 Episode 9, it's hard to know where to begin. So let's start by checking in on Jane, who needed to apply some tough love to her life.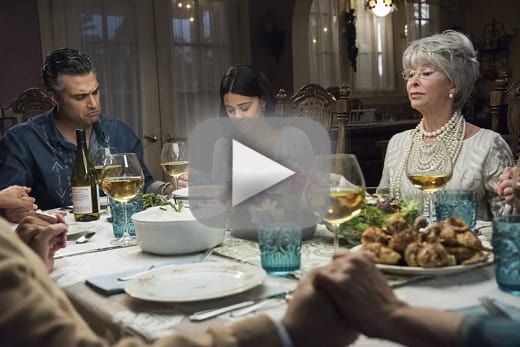 Jane learned a hard, but much needed lesson on tough love. First, she applied it motherhood. Every parent can relate to child crying through the night and wanting to help them.
However, Jane's coddling wasn't doing anyone any favors. I love how Alba is always able to speak the truth without ever appearing mean. 
Alba: This isn't about guilt. It's because you're too soft.
Jane: What?
Alba: You need to toughen up.
Jane is such a sweet character, but when push comes to shove, she knows it's okay to be a little tough. With Mateo finally learning to go to sleep on his own, Jane needed to stand up to her basketball player student. 
I agree with the writers that it's unfair how athletes are given special treatment in the university setting. Even with that annoyance, Jane was able to challenge him to a little one-on-one. True to the unathletic woman she is, Jane was terrible. However, I'm glad "McBaskets" was a good sport, and wrote his paper.
Lastly, Jane applied some tough to herself when she realized Michael had moved on and started dating someone else. I'm still holding out hope for these two, but I'd rather see them reunite under different circumstances. I don't want to see Jane pine around for Michael or Rafael. She needs to experience dating other men. 
Elsewhere in the episode, surprises were all around as Rogelio learned his father was gay. I didn't doubt Rogelio would accept his father's sexuality, so I was glad Liliana's issue was more about herself letting go than it was about her fear of telling her son. Having the legendary Rita Moreno on the show is such a treat. 
Rogelio is usually only around to provide comedic relief, but the scene on the porch with his mother was a lovely, unselfish moment for the character.
Rogelio: Are you okay?
Liliana: Oh, I'm terrified. I moved in with your father right out of my parents' house. I have never been alone.
Rogelio: You're not alone, mom. You're not. I promise.
More shocking than Rogelio's father being gay was that Liliana wasn't as in the dark as she led everyone to think she was. Turns out Liliana knew about about him being gay the entire time they were married. I can't wait to learn more about their history.
Just when we thought things couldn't get even more crazy, the true identity of Mutter was revealed to be... ELENA! After following all the clues that seemingly led to Luisa's mother being the big bad, Michael figured out the real villain was Rafael's mom. 
I'm excited to see where this goes, but I hope Rafael's life isn't in danger. Whatever she injected into his neck didn't seem too pleasant. 
Before the Mutter of all reveals (see what I did there!), Rafael helped Petra clear her name and send Magda off to prison. I don't know about you all, but I've enjoyed watching Petra and Rafael reconnect. I am not opposed to seeing them get back together. However, Magda's threat against Petra could spell trouble for the expecting mother.
Leftover Thoughts and Questions:
The sportscasters' commentary on Jane's parenting skills were pretty hilarious.
As a Pride and Prejudice fanatic, I loved the use of the novel in this episode. 
What kind of arrangement did Rogelio's parents have?
How does Elena plan on getting the flash drive? 
So over you guys! What do think will happen to Rafael? Are you ready to see Jane date someone new? What does Magda have in store for Petra? What are your predictions for Jane the Virgin Season 2 Episode 10?
Sound off below, and don't forget you can catch up on any missed episodes when you watch Jane the Virgin online via TV Fanatic!
Amanda Steinmetz was a staff writer for TV Fanatic. She went into retirement in June of 2027. Follow her on Twitter.