The Expanse Season 1 Episode 6 Review: Rock Bottom

Henry A. Otero at . Updated at .
Yup, the gang met The Butcher! How frakkin' cool is Chad L. Coleman in this role?
The Expanse Season 1 Episode 6 wasn't as memorable as some of the other installments, but it solidified the camaraderie between Holden and his crew. For the first time, I feel like when push comes to shove, they will have each others backs.
Supporting players like Johnson, Dawes and Avasarala continued to add depth to the series. Anyone else dying to see Julie again?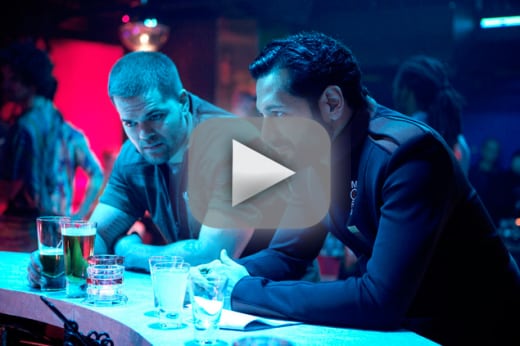 Avasarala wanted a spy on Tycho Station, and once again, made things personal in order to get her way. I get that's she's ruthless when it comes to Earth's interests, but I'm afraid the character is starting to rub me the wrong way.
Still, it was interesting to find out the OPA killed her son, and I loved that she admitted her interest was personal.
Meanwhile, the Roci docked at Tycho and the visual effects on this series never fail to impress me. That station looks as amazing as the Hermes, (the orbiting vessel in Ridley Scott's The Martian) for a fraction of the cost.
Phenomenal movie by the way, in case you haven't checked it out. Anyway, Fred Johnson quickly introduced himself and delivered one of the best lines so far...
You're either some kind of genius Mr. Holden, or you're the luckiest dipshit in the solar system.

Fred Johnson
Holden is no genius, so I think Johnson understood the guy's been flying by the seat of his pants. After watching the Butcher of Anderson Station flashbacks, we're supposed to feel uneasy about Johnson. However, the calm and confident way Coleman plays the Butcher makes one hope he's a true ally. Holden and his crew need someone in their corner.
Who better than a guy that worries even Avasarala, you know?
Holden shared everything he knew about the destruction of the Cant and MCRN Donnager. By asking Holden to testify, it was pretty clear the OPA wasn't the big bad pulling the strings.
So, who exactly is behind all this? That's the trillion dollar question my friends and with just a few episodes remaining, I can't help wonder if we'll get all the answers this season. Do you think we're headed toward a massive cliffhanger that won't be resolved until 2017? How much would that suck, you guys?
It made sense Miller was abducted by Dawes, but Captain Shaddid turning on him was a shocker. I actually felt bad watching Miller being electrocuted and beat to a bloody pulp. Guess I care about him more than I realized. It was also sad the way Dawes mocked his love for Julie Mao.
While that deep connection came across powerfully in the book, I'm not sure it is working as well here. What do you think?
Dawes: So, let's talk about Julie Mao.
Miller: Is she alive?
Dawes: She chose to be OPA because she believed that what we are fighting for is just.
Miller: You took an innocent kid, forced her to do your dirty work.
Dawes: No, she came to me. Asked me to help her. She knew what she was doing. She was willing to make a sacrifice for us.
Learning more about Dawes and his fragile sister was fascinating. His story gave us some insight into the man and his plight. I will say, it surprised me he almost had Miller killed. Good thing Muss showed up when she did.   
Is it me, or did the stuff with Diogo and his uncle feel a bit random? While it made for some cool visuals throughout the installment, it wasn't terribly relevant and interrupted the main storyline. Yeah, so it's part of the world building, but it mostly just hurt the pacing and felt forced.
That said, the club scene with Amos and Alex was super cool. Having read Amos' story, it was great to get a little taste of that in the scene. Amos is a complicated guy, I highly recommend reading "The Churn" if you want to learn more about his backstory. Anyone else surprised Alex is not married?
The fact he carried that little picture around threw me. So, apparently he's more interested in piloting than being a family man. I'm not quite sure how I feel about that. A tad self-centered, no?
I also liked watching Holden and Naomi bond. In the end, he and his crew took on Johnson's mission.
Holden: A lot of Martians gave their lives getting us onto this ship.
Johnson: In the heat of the battle, they fought to get you off the Donnager?
Johnson seemed fairly convinced neither Earth nor Mars was behind the attacks. Apparently, the OPA is not involved either. If you had to wager a guess, would you say there's another player involved or is someone lying? I know the answer, but no spoilers from me, guys.
This is one series I definitely wish I could binge-watch. I just find myself frustrated having to wait for answers. Perhaps it's because I read "Leviathan Wakes" that I'm anxious for the series to reach certain milestones. Does the pacing need a little work, or is it me?
So, the crew of the Rocinante officially came together, and Amos marked the occasion with some slick artwork. I loved watching him paint the ship, as much as I loved Holden sharing a cup of coffee with each of them. It's the little things that stand out in the end.
What did you think of "Rock Bottom"? Was Shaddid in Dawes' pocket all along? Is someone higher up pulling her strings? What happened on Phoebe Station? Do you trust Fred Johnson? Your turn folks, feel free to sound off in the comments below.
Need to catch up? Remember you can watch The Expanse online via TV Fanatic.
NOTE: The Expanse Season 1 Episode 7 is titled "Windmills" and airs Tuesday, January 19.