Chicago Med Season 1 Episode 10 Review: Clarity

Elizabeth Harlow at . Updated at .
Will's redemption cannot come soon enough.
He's not going to have any friends left if this goes on much longer. Chicago Med Season 1 Episode 10 saw Will attacking love of his life friend Natalie. Elsewhere, daddy issues were at the root of a lot of problems, and Sarah had an emotional backslide.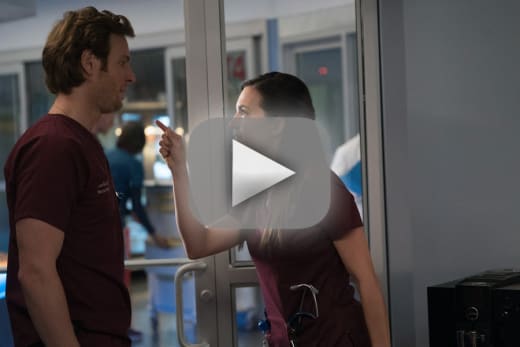 I keep promising myself that I'll talk about something other than how terrible Will is, but it just keeps getting shoved in my face. Time to hold our noses and get through this.
Halstead was really lucky that Nat is a patient person, because if he had tried to kiss me (at work! in a room with full length glass windows!) so soon after that fight, I only would paused to slap him before heading to HR.
The Dick Wolf team should stop trying to rip off Shonda Rhimes specialty of convincing audiences that selfish assholes make good romantic leads.
I was really proud of Nat for standing up to him about his treatment of her, but I hope that she saw the corollary to abusive behavior that I saw. Her description of his yo-yo-ing attitude struck home the parallels – he gets angry, he takes it out on her, cools off, begs forgiveness. She accedes, and then it's lather, rinse, repeat.
Why do you always take things out on me?
Being mean to a girl because you like her isn't acceptable after fifth grade. I'm taking Nat's request to change shifts (and why couldn't that have been done? Changing her schedule would have no bearing on the lawsuit) as a positive sign that she's becoming stronger. 
But while Nat showed signs of growth, Sarah was backsliding. We've watched her emerge like a butterfly from it's cocoon, improving her people skills alongside her ability to place an IV. 
It's turning out to be typical of this character that the thing she struggled with the most is what she becomes most proficient at. I just wish she would have sat down with Dr. Charles before letting one case impact such an important decision. She needs to realize her empathy is a strength. And learn how to compartmentalize.
It's hard to imagine she'll actually leave (especially since we haven't heard any murmuring about Rachel DiPillo finding another project), but her residency requests were due that night. I'd be sleeping easier if it had been the end of the week instead.
It's the patients. They come in, and you want to help them. You care about them, so you try to connect, and just when you think you're getting through, they go back to what they were doing before. And it's like you were never even there -- like everything you did was for nothing. I can't take a life of that.

Sarah [to Maggie and April]
There was so much going on with her and Choi's patient. This is one of the things I really like about Chicago Med – the writers take a bunch of different issues and distil them into one case. It's the medical version of the Law & Order "ripped from the headlines" mysteries.
Still, there were a few things I found frustrating. If they didn't want the kid to play, clearly Choi and Sarah should have kept mom in the room. There was also a missed opportunity to talk about how team doctors have become notorious for downplaying player's condition.
I guess I have to forgive it since so much else was going on though.
Boy's will always want to be better than their fathers, which is precisely what their fathers want.

Daniel
The "father and sons" theme appeared a little late in the game, but connected several of the stories. Finding out that Choi had been in basically the same situation as Brett made his frustration with Jack all the poignant. It's too bad Charles wasn't there to overhear the conversation with Vicki.
Examining why he joined the Navy, and his frustration with his father for not sharing the hardships as well as the glory would make great fodder for a couch session.
While Choi was subconsciously fighting his frustration with his old man, Connor was out looking for a replacement Dad. Downey has an...interesting...teaching method, but I am starting to like him. He's eccentric, but he's actually quite soft-hearted. Not the god-complex surgeon I first took him for at all.
But Connor may end up trading one relationship for another. He did the right thing by being upfront with Sam, but he's a bit of a dolt if he thinks that they can survive this.
She could never respect him for giving up the opportunity, but she's also hurt that she's second choice for both men. Connor's obliviousness to her feelings doesn't help. They're doomed.
Connor: Sam, I know this can't be easy for you. But if you're going to make me choose between you and Downey...
Sam: It's gonna be him.
There's going to be a lot going on when Chicago Med Season 1 Episode 11 airs (February 23rd). Not only will the dangers of the anti-vax movement be tackled, but Sarah and Sam (an interesting new combo to say the least) will team up to fight flesh eating bacteria.
Connor and Choi take opposing views of a patient's choice of treatment, but the real drama is sure to be centered on Will's (and the hospital's) continuing legal battles. 
Watch Chicago Med online and catch up on the ongoing disaster that is Will's life. Let us know what you thought of "Clarity" in the comments section! 
Elizabeth Harlow was a staff writer for TV Fanatic. She left the organization in October 2018.