Chicago Med Season 1 Episode 11 Review: Intervention

Elizabeth Harlow at . Updated at .
The boy is back 
Noah has finally returned on Chicago Med Season 1 Episode 11, so Will now has somebody else to share the disdain with. April's brother might actually manage to make the former plastic surgeon look like a good guy.
But while these two were busy trying to shift blame, the rest of the staff had their own drama going on. 
Sarah managed to handle a pretty serious case mostly on her own, and uncovered some medical malpractice to boot. Connor may have bruised his relationship with Choi after changing his position on honoring a patient's wishes. 
Noah seems to have returned mainly to flirt with nurses and eat patient meals, all while making April's life a living hell. If it weren't for the fact that he manages to make April mildly interesting, I'd be all for him flunking out of med school, stat. 
Thus far, April has remained fairly blah. She hasn't demonstrated much range of emotion, the promised steamy relationship with Severide never panned up, and Maggie  (despite being a recurring guest and not a full cast member) has been a much more compelling character.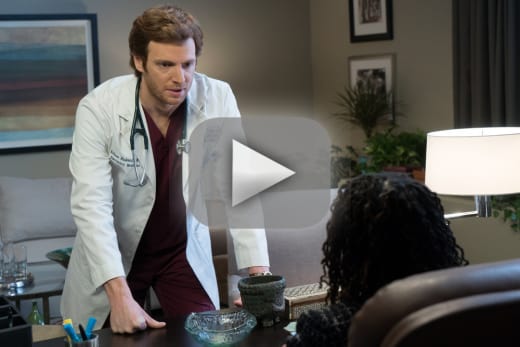 has managed to bring out another facet in her, and suddenly I'm starting to care about what's going on with her. Will she find a way to go to med school? Pursue becoming a physicians assistant or nurse practitioner – both have seen huge growth in recent years and would be an interesting addition to the show.
I mean, she should still hook up with Severide (or someone), but as awful as Noah is, he makes me care about her as a person. 
April: Don't you understand what you did?
Noah: I made a mistake, but nobody died. Anybody could have done what I did. Who set's up the pharmacy bin?
April: Don't look for somebody else to blame.
Noah: I'm just saying...
Noah also manages to make Will look like a decent doctor. Sure, he'll keep you alive when you don't want to be, but he's not going to kill you because of some careless mistake. And eventually, he'll even recognize he's wrong.
I was actually a little conflicted about Dr. Halstead after this one. On the one hand, his little rant was everything I want to yell at the anti-vax people.  On the other, he was still kind of a douche.
The man seriously needed to be assigned to that class that Severide had to take on Chicago Fire. Not being able to keep your cool in the workplace and thinking that lashing out at the woman you like are not good qualities in an adult. If you're in your thirties, you are too old for that ish. 
You asked why I treat you so badly, why I say things to I wouldn't say to anybody else. I'm like a little kid with a crush on a girl, so what does he do, he pulls her pigtails.

Will [to Nat]
Saving me from tearing out my hair in frustration was, once again, Sarah Reese. Girl not only took on a pretty difficult case seeming on her own (where is the supervision in the hospital anyway?), but uncovered a disturbing pattern of behavior in another doctor.
The way she connected with Elias' husband really has me hoping that she'll reconsider her specialty. I mean, realistically, it wouldn't happen, but realistically, she would have been flying all over the country to interview for months and not making some last minute coin flip of a decision. 
While I wouldn't say that I enjoyed Choi and Connor ending up on the outs, it brought some dimension to Med. These two were bound to run into this problem at some point or another – Ethan's worldview is very black and white, while Connor's is completely shades of grey.
Then honor his wishes. I hope when my time comes, to be so lucky as to have someone extend me the same consideration.

Downey [to Connor]
I do think it's kind of funny that they both have their own little gurus to go talk to in these situations. I would have said that Choi pulled the high card when he got Charles, but Downey is turning out to have quite the insight, even if it's not always straight forward. 
I would have liked a little more time with Charles on this one though. We didn't get to see how having his long time friend booted really affected him – he was just at Molly's with a drink like he always seems to be.
I also wish that Dr. Unger's arc had been drawn out a little more. It would have been a little more realistic, plus, I would have liked to explore Unger's character more. Too bad he was such a crap doctor; he could have made a nice addition to the staff. 
Will: Ms. Goodwin? I'm sorry I've been so much trouble.
Sharon: Yes, Dr. Halstead, you have been a monumental pain in the ass.
We've got a little break coming up, but Chicago Med Season 1 Episode 12 will be on before you know it. Here's hoping Noah doesn't pull his magical disappearing act again, and that Natalie comes out of her post-partum stupor and sees that Will treating her like crap isn't hot. 
Before you join in the discussion down in the comments section, make sure you're all caught up. Remember, you can always watch Chicago Med online if you're behind! If you've got any thoughts on Will's attempts at redemption, what exactly is going on in Sharon's marriage, or Sam's departure, chime in below.
Elizabeth Harlow was a staff writer for TV Fanatic. She left the organization in October 2018.