Chicago Med Season 1 Episode 8 Review: Reunion

Elizabeth Harlow at . Updated at .
Talk about your daddy issues.
On Chicago Med Season 1 Episode 8, Nat and Will teamed up with Dr. Charles to get to the bottom of medical mystery, while Choi attempted to take on the VA system. Meanwhile, Sarah dealt with the repercussions of the modern dating scene and solved her own problems for one.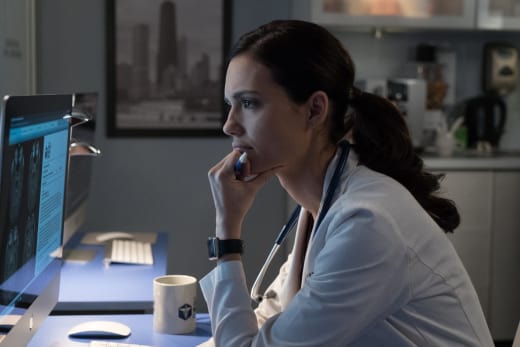 Okay, so, I can admit when I was wrong. The main case wasn't that old medical drama chestnut, Munchausens. The complicated conversion/transference issue was something new and different – for the doctors and for us. 
I love it when I'm proved wrong. What's the point of watching if I know what's going to happen five minutes in? This case had me guessing – there were more than a few possibilities, and the clues were given in such a way to keep me constantly misdirected and doubting my earlier analysis. 
The father's behavior was a wonderful red herring, but I appreciated how in the end, he wasn't vilified. It really was a tragic case, with no one really at fault – except perhaps all of the previous doctors who just kept passing the case along. It was good to see that the docs be able to admit that they could have handled things better. Especially Will. 
I also have to say that the way Nat's worry over leaving baby Owen was played against the Jaffe's not-so-healthy attachment was really skillfully done. Torrey DeVitto played the new mother anxieties beautifully, and the writers elevated it through the juxtaposition of the two parents. 
Nat: Girl presents with bronchospasm. I get this close to criching her. The moment her father leaves her side... [snaps] She catches her breath. Like magic.
Will: The kid's a budding Harry Potter.
I really enjoyed Choi's story, and I really hope that it doesn't end with "Reunion." The overload that VA hospitals face is a huge problem, and the way that Dr. Vicki Glass worked around it was pretty clever. 
I also like that the plot made Choi's service into more than just some ancient back story, especially since he's in the reserves. His service is very much part of his present, and now it's more than some interesting tidbit for his bio.
This would be a good time to mention that I love that the producers chose the Navy for Choi's branch of service. It's a nice nod to those familiar with Chicago, which non-Midwesterners and non-military types may not realize is home to the largest naval training center. Yep, the Navy trains sailors in Illinois. 
It's crazy. A Saudi prince comes here and gets the best heart surgeon we have, and a vet can't even get a CT scan.

Ethan
Sarah is starting to come into her own. She may have floundered a little bit with her case, but she eventually figured it out all on her own, which had to boost her confidence after what went down with Joey.
Ah, the perils of dating in the modern world. I felt her pain about terrible guys, but she did over react to finding Joey on some Tinder knock-off app. It was a little hard to swallow that she didn't know that guys lie on online dating sites.
And Joey didn't really seem that terrible. He was significantly less creepy than the last time we saw him, which was a major relief. His misadventures in romance made me like him a smidge more than I had before. It's hard out there!
Sarah: Whatever. Don't do it on my account. Go have fun.
Joey: "Fun?" I've been on one awful date. She asked me to go on a hike, and I got bit by a spider. It still hasn't healed.
Of course, Joey should just be grateful that he got to come back at all. We haven't seen Noah since the great crossover event. He may be a mess and a total drain on April's life, but I'm hoping he comes back. She's been getting mildly more interesting, but as of now, she could leave and nothing would change on the show.
Noah makes me sympathize with her, and seems like his struggles might be the push she needs to realize her own dreams. It'd also be good for the character for Severide to show back up, but then again, he needs his pecker put in quarantine, so maybe not...
With Sam and Connor looking like they'll be on the outs again as professional ambitions interfere, Med could use a solid couple though. We'll all just have to wait to see who swipes right on whom next.
Sarah: Another dating app? Why? You go to any bar, and there's a line around the block to buy you a drink.
April: Well, at least these guys know how to type...for the most part.
Dr. Halstead is back to his high and mighty ways on Chicago Med Season 1 Episode 9, "Choices," airing February 9th. Oh, who are we kidding, he never really stopped. It looks like Med is going to be behind Code Black once again as a doctor goes against a patient's wishes and tries to make an end run on a DNR.
You'll want to catch up and watch Chicago Med online if you're behind – it looks like there will be some call backs to previous upsides on "Choices" and there have been new characters introduced. Join us in the comments and let us know if you think Will has softened up or if he's just as arrogant as ever – or just to share any other thought you might have!
Elizabeth Harlow was a staff writer for TV Fanatic. She left the organization in October 2018.