Chicago PD Season 3 Episode 14 Review: The Song of Gregory William Yates

Stacy Glanzman at . Updated at .
Here's hoping Lindsay doesn't fall back down the rabbit hole. 
Chicago PD Season 3 Episode 14 was gripping, intense, emotional, and everything I love about this series. 
Throwing in one of my favorite TV characters, Olivia Benson, was just the icing on the cake.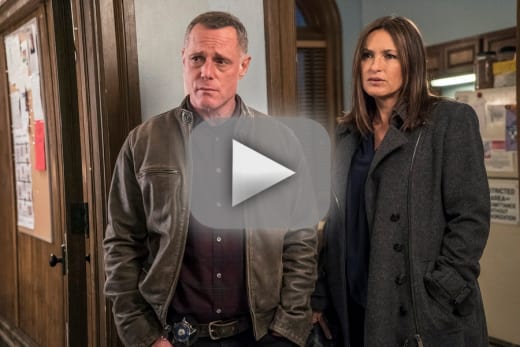 As much as I love Law and Order: SVU, there is a part of me that almost wants it to get canceled so that Benson can permanently move to Chicago. Her dynamic with Voight has always been fun to watch, but her growing connection to Lindsay has become even more compelling. 
I love how much Benson cares about Lindsay. So much so that she even started to open up to her about her own personal demon, William Lewis. She didn't go into all the gritty details, but I think if Lindsay took her up on her offer to call any time, she would. 
I wish you were here more often. You'd be good for her.

Voight
This whole story revolved around Yates out for revenge, but in the end, it was really Lindsay who got it. 
She's been blaming herself for Nadia's murder ever since it happened, and even tried to put the murder of the nurses on her shoulders as well. She's going to struggle with shooting Yates, but admitting to Benson that she was relieved she was the one who did it means something. 
Hopefully it means she can finally start to move on from all of this. 
Voight spent the entire case worried about Lindsay. Not just her physical well-being, but also where her head was at. So much so, that I think it clouded his own judgment. Kind of like a self-fulfilling prophecy.
That's the only way I can think to justify him leaving her at the station alone. 
As soon as they all left her there, my first thought was "there is no way she's staying there," and I"m sure that was what everyone else was thinking too. We just saw her chase Yates through the woods in New York alone. What was stopping her from leaving the station?
I mean, she basically offered herself up as bait from the beginning.
Voight: He's baiting you.
Lindsay: No he's not. He's using me to get under your skin and it's working.
Voight: You make one mistake with Yates, you're dead. You get that?
Lindsay: If he wanted me, he would have had me in upstate New York.
Voight: Well he's not getting a second chance.
Lindsay: Hank, if I'm bait, let me be bait.
Those of you who watch SVU know that Benson has snuck off on her own to meet Lewis, so she also should have seen this coming. It probably would have been a good idea to leave Halstead or someone behind too. 
But sometimes you have to accept things like this for a great story, and we definitely got a great story. 
The family connection with Yates was surprising, and made for another interesting connection with Lindsay, at least in his head. It's interesting that all of this happened because Nadia apparently told Yates Lindsay's whole life story.
They say talking about yourself is supposed to make you seem more human to a potential killer, but that obviously did not work out for her. 
It's been awhile since we've spent an entire episode on a single focus. We barely had to see Roman, which was nice. There was only one tiny moment between Burgess and Ruzek. We still haven't checked in with Olinsky and Michelle in what seems like forever at this point, but trying to fit anything else in wouldn't have worked. 
To be honest, the single focus might be why the crossover between these two shows worked so well. Let's face it, this one was much better than the Chicago three-way earlier in the season that felt convoluted. 
Don't get me wrong, I love when the Chicago shows crossover, but sometimes it feels forced, like the writers don't quite know how to make the stories fit. That really wasn't an issue in this case. 
This was one of the strongest outings of the season. Did you guys love it as much as I did? 
If you missed any of the action, you can watch Chicago PD online any time!
Stacy Glanzman was a staff writer for TV Fanatic. She retired in March, 2019.