Code Black Season 1 Episode 15 Review: Diagnosis of Exclusion

Elizabeth Harlow at . Updated at .
That was a total game-changer.
Code Black Season 1 Episode 15 centered on the fall-out of events from Malaya's stalker losing it. While we learned how the attacks and subsequent treatments played out through a hospital inquiry, it also became clear that everything is going to change as a result.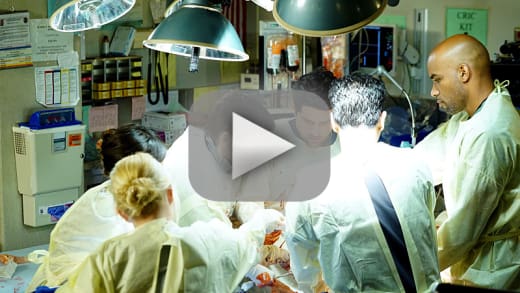 I absolutely loved this episode. It might not have had the adrenaline rush of early offerings, and it was without the show's usual tear-jerking endings, but it was so wonderfully executed that it elevated Code Black to a whole new level. This show just keeps getting better.
The use of flashbacks and multiple viewpoints could have easily become a confusing mess, but the writers managed to convey the chaos (and trauma) of the situation with poignancy.  The actors managed to pull off the careful balance required, and it all came together beautifully.
I'll admit that the "twist" where Angus let Gordon bleed out was not unexpected – the only surprise was that it was passive inaction instead of Angus purposefully stabbing the guy or something. And even that isn't so surprising when you really think about Angus' personality. 
Gordon Heshman's not doing well. As healers, we fight death every day. That doesn't mean I'm not hoping he dies. Better for Malaya. Maybe you too.

Jesse [to Angus]
Gina's death is inevitably going to turn all kinds of things in Trauma One upside down. It's a little unconventional to shake things up this dramatically so early in a series, but this should smooth over some of the casting hiccups that the show seems to have suffered.
It should also make things at Angel's a little more logical. Having Leanne take on an administrative role will give her new direction, and the ability to stand up for her staff. Of course, she'll also have to work out how to discipline her friends-cum-underlings. 
I have a feeling her new role is going to stick. Even without her prophetic words, Taylor's portrayer Kevin Dunn has other obligations to fulfill. He's set to appear in eight episodes of Veep as Ben Cafferty this year, and is also filming a feel-good sports movie with Shirley MacLaine.
Ed: Look, no one knows Trauma One like you, and it's just until Taylor returns. It's not forever.
Leanne: That's what they said about Afghanistan.
Gina's death also brought in a new surgeon, the previously mentioned Dr. Campbell. One look at him, and I totally understand how easy it was for Heather to end up in a supply closet with him. He doesn't have the nicest personality though. There's definitely going to be some dirty laundry aired with that plot before long.
And bringing in Dr. Campbell brought into focus Neal's own surgical skills. Apparently, he's done a pretty good job keeping his previous specialty on the DL. I did think that Harbert's nixing of Neal's practicing surgery was a pretty good indicator that Dr. Hudson will be changing specialties soon. Or at least pursuing a fellowship of some kind. 
Angel's does seem like it could use a dedicated trauma surgeon after all. And as a bonus, Neal transferring to the surgical department would make his relationship with Christa a little less stressful. 
You're a good surgeon. But you're not a surgeon at this hospital. No more surgery for you unless you are expressly given privileges.

Ed [to Neal]
Other Thoughts
Will the fact that Campbell is using his position of power to manipulate his relationship with Heather going to be directly addressed?
Seriously, it's a shame someone so hot is so terrible. I can't see how Campbell could be redeemed, but I'd love to be surprised. 
Is Rollie ever going to come back? Is he off hunting down Cole or something? If he's going to be perpetually absent, I wish they'd at least throw in some little jokes about where he's been. 
Revealing Gina's relationship with Harbert was a nice touch. Does that humanizing scene mean that we should expect to see more of him?
Was I the only one who thought the medical prosthetics weren't quite up to par? I could totally see the latex edges on Malaya's swollen eye, and Gordon's neck was a different color once he was stabbed. 
Christa's line about the marriage license had me holding my breath. Especially since the blurb on my DVR was "Neal and Christa decide to take things to the next level." Glad it didn't go that direction, it's too soon!
Center stage is where rules go to die.

Leanne
A special guest is coming to Angel's ER on Code Black Season 1 Episode 16, airing February 10th. Hopefully Odell Beckham's appearance is worked in as gracefully as the cast of The Lion King's was. I know that special appearances like this are supposed to help ratings, but they just feel tacky if done for that reason alone. 
It looks like Christa's insecurities are going to shift from work to personal. Even after Neal's dramatic declaration to the review board, she just can't trust that things in her life are going positively. The arrival of his ex is going to stir that pot to the boiling point.
Watch Code Black online if you've missed anything this season; especially recently. You'll want to be up to date before joining the discussion in the comments section!
Elizabeth Harlow was a staff writer for TV Fanatic. She left the organization in October 2018.