It's been quite a while since we've witnessed such a disturbing and vile story in this series.
If the quality of a story can only be measured by how deeply it affects the viewer, then in this case, the writing was very very good, because I truly detested this week's unsub.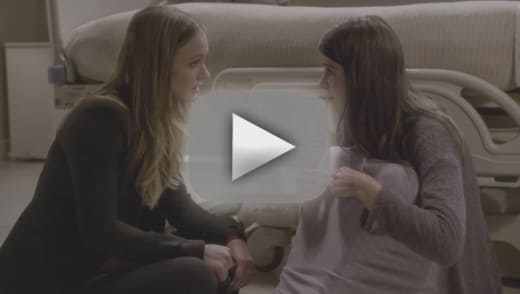 Criminal Minds Season 11 Episode 14 oozed out the loathsome tale of a misogynist pedophile who got his jollies from torturing little girls and getting them pregnant.
The word "disgust" doesn't even come close to describing the effect this monster had, not only on the BAU but to the viewers as well.
You could see the hatred building in Rossi and Morgan as they slowly toured the girls' prison, making note of the torture devices and bloodstains that littered the walls and mattresses.
And then there was this lovely bit of female-hating logic:
Tom: I gave them a good life. They were clothed, fed.
Hotch: You repeatedly raped and tortured them.
Tom: Children need discipline.
I remember thinking, right about then, that I hoped Morgan would put a bullet in the guy's neck.
Turns out that thought was prophetic.
Only it wasn't his neck that caught the bullet, and it wasn't Morgan who fired it. It was justifiably fired by the mother of the one little girl who died due to complications of a miscarriage.
Can you imagine the horrific decision that woman's judge would have to make? Technically she's guilty of murder, probably in the second degree. But how could anyone condemn her to any kind of outcome other than an absolute discharge, given the nature of the man's treatment of her little girl?
I was both glad and disappointed when she did that. He deserved that lead poisoning, but I was kind of hoping Rossi's rosy prison picture would be his fate:
Hotch: Stand up. We found them both, alive.
Rossi: Too bad you took that deal off the table. You'd be on your way to Club Fed right about now. Yeah, but don't you worry. You're going to make a lot of friends. They're going to love you out in the yard.
Quite often, the writers of Criminal Minds will have a back story for the unsub; something that will allow us to see the reasoning behind their criminal behavior. Something that makes him human.
Not this time though. It doesn't matter that he was shuffled from home to home, or that, as he told Morgan, he felt he was "saving" them.
There were absolutely no hooks in his story to make him seem the least bit human. He was a monster through and through.
I truly hate stories like this. Anything involving crimes to children just brings one's blood to the boiling  point.
Mad props have to go the actor playing the pedophile – Daniel Roebuck. It takes real professional courage to take on a role like that.
Here's hoping we never see a story like this, ever again. (Not that we're holding our breath.)
Final thoughts:
The two main actors who played the abused girls – Amelia Rose Blaire (Violet/Amelia) and Rebekah Kennedy (Gina Bryant) – each did an amazing job with their roles. They were brutally believable.
The Violet/Amelia character portrayed an accurate picture of someone who was suffering from Stockholm Syndrome.
"Tom" had managed to ingratiate himself with his neighbors for at least twenty years. This means he was an expert at emotional manipulation and was likely, in addition to being a sadistic pedophile, a psychopath.
I'm glad Morgan got vicious with the cuffs after "Tom" broke his arm.
The next episode won't air until February 24. Be sure to tune in then for Criminal Minds Season 11 Episode 15 entitled "A Badge and A Gun."
As always, you can catch up on missed episodes, or just see them again when you watch Criminal Minds online.
Now it's over to you. What are your thoughts on what has to be the darkest episode of the season? Hit us up in the comments below!
Douglas Wolfe was a staff writer for TV Fanatic. He retired in 2016. Follow him on Twitter
.