Girlfriends' Guide to Divorce Season 2 Episode 11 Review: Rule #118: Let Her Eat Cake

Carissa Pavlica at . Updated at .
The walls are crumbling down, you guys!
Relationships between the girls were front and center on Girlfriends' Guide to Divorce Season 2 Episode 11 as they got together to celebrate Delia's impending nuptials.
Abby is cracking under the pressure of life, Delia of marriage, Abby of shock thanks to Scott and Phoebe had a temporary blip with JD.
The biggest issues, for sure, lie ahead for Abby and Delia, and they were at the heart of the disagreements on "Let Her Eat Cake."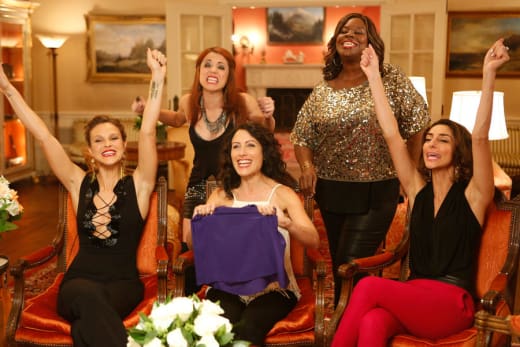 To start, Abby is just a mess. I'm not sure she can recover from what's going on without medical intervention. Thanks to her collapse after learning the father of Becca's baby was Taye Diggs (in an absolutely fantastic nod to Paul Adelstein's former co-star on Private Practice), she already knows she's not well.
Abby hasn't been taking care of herself, full stop. She's malnourished, dehydrated and her blood levels are off. The doc was kind enough to relate to her the next time she faints she could crack her head open and die. So there's that. 
And, frankly, she may be manic. She seems to be suffering bouts of depression with severe highs and lows, or maybe she's faking the highs. She's probably gotten really good at pretending to be happy after years in an unhappy marriage.
Nobody who would pass up gobbs of Scott's cake on a first go around is in their right mind. Let's just get that clear right now. Nobody. 
Adding to Abby's pressure was keeping Delia's secret about Albert. Pretending to be happy about the upcoming wedding was one more thing weighing on her already overburdened mind and girlfriend just cracked right in the middle of what was supposed to be a fun night.
Although I would have hated that bachelorette party. Does anybody else really hate male strippers? I don't find men grinding their bits in my face or trying to make me part of their show in the least bit enjoyable, and if I laugh, it's out of sheer humiliation and horror. Yuck.
As ugly as the argument got and as inappropriate as it was out in the middle of an exclusive strip club, Abby was right about Delia's relationship with Gordon and her dalliance with Albert. 
Delia: Abby, what are you doing? One moment you're fainting and the next moment you're stripping. What is going on?
Abby: Delia, um. I'm sad and tired, and I'm stressed and I...And this isn't about me tonight. This is about you. So...
Delia: Yeah, well you wouldn't know that from that display. You're acting nuts. And you're hijacking my night.
Gordon is a manipulator who is so good at it he makes Delia think all of the decisions she's making are her own. But once she's tied down and has a chance to stop the roller coaster of all that's taking place, she will want her freedom. But she won't have it, and she'll need someone like her to get it back for her.
Albert's appeal to Delia was shocking. Have we ever known Delia wanted to be a judge? He's even looking out for her future and planning to offer her more than himself. That was unexpected and a nice touch.
All of the little things like noting that they complete each other's sentences and how they're made for each other will get inside here head. The preview made it look like she will be a runaway bride. 
And there was another runaway bride...Charlene left Frumpkis. Sorry, buddy, but that didn't give him the right to go to her place and use her couch. That's way too intimate. And where is Zooey? At his place? Odd.
But more importantly...Damn you, Scott!!!
Scott: Hang on a minute. I thought we weren't getting emotional.
Jo: Well, you should have thought of that before you stuck your funky love cruffin inside my pastry box. You know what my box says? I'll tell you what it says. Go screw yourself!
So far, he's only flirting with customers and screwing things up. I'm hopeful, given the stupid sing-song way he said her name, calling her Josephine, that he's freaking out because he has actual feelings for her and it surprises him.
Jo has just become far too awesome to be dumped on. Did you notice how she reacted when the stripper was dancing with his junk all up in her face? I know that conversation she had with Scott was real.
Again, I'm hopeful, and the preview seems to indicate I'm not an idiot for holding onto that feeling. They could be so great!
Phoebe had a close call with JD, who, it turned out, wasn't certain if he was doing things because he loved her or because he loved doing them. That whole relationship is just a bit too quick for me. 
Shouldn't they still be in the honeymoon phase? I mean, it's his first woman for goodness sakes. 
It doesn't feel authentic and will take a while to feel anything but pasted together to give Phoebe another man. They're just pushing it too hard.
More Notes:
Abby's editor seemed like a bigger bitch than usual this go around. I would have been upset over that close-up cover shot, too. 
Too funny that Delia ran from the girls when they attempted to "kidnap" her with the masks on.
Glad to see Rhetta back as Barbara, but she didn't get to do much.
Lilly got to hold her mom's hair back while she puked. They grow up so fast.
Was Abby going to give her kids' stuffed animal to Becca's baby? Lamby? Not cool, Abby!
I honestly cannot believe Abby got home from the hospital and wanted to clean the kitchen. 
Funniest moment was when Delia tasted Drakkar Noir doing a body shot.
So what did you guys think of this one? It's great to be focusing on the friendships, right? Are you worried about Abby? How will things go for Jo and Delia and their men? What did the commercial say...will love win?
Drop me a line, and don't forget you can watch Girlfriends' Guide to Divorce online right here at TV Fanatic anytime you want!
Carissa Pavlica is the managing editor and a staff writer and critic for TV Fanatic. She's a member of the Critic's Choice Association, enjoys mentoring writers, cats, and passionately discussing the nuances of television and film. Follow her on Twitter and email her here at TV Fanatic.