Jane the Virgin Season 2 Episode 11 Review: Chapter Thirty-Three

Amanda Steinmetz at . Updated at .
Valentine's Day is near and love is in the air, or maybe just a whole lot of mixed signals.
On Jane the Virgin Season 2 Episode 11, Jane's crush on Professor Chavez reached a brand new level of awkward. Let's call this level... #sweaterkiss.
While Jane was off embarrassing herself in front of her hot teacher, Rogelio's plan to propose to Xo didn't exactly go off without a hitch.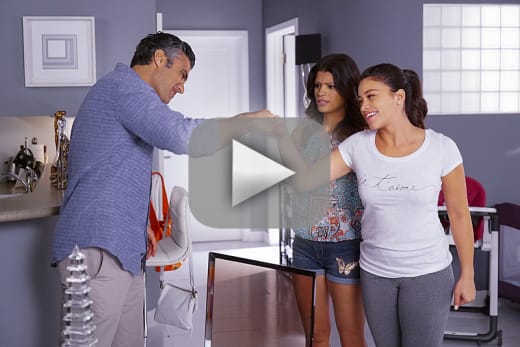 Poor Rogelio! After his unfortunate mishap with Mateo swallowing the diamond, Rogelio's moment to propose was sweet, simple, and possibly all for naught. Xo didn't exactly turn his proposal down, but she also let him know that she doesn't want to have another kid.
Will Xo's confession be a deal breaker for him? I hope it isn't because Xo put her dreams aside to be a mother and now it's her turn to do something for herself. However, it's understandable that Rogelio would want more children with Xo since he missed out on raising Jane. 
I thought for sure she would say yes, especially after his heartfelt proposal. Rogelio was able to put aside his burning desire to make his proposal a spectacle, and simply got down on bended knee.
I think back to when we first met, when we were sixteen, and I think that my whole journey up to now has been about finding my way back to you.

Rogelio
This was the most vulnerable and sincere moment we've seen between the two of them. While's Jane's love life has always been a main focus, I'm just as invested in Rogelio and Xo's relationship. 
Speaking of Jane's love life, can we all just take a minute to appreciate Gina Rodriguez's ability to express that feeling we've all experienced where you just want to sink far down in your chair until you slide off of it into a never-ending hole in the earth as an escape route after you've just embarrassed yourself more than you ever thought was humanly possible! 
Jane was consumed by her heated dream over Professor Chavez and decided to follow the signals he was supposedly sending her. I can't get over how awkward her kiss with his sweater was.
Despite the weirdness, it looks like Jane may have not been far off in her assessment of his signals now that he has asked her out. I can't wait to see how their first date goes, and what will happen once he discovers she's a virgin.
I'm glad we're revisiting the subject of her virginity because it's been a while. There were moments in both of Jane's relationships with Rafael and Michael where she considered going back on her promise to Alba. However, those were both men she could see herself ending up with.
Jane: I could see the finish line, first with Michael, and then Rafael, and now it's just not even in sight, and I'm a mom. When I was ten years old making that promise, I didn't see this coming.
Xo: Yeah, makes sense. So, maybe it's time to reevaluate?
Jane: Yeah, maybe.
It's understandable that Jane is considering losing her virginity before marriage. Jane became a mother without ever having sex, so her life didn't exactly go as expected.
Jane's impatience may be a sign of moving past the initial promise she made all those years ago, or it could be Jane worrying she won't marry someone until later in life. Regardless of when and to whom she loses her virginity to, Jane's always been a strong woman. Whatever choice she makes will be her own. 
While Jane was off making goo-goo eyes at Professor Chavez, Rafael and Petra worked together to repair The Marbella's reputation. Once again, these two proved to make a good team. We also got more insight into their relationship through flashbacks.
Petra was only interested in him for his money, but somewhere between their initial meeting and the day of their wedding, she truly fell in love with Rafael. For all of her scheming, Petra seems to genuinely want to be with Rafael.
She finally got him to kiss her and she pulled away. Petra's concern that Rafael is still in love with Jane is valid. I don't want to see these two move forward if Rafael is still hung up on Jane.
On the Mutter front, Susannah and Michael discovered Elena was Rose's step-mother! How much weirder is this family tree going to get? It's no wonder Luisa is so screwed up.
While the Elena-Rose saga carried on, I found Susannah and Luisa's connection to be much more interesting. Susannah seems like a normal, decent person. This is the type of woman Luisa needs to be with. 
So over to you guys! Will Rogelio and Xo work things out? Should Jane reconsider her virginity? What are your predictions for Jane the Virgin Season 2 Episode 12?
Sound off below, and don't forget you can catch up on the entire season when you watch Jane the Virgin online via TV Fanatic!
Amanda Steinmetz was a staff writer for TV Fanatic. She went into retirement in June of 2027. Follow her on Twitter.