Rizzoli & Isles Season 6 Episode 15 Review: Scared to Death

Jack Ori at . Updated at .
Jane really is having a hard time regaining control over her life.
In Rizzoli & Isles Season 6 Episode 15, she's not allowed to participate in the investigation into her stalker, her best option for a new home is near Maura and Angela's, and she has to investigate a "fear club," which she thinks is ridiculous given recent events.
Meanwhile, Vince is too happy for Jane's taste, while Maura won't let her worry about her.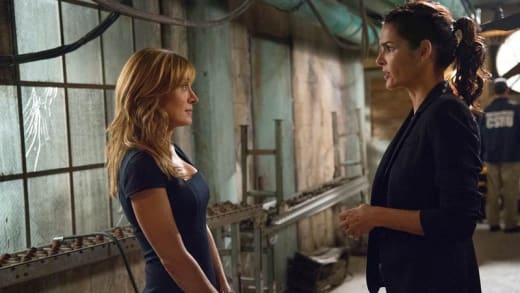 PTSD is not often dealt with well on television. Often it is treated as a plot point. Characters have it for one or two episodes and then it mysteriously disappears.
Kudos to Rizzoli & Isles for being better than that.
You went through hell. Nobody expects you to be fine.

Angela
Maura spent a lot of time insisting she was fine when she clearly wasn't. She froze when she had to look at a crime victim who may have been bound and gagged like she was, and she spent her spare time researching PTSD.
Having Angela be the one to comfort and support Maura was a nice touch. Angela is at her best when acting as the concerned mother hen, and she could get through to Maura when Jane couldn't.
Maura might want to protect Jane from being worried, but Angela is a lost cause in that department. So Maura is far more likely to give in and talk to her.
I know you think you want to know what's going on, but you don't, because it might jeopardize the investigation.

Nina
Jane had a really hard time letting go of the stalking investigation. She tried to get Nina to go behind Vince's back and get her information. Nina was right to refuse her request.
If Jane interfered with the investigation, they may never be able to catch the stalker. Even so, the look Jane had on her face when she realized Nina and Vince were talking about her case while she wasn't there was heartbreaking. 
Jane also had little patience for the case of the hour. It's hard to blame her when she's had such a raw deal lately. Between the house fire, the hacking and Maura's kidnapping, Jane's world has been turned upside down, and she doesn't get to participate in bringing down the guy(s) who are after her.
Jane's worries that Vince would be too happy and leave the force also demonstrated how desperate she is for control. She seemed afraid that everything was going to change. It was surprising to discover that her fears weren't entirely unfounded; Vince actually did leave temporarily after his second divorce.
Finally I realized, I can't change the past. I just gotta find a way to move forward.

Vince
Jane wasn't the only one struggling to overcome fear. Nina admitted to Vince that she was afraid to go out in the field because of her boyfriend's death. Hopefully we will get more of her backstory as the season goes on. It was nice to see her and Vince team up, though. Vince's support of Nina was heartwarming.
I'm gonna find Riley and I'm gonna have a talk with him.

Nina
Nina and Vince got a hacker off the streets, but it doesn't look like he has anything to do with what happened to Jane and Maura. However, he told Vince and Nina something, and I can't wait to find out what information they got out of him.
You're going undercover. You're not going on vacation.

Vince
Frankie provided the comic relief as usual. Sometimes he is underused, but this time we really needed something to laugh about because of all the darkness in Jane's life.
Frankie and Jane's brother-sister relationship was at its best during "Scared to Death," with Frankie being overly excited about his undercover assignment and Jane and Vince making fun of his fear of spiders.
Vince's proposal storyline also helped balance out the hour. This could have been silly. It almost went there with Maura's inability to keep a secret and Angela getting the ring stuck on her finger. However, it bounced back from that and ended up being a sweet sideline.
Less necessary to the story was the little girl who was selling fake raffle tickets, but Jane's reaction to her at the end made it worth it.
So what did you think? Are we any closer to finding Jane's stalker? Were you surprised that Gus actually turned out to be the killer? Did you wonder how Angela got that ring off her finger? Share your thoughts below!
Don't panic if you missed something! Just watch Rizzoli & Isles online and then come back to share your thoughts.
Jack Ori is a senior staff writer for TV Fanatic. His debut young adult novel, Reinventing Hannah, is available on Amazon. Follow him on Twitter.