Shades of Blue Season 1 Episode 7 Review: Undiscovered Country

Christine Orlando at .
The dark hole that Harlee has fallen into started to look more like an abyss in Shades of Blue Season 1 Episode 7 as it became even more obvious there was no one she could trust. 
Harlee was devastated as she realized that Saperstein took the fall for her, literally. It was only days ago that Wozniak was willing to shoot her for being the rat, so I was surprised when she almost seemed to believe the story he wove about Sap and Frank going over the edge together.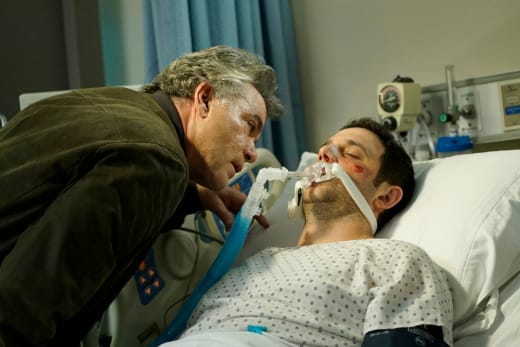 But then again, Harlee desperately wants to believe Woz. He's not just her boss and her mentor, he's a father figure to them all. He saved her from going to jail for setting up her ex, and he helps her take care of her daughter. Remaining loyal to him has become woven into her like a survival instinct. 
Harlee wants to believe that there's still some good in Wozniak and I'm sure there was in the beginning; unfortunately, the monstrous part has been taking over step by step for a while now and it's all but destroyed any good that used to exist. 
As Harlee went to speak to Miguel, Wozniak's advice to Harlee in this Shades of Blue quote was telling…
You want to convince somebody you're telling the truth, convince yourself first.

Wozniak
I think Woz has become an expert at convincing himself that the ends justify the means. His nefarious side used to only come out when dealing with the bad guys, the drug dealers and the criminals, but now it rears its head wherever he sees a threat to his own survival. 
And it's all about surviving. 
I felt horrible for Tufo. Saperstein was his partner and finding those immunity papers that the FBI planted crushed him. He will never be able to trust anyone again. It will certainly only be worse if he finds out that Wozniak killed Sap and that Harlee was the real informant. 
How do you deal with the emotional fallout when you realize you never really knew your closest friends?
Loman was left to flounder as he realized that his gun was used to kill Kovach. I don't know how you explain swapping guns to Internal Affairs. No doubt he'll face some sort of reprimand for that, but Harlee was right. Using some portion of the truth is the best way to go. 
Nava came to visit Harlee at the hospital and seeing him there almost hurt. He's a good guy and he truly cares for Harlee. He's a reminder of the life she could have had if she'd made different choices, but with each passing episode the possibility of finding a happy ending feels more impossible.
We're never really free of our sins, are we?

Harlee
For the first time, I kind of like Miguel Zepeda as he squared off against Agent Stahl. He made me laugh when he told Stahl, "Hope you can hide that crush better when she's around." Why is it that even while surrounded by criminals and thugs, Stahl still manages to come off creepy. 
When Wozniak promised Harlee that he wouldn't try to kill Saperstein again, I knew it was a lie. Woz would never leave something so important to chance. The only thing I questioned was whether there were surveillance cameras on the ICU ward that could have caught him leaving that gift bag, but I figured Woz was smart enough to look for that.
Now the big question is, what will Harlee do? She knows that Woz killed Saperstein. Does she do anything about it? My guess is that there will be no proof, and the FBI will simply look at this as an opportunity to continue to use Harlee as their informant now that she can do so without suspicion. To Wozniak, the rat died with Saperstein.
But will Harlee conscience allow her to do that? Will she take Woz down now that she knows what he's capable of or will she continue to find a way to protect him and the rest of her team?
The questions are what make Harlee Santos and Shades of Blue season 1 so addictive. 
Check back next week for my review of Shades of Blue Season 1 Episode 8 and if you can't wait until then you can watch Shades of Blue online here at TV Fanatic.
C. Orlando is a TV Fanatic Staff Writer. Follow her on Twitter.