Suits Round Table: Who Will Be Found Guilty?
Paul Dailly at .
That was one hour of TV that flew by, right?!
On Suits Season 5 Episode 12, Gibbs went after Donna to get to Harvey, but it kind of blew up in her face when Harvey and Mike refused to give up.
Below, TV Fanatics Stacy Glanzman, Christine Hinton and Paul Dailly discuss who will be sent down for fraud, Gretchen's involvement and Gibbs' agenda.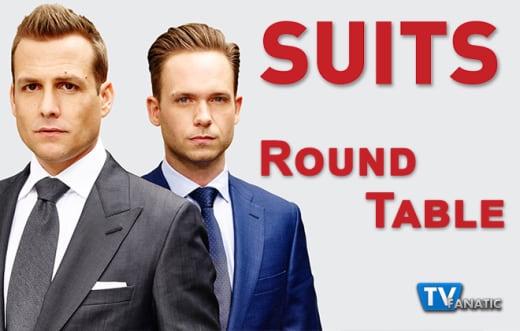 What did you think of the flashbacks?
Stacy: I liked them, without them we wouldn't have understood Donna's relationship with her father or the conflict it caused with Harvey.
Christine: I agree with Stacy. We needed to have some perspective on how Donna refuses to turn her back on her father, despite his willingness to take advantage of her and Harvey's attempts to protect Donna from him.
Paul: I've enjoyed the addition of the flashbacks this season. Donna's were the best. It was great to get such an insight into the best character on the show.
Will everyone emerge unscathed from lying for Mike?
Stacy: I can't imagine that everyone will come out of this unscathed. That feels unrealistic. Maybe one person takes the fall for the rest, or maybe no one comes out of this unscathed. Whatever happens, there needs to be some sort of consequences.
Christine: Someone is going to take the hit for all of this, I just haven't figured out who yet. It would be nice to think that if they all stuck together they could weather this storm but as Stacy says, that doesn't seem realistic
Paul: I think it would be a little disappointing to have them all get away with it. If anything, I think they are going to be able to take down Gibbs because of her underhand tactics, but there will be a price to pay.
Will Mike and Rachel be able to stay together?
Stacy: Yes, she is not going to leave him, regardless of what her family thinks.
Christine: I certainly hope so. I think if she were going to leave him over this she would have done so already, but I do wonder if Mike will try to leave her in order to protect her if the fallout gets even worse.
Paul: I'm not so sure about this one. As much as I'd like them to, Rachel's family are going to disown her and I don't know if she'd be able to cope with that. I do think Mike could leave her to ensure she still has her family.
What did you think of Gretchen being the one to start the whole chain of events?
Stacy: That was interesting, but it wasn't her fault. Good for her for owning up to it though.
Christine: It seems innocent enough but suddenly I don't trust Gretchen. Maybe I'm just getting paranoid, because I like Gretchen but at this point I don't think you can trust anyone.
Paul: It was a real big shock. I literally couldn't believe it. It wasn't her fault, or so we're being led to believe, but she did show up at an interesting time for the firm.
Why does Gibbs want Harvey?
Stacy: Because he's arrogant and she wants to beat him. Honestly I don't really blame her. I love Harvey and Mike, and of course I want them to win, but they are guilty, so we can't really blame her for doing her job.
Christine: I'm sure taking down an arrogant high-end attorney and possibly an entire firm will help her career and make her look like quite the badass amongst her colleagues. She certainly isn't going to back down from this fight now. If she does, or she loses, she looks like a fool.
Paul: It would look very good for her, but I think this is personal because of the way he acts. That said, she acts worse than him. 
What did you think of the episode? Hit the comments with your take on the questions!
Remember you can watch Suits online, right here on TV Fanatic. Get caught up on this crazy drama right now!
Note: Suits Season 5 Episode 13 airs Wednesday February 10 at 10/9c on USA Network.
Here's your first look at the next episode: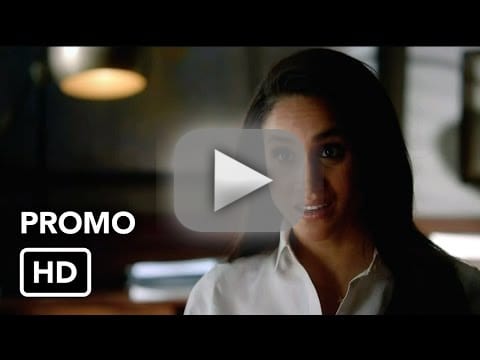 Paul Dailly is the Associate Editor for TV Fanatic. Follow him on Twitter.