The Big Bang Theory Season 9 Episode 17 Review: The Celebration Experimentation

Ashley Bissette Sumerel at . Updated at .
It's Sheldon's party, and he can hide in the bathroom if he wants to.
In a very special 200th episode celebration, The Big Bang Theory Season 9 Episode 17 is the first time we get to see Sheldon allow his friends to celebrate his birthday.
Despite being a little underwhelming, it's a funny episode that offers character development and several heartfelt moments.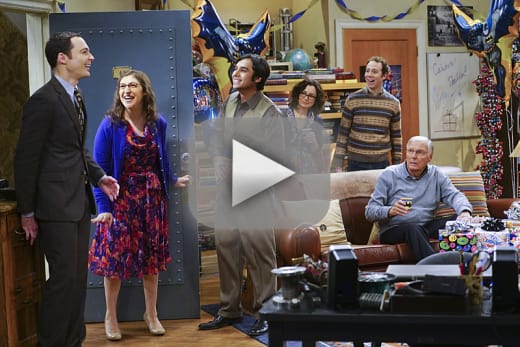 It's not that often that we get to see Sheldon's vulnerable side. We finally have the opportunity to learn why Sheldon doesn't like celebrating his birthday, and it's heartbreaking.
It turns out that sharing a birthday with his twin sister was difficult for Sheldon, particularly because the only people who came to their parties were her friends, and they's spend their time torturing him.
Usually from the way Sheldon talks, imagining him being sad in his childhood isn't exactly what we'd expect.
Sheldon has a good group of friends now, and they want to throw him the kind of party he's always deserved. That party even includes an appearance from Adam West to make up for a time when Sheldon expected Batman to come to his birthday as a kid. (Oh, and later: Stephen Hawking!)
Just as he's about to go into the party, we see his vulnerable side again. He looks like he's about to have a full on panic attack before walking into his apartment, but Amy manages to get him inside.
There are all his friends (notably, though, not his mother or his Meemaw – I guess they couldn't get there on short notice?) smiling at him and prepared to celebrate with a Batman themed party.
He breaks for real this time. It's too much for him, and he runs to hide in the bathroom. This is legitimate anxiety, and it's not the sort of thing we see from him often. It can be easy to dislike Sheldon at times, but then we get these moments – the ones that make us feel compassion toward him.
I've said before that one of the most important friendships on this show is the one between Sheldon and Penny, and that rings true more than ever when she goes to comfort him.
She's fully accepting of the fact that it's tough for him, and she even admits that there was a time she probably would have been in the group torturing him rather than being his friend.
We've seen Sheldon grow and change over the years, but the fact is, Penny has grown a lot too.
Other Thoughts:
Stuart is annoying as always, but at least Penny calls him out on it. Repeatedly.
I'm bummed that we don't get to see Sheldon's mom in this episode. Had Laurie Metcalf been there, it would have also made for a nice mini Roseanne reunion along with Sara Gilbert and Johnny Galecki.
I appreciate that Sheldon doesn't want his dessert yelling at him. Who would?
Bernadette: What kind of cake do you like?
Sheldon: My favorite is chocolate with strawberry frosting, three layers. And if there's writing on it, make sure it's not all caps. I don't want my dessert yelling at me.
What did you think of this episode of The Big Bang Theory? Share your thoughts in the comments below!
Need to catch up on past episodes? You can always watch The Big Bang Theory online right here via TV Fanatic! Watch online now!
Ashley Bissette Sumerel was a staff writer for TV Fanatic. She retired in September 2017. Follow her on Twitter and on Google+.