The Magicians Season 1 Episode 4 Review: The World in the Walls
Elena Zhang at . Updated at .
The Magicians Season 1 Episode 4 was by far the best episode of the season yet. I was completely blown away, given how mediocre the premiere was. 
Part of the reason this episode worked so well is because it narrowed its focus down to only a handful of characters, instead of veering off in dozens of different directions.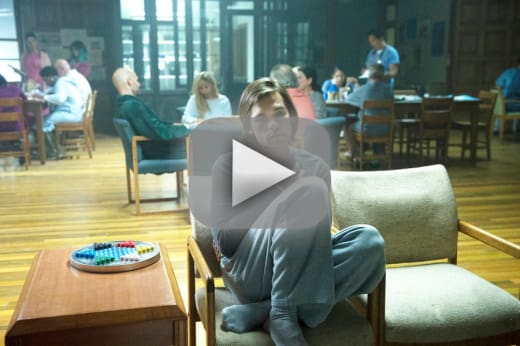 It was a great introduction to Quentin's mindset, and made his moodiness and attitude a bit more understandable. 
The premise of the mental hospital story was clever, and while I never truly believed that Brakebills was all just an illusion, figuring out how Quentin was going to break the spell was extremely intriguing.
The mental hospital setting also allowed for some truly unsettling moments, including Julia laughing in Quentin's face, and Quentin's father covered in blood coming to lobotomize him.
There were also some great comedic moments as well. I remember rolling my eyes at the Taylor Swift remark from last episode, but the joke ended up paying off here as Quentin and a group of mental patients start belting out Swift's "Shake It Off." Seeing the typically emo Quentin shimmy and shake all over the place did wonders in making him more likeable.
Also hilarious? Quentin's dream version of Penny, who spoke in a hugely exaggerated stereotypical Indian accent.
Besides seeing Quentin behave uncharacteristically light hearted, we also learn the reason he's been acting mopey for the past few episodes, despite having all his fantasies come true. The spell doesn't break initially because there was a part of Quentin that didn't want to go back to reality.
Quentin was similar to the Madness Maker in that he feared what he didn't know. Rather than confront the horrors and madness of life, the Madness Maker only wanted to play games he knew he could win.
Similarly, Quentin wanted to remain in a safe little bubble, retreating into his fantasy world just like he did in high school. He didn't want to face the possibility that he might actually be a nobody, just like he always feared.
Jane sagely advises him to stop playing, and start living. Hopefully now Quentin will start to truly embrace his identity as a magician, including shedding his "woe is me" attitude and having more fun.
I need to be taught magic because I need to decide what magic is...for me.

Quentin
We also get inside the head of Julia in this episode. The very fact that she helped create the spell shows she's feeling vindictive after her last confrontation with Quentin. However, she quickly shows remorse when she realizes the spell could have lasting effects.
Maybe there's still a part of her that cares about Quentin after all.
I'm actually itching to find out Julia's fate, especially after Marina kicked her out of the Hedge Witches club. Getting cut off from not one, but two avenues of magic must really sting. It's going to be interesting to see if Julia tries to get back in to the magical world, and if so, which path she'll choose.
Given how guilty she felt about messing with Quentin and seeing how crazy Marina can be, I'm guessing Julia will try to get back on Quentin's good side.
You don't know what cut off is. But baby, you will.

Marina
Speaking of Marina, I am still loving Kacey Rohl's campy portrayal of the impish witch. There is absolutely no subtlety to Marina's psychotic nature, but given how fun her performance is, I have no problem with that.
I'm curious about what Marina did to get kicked out of Brakebills, and am excited to see what kinds of crazy magic she'll unleash next.
There were hardly any scenes with Eliot and Alice, and again, pushing aside the weaker characters for an episode was a smart move to get the audience interested in Quentin again.
Kady played a minor role, helping out both the Hedge Witches and then the Brakebills students. It seems like her loyalty truly lies with Brakebills, which makes me wonder how she got caught up with Marina in the first place.
I also enjoyed the mentions of Fillory in this episode. The recreations of scenes from the books, including the origin story of the Madness Maker, truly add to the fantasy of the series.
When the magical world becomes the norm, the stories from Fillory become all the more fascinating and strange.
What did you all think of this episode? Did the mental hospital illusion fool you? Were you shocked when Marina kicked Julia out of the Hedge Witches? Share your thoughts with us in the comments below!
Don't forget you can watch The Magicians online anytime right here at TV Fanatic!