Agents of Shield Season 3 Episode 12 Review: The Inside Man

Jay Ruymann at . Updated at .
Hive is revived as Agents of S.H.I.E.L.D. Season 3 Episode 12 begins, showing the moment that Ward's fresh corpse was taken over by this gruesome monster. Part of me wants to complain as a bitter Ward lover, but another cannot complain over the abundance of Brett Dalton on my television.
The gruesome twosome (Hive and Malick) continue to plot their plan for the "greater good," though it's unknown what that could be. Death to all humans? Death to the world?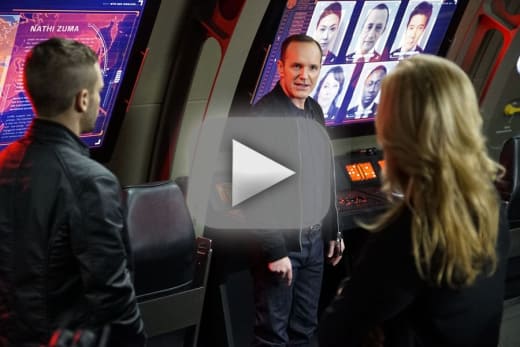 As Hive scorched 5 humans (not Inhumans, they aren't allowed to feed on each other) to regain Grant Ward's illustrious, with no crushed chest, body, I question whether this villain knows wha the greater good even is.
Back at S.H.I.E.L.D., Coulson and Talbot come together as he is named the new head of the ATCU, replacing Coulson's dead lover, another casualty in the game of love.
Still rude and intolerant, Talbot's fear of the Inhumans or "aliens" comes to its peak as they attend a worldwide symposium to solve their alien crisis.
What is the point of making him head of the ATCU if he cannot cope with extraterrestrial life, or the existence of things beyond his privileged perception?
As the team searched for a traitor, Bobbi, Hunter and May were tasked with protecting Coulson, proving just how big of a mistake it would be were Bobbi and Hunter to actually get their own spin off.
While I'd like to see more of them, Bobbi is the only agent who even challenges May and is probably the biggest badass in the agency, while Hunter is much needed comic relief through the dark twists the show takes.
Instead of writing them a new show and taking away that dynamic, because let's face it, it was already a mistake making Ward a villain, spend more time evolving their relationship with the others and stop focusing on unnecessary characters.
I was genuinely shocked when Talbot was revealed to be working for Hydra.
The kidnapping and threatening of his son was the catalyst for this blackmail, the only thing that could break a strong, intelligent, loyal man like Talbot. Though he may not agree with Coulson or his agency, Talbot sees the threat Hydra poses to their nation and the world.
An important moment was Daisy's personal involvement in the Inhuman hunt coming to light, as well as Lincoln's.
It's interesting to see these two together, but have such vastly different opinions of their powers. Daisy's powers helped her become who she was meant to be and anchor her to that. Lincoln's are a fight in his head, a constant struggle for him to control. 
Daisy still sees the powers as a gift, rather than a disease, and Lincoln's similar input, but interest in a vaccine, is going to cause some major drama within this new couple.
Could it possibly be the thing that drives them apart? How can Daisy feel good about herself when Lincoln criticizes the one thing she loves most: being an Inhuman?
With Hydra's plan furthering, what do you think it could be? How do you think Hive can be stopped if Inhuman powers don't work on him? Will Lincoln ever see his powers differently, or will this be a constant clash between him and Daisy?
Don't forget, you can watch Agents of S.H.I.E.L.D. online here at TV Fanatic! 
Jay Ruymann was a staff writer for TV Fanatic. He retired in January 2018.