Arrow Season 4 Episode 16 Review: Broken Hearts

Carissa Pavlica at . Updated at .
Cupid strikes again.
For a woman who who is so in love with love, Cupid sure is easy to topple, as we learned on Arrow Season 4 Episode 16.
A couple who is already beyond repair, although still in love, was able to bring Cupid back from her belief love was a bullet to the brain.
Seeing Laurel work as the DA was more interesting, but even that story wasn't riveting. Arrow is just not as compelling as it once was. 
The first time we met Carrie Cutter aka Cupid, she was annoying, but now she's just kind of pathetic. She had a moment to shine when she fell for Deadshot, and I'd be angry, too, if I had given in again only to lose the guy so quickly. She just has rotten luck.
But she can't seem to give up on the notion of love.
That might be nice for a Harlequin Romance (do they even have those books anymore?), but frankly, that's not why I started watching Arrow. Week after week, Arrow is about romance. Will they or won't they. How far and for how long. 
Take the whole setup with the faux wedding on "Broken Hearts." So much could have gone wrong, but Oliver wasn't thinking clearly.
First of all, Felicity was asked to step headfirst into harm's way just after she regained the ability to walk. Not cool. Secondly, Oliver used a mission as his opportunity to ask her to marry again. Way to take you head out of the game, Oliver. Third, Oliver had on Kevlar while Felicity had on a strapless gown. Speaks for itself.
The timing was completely off for him to be thinking about romancing Felicity, not just for the case, but for the writers to tie that into the case. There needs to be a separation. A time for the superhero action and personal time.
From a character perspective, it was also completely unexpected that Oliver would expect Felicity to leave the team. She's been a more consistent part of if than he was. He died twice and left twice, once to be Ra's al Ghul and the other to live with Felicity. Always, she remained with the team.
The team functions fine without Oliver. The same cannot be said for Felicity.
This breakup is why it's hard to have people together on shows like this. Because showrunners don't like happiness. They want fabricated drama. And let's be honest, Oliver isn't the greatest romantic lead. There were going to be problems.
Now we have them, and we all have to suffer. For how long?
Laurel was tasked with prosecuting Damien Darhk. I guess nobody considers him to be much of a threat, so an assistant DA has the case. 
In any event, we have what is supposed to be an uber bad guy who is on trial, who never really did much evil at all and has a wedding ring groove so deep on his finger even someone totally unfamiliar with the concept would know he was married. Yet he was hiding his ring as if that means he was single.
Thankfully, Lance going on the stand wasn't a complete waste of his career and the Judge ordered Darhk to remain held for trial. It's surprising for all he knew, Lance only had his own actions to report and no evidence on Darhk. I guess he wasn't investigating Darhk because they were collaborating. Bummer.
It would have been nice if they could have gotten Darhk for what he did to Felicity, at the very least. That wasn't even on the roster of crimes he was being accused of committing, was it?
We still have the grave mystery coming our way, and the internet is full of rumors of where that's heading. The more I think of that start to the season, the less I like it. It created undue stress and fan wars among the Arrow community. Do you feel closer as a group this season or more torn apart? 
Is watching Arrow pleasant and exciting or is it becoming a chore? What stories do you like and what stories do you care less about? Weigh in below.
Don't forget you can watch Arrow online if you want to recall the really fun times of Arrow Season 2, for example. Walk down memory lane!
Get a look at Arrow Season 4 Episode 17, "Beacon of Hope," now!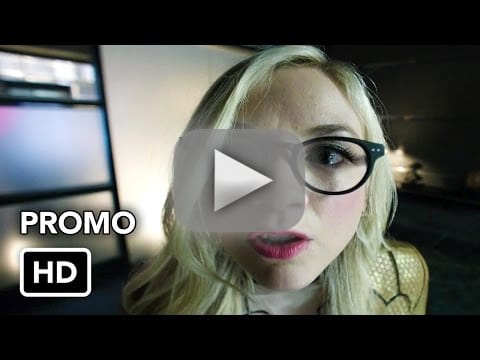 Carissa Pavlica is the managing editor and a staff writer and critic for TV Fanatic. She's a member of the Critic's Choice Association, enjoys mentoring writers, cats, and passionately discussing the nuances of television and film. Follow her on Twitter and email her here at TV Fanatic.