Bitten Season 3 Episode 5 Review: Of Sonders Weight
Carissa Pavlica at . Updated at .
Wow. I don't know that I've been moved to tears while watching Bitten before, but that surely happened watching "Of Sonders Weight."
Sometimes the simplest stories can have the most impact, and that seems to be the case with Bitten Season 3 Episode 5, as three of them diverged.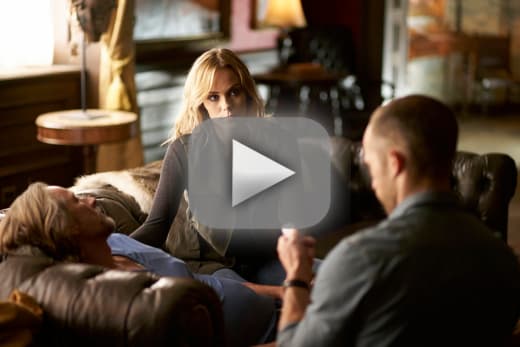 Elena and Sasha discussed how her mother died and Elena was separated from Sasha, Clay helped Alexei find out what happened during his first turn and Jeremy tried to determine how to proceed with Karen.
I admit to being harsh on Jeremy in the past for how easily he seemed to walk the line of his rules, but in the way this episode was laid out, it all fell together just how much it can hurt even the staunchest of leaders to make the toughest decisions.
Set before the Pack were a few things. Jeremy was tying up the loose end in Karen. What did she see? Would she be able to leave alive with the knowledge she had? 
Nick didn't seem to think there was any chance for her whatsoever when he was chatting with Elena. They all know how Jeremy feels about the rules. After all, Elena was almost killed because of them. Nick was watching Rachel, who is only living because of her baby, and her life isn't anything to brag about.
Because Sasha had an infected Wolf bite, the two had ample time to talk. Sasha took responsibility for his part in Natalia's death.
Elena: And her death?
Sasha: I shared our secret. I broke the rules. I let your mother see me change. And she loved me anyway.
Elena immediately rushed to his defense. The secret doesn't protect them. It kills them. I was surprised to hear Sasha tell Elena that he believes in the rules, even though he broke them, and to come to Jeremy's defense, as well.
Sasha: Everything he does is to protect you.
Elena: Everything he does is to protect his Pack.
Sasha: No. It's you. You are the heart of this Pack. Without you, it's nothing.
Because, at the same time, Clay was escorting Alexei into the woods to see how much damage he did. And it's pretty clear from Alexei's protests about the rules and how they should change that Sasha wasn't a big proponent of the rules as he was raising his children. Really, how could he be with a daughter?
And Alexei found himself very worried he'd never be able to lose that rush he had during his first change, his first human kill. Until Clay played him the voice mails on his victim's cell phone. The guy's brother was killed by a stray bullet during hunting season, and that's why he was in the woods.
So many coincidences that brought everyone together at precisely the right moment, only to have fate intervene and stop the in their tracks.
Jeremy was sharing things with Karen he hadn't shared with anyone. They had a lot in common as leaders and protectors of their family. Jeremy was ready to let her go, to have a second chance at life, until she realized her dream wasn't a dream at all. 
I don't know how you could possibly keep the horror off of your face in a situation such as that, and she kind of knew as soon as she thought of it that it was the last thought she would have, but the distress Jeremy suffered as a result was awful.
He had just bonded with her and the weight was off of his shoulders. He was ready to walk her out, truly. To have to turn on a dime and kill her cut him to the quick. His feelings continued as he left the Pack in Elena's hands.
I don't think he's going to step down, as I understand happened in the books. I think he's going to go out fighting. The way they were saying goodbye felt very final. The performance Greg Bryk gave was incredible. The stoic Jeremy was gone and the man who loved his Pack arrived in his place.
It was beautiful and terrifying at the same time, because I'm not sure which one I want to be out there fighting Roman.
Will everyone hang back and wait, allowing their leader to do what he must, or will they join him? What do you expect to happen as the season continues? Were you as moved as I was by what Jeremy went through?
Drop me a line and watch Bitten online if you need to catch up. This is one you don't want to miss. It's the very best of what Bitten is all about. Catastrophic beauty.
Carissa Pavlica is the managing editor and a staff writer for TV Fanatic. She's a member of the Broadcast Television Journalists Association (BTJA), enjoys mentoring writers, wine, and passionately discussing the nuances of television. Follow her on Twitter and email her here at TV Fanatic.