Blindspot Season 1 Episode 13 Review: Erase Weary Youth
Kelly Thompson at . Updated at .
The horrible OPR Agent Fischer is back on Blindspot Season 1 Episode 13, and he is here to find himself a mole.  
Fischer is the worst (but John Hodgman plays him to perfection), and with how he treated Patterson two episodes ago, there was no way Jane was slipping past him this time.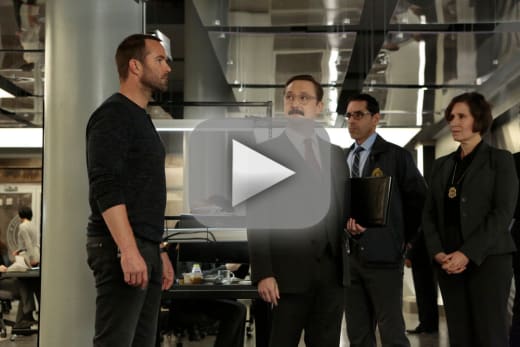 The mole investigation very easily pointed in her direction and to say Fishcer used that to his full advantage would be an understatement.
Jane is such an easy target because she is almost like a child. A child that can bring you to your knees with one punch but a child nonetheless. She is just so innocent and her face is the biggest tell ever.
She's an easy target, and add in her unbelievable lie detector taking skills, Fischer put his talons in her and never pulls them out.
Fischer's story may have been completely off base when it comes to Jane being a Russian spy, but he was pretty on target with her being involved in CIA Agent Carter's death.
She did lose her detail and then try not to be seen on any camera so it makes sense that this would lead to people asking questions about what Jane was up to that night. Will Jane's involvement in Carter's death come about sooner or later? Yes, but probably not until the season finale.
The interrogation scenes with Fischer asking the team questions was a master class in good editing. It was the best scene of the episode. What is great about this show is that the team obviously cares about each other and wants to protect one another but they are still FBI agents.
They tell the truth and that is refreshing when every other procedural cop/agent show agents lie to superiors; that is just not what happens in the real FBI.
Patterson: It's her protective detail, she's not a prisoner.
Fischer: Not yet.
The second best scene of the episode is Jane being a better fighter with her hands handcuffed behind her back than men who's hands are free. Honestly, is there a person on planet Earth that Jane can't take down with a one-two punch? Jane is able to escape because Weller never waivers in his belief in her.
He is the only team member who believed there was no chance Jane was a Russian spy. He lost it on the Russian embassy asset so the asset would tell the truth, and he lost it on his sister about not being able to protect everyone. Weller is clearly struggling over Jane not coming to meet him a few nights ago.
One kiss does not mean we are romantically involved.

Weller
Jane is trying her best to stay away from Weller but as stated above, Jane's face gives her away. She wants to be with Weller but there is just no way that she can be fully honest with him at this point. The Weller/Jane drama will continue for the length of the series more than likely but luckily we have a new couple.
Reade comes clean to Weller about dating Sarah, Weller's sister. Weller tells Reade to end it, but this is not the end of the Reade/Sarah coupling, especially if Sarah has anything to say about it.
All it took was a terminal illness and the return of a murdered girl to bring the Weller family back together again.

Sarah Weller
The last couple of things we must discuss is Reade and Mayfair deciding they don't trust Jane or her alibi about where she was the night Carter died. Could this be the beginning of the end of Jane working with the FBI or will this lead to Mayfair or Reade's death?  
Also, someone is watching or spying on Zapata. Who? Why? This comes out of no where. Could the CIA think that she is somehow involved in Carter's death?
So many questions that need to answered. Do you have any theories? Need a refreshers before forming any theories, watch Blindspot online here to help you get your thoughts together. Or do you agree with my thoughts/theories?
If so, let TV Fanatic know by reaching out to us (or me!) on Twitter!
Kelly Thompson is a staff writer for TV Fanatic. Follow her on Twitter.