Colony Season 1 Episode 8 Review: In from the Cold

Carissa Pavlica at . Updated at .
It turns out there is more than one man (and woman) on the moon!
We learned on Colony Season 1 Episode 8 that Carlos is alive, along with others taken to the factory. The factory is, in fact, on the moon. I have no idea what they're doing there, and it didn't look like Bram and his teacher saw much other than a shadow that didn't belong.
But it's coming together.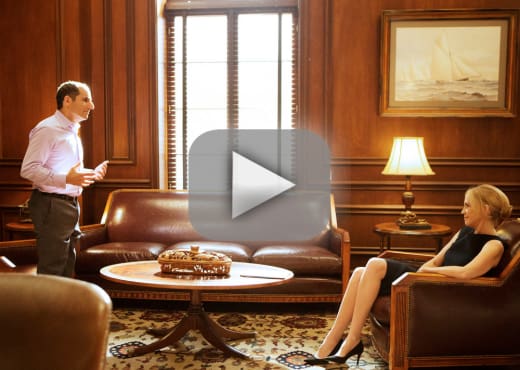 That tease was all we got, though, as the Resistance fought on, and Will and Katie right along with them. Will their poor family dynamic ruin things for the entire Block by creating problems for Proxy Snyder?
The conversations between Proxy Snyder and Helena were interesting during this hour. I've wondered if there was something unique about Snyder, and it appears there is.
Well I don't think order comes from fear. It comes from providing people with a decent quality of life.

Proxy Snyder
Helena was quoting Orwell to him, bringing to his mind the reference that all futures should look like a boot stomping on a face. That's not Snyder. He is sincerely a decent guy.
Being a decent guy in Snyder's case is might be his downfall. He trusted Will implicitly, and Will was looking out for his wife and family first. Somehow, that's not what Snyder expected.
If he's the only guy who is running his block like it's being run, and everyone else is more boots on the face, then what do the other blocks look like? I shudder to think. But do you remember when Snyder said he was the lesser of the evils? I don't think he was messing around. 
The communications between Will and Katie were worse than ever during "In From the Cold," and it resulted in a confluence of errors so dramatic that it resulted in the deaths of Rachel and her sons, as well as tarnishing the former armor Will was wearing in Snyder's employ.
Will and Beau are really bogged down deep in the thick of things now to save Katie's from being labeled a terrorist. Will lied about Quayle being a low-level terrorist in Broussard's cell to cut a deal with him, and Snyder was already nervous about upcoming performance evaluation.
Katie and Will are both honest in their own way, but with different people. Katie has been honest with her terror cell, to a point. She did tell them her family came first and she protected them above all others. She lied Will, to everyone, to do her work.
Will, on the other hand, was honest with Snyder until now, decided to trust his partner, was honest with Katie. And he's going to have to try to clean up a mess Katie and her team made because they didn't think everything through.
I was surprised Broussard was so trusting of Quayle. Did anyone expect that? Quayle didn't hesitate to make a deal for himself and turn on everyone. 
What I didn't get was what he thought would happen by having the entire operation under fire by Will and his team. Was he trying to trick Will into having to name his wife even though he tried to keep her out of it? Is that why Quayle set up the operation at the bazaar?
The conversation about motherhood and Katie's desire to get out led me to believe something disastrous was coming, and Rachel took the hit. If Snyder doesn't like things like hanging by the bridges, then who does it?
Nonetheless, Quayle is dead not only to keep Katie's secret, but to keep Will's. Jennifer's excellent manipulation of the Rolodex meant they may have to find more ways to ensure Snyder thinks they're on the up and up.
For now, the cell is dead, but as we hurtle into the final two episodes of the season, the one thing I can promise is that death of that cell is highly exaggerated. 
You've wondered why some characters are even on the canvas, right? Well, you're about to find out. Get all caught up when you watch Colony online and strap on your seat belts, because the final two episodes of Colony are pure adrenaline!
Things are not getting easier for the Bowmans or anyone they know. 
What do you expect to happen that will bring Colony Season 1 to a close? I'd love to hear what you think. Did those plastered on smiles at the end get to you? Hit the comments, guys!
Carissa Pavlica is the managing editor and a staff writer and critic for TV Fanatic. She's a member of the Critic's Choice Association, enjoys mentoring writers, conversing with cats, and passionately discussing the nuances of television and film with anyone who will listen. Follow her on Twitter and email her here at TV Fanatic.