Jane the Virgin Season 2 Episode 14 Review: Chapter Thirty-Six

Amanda Steinmetz at .
No one can ever say that Petra isn't a warrior woman!
On Jane the Virgin Season 2 Episode 14, Petra finally gave birth to the twins and bestowed upon them the silliest of duo names. Welcome to the world, Elsa and Anna. 
There was also a major development for Jane and Michael. Spoilers ahead, so avert your eyes in 3, 2, 1...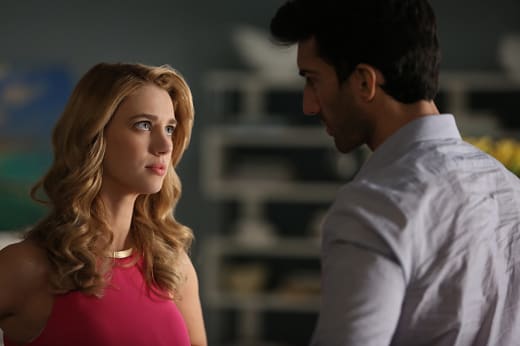 Well that didn't take long, did it? Michael asked Jane to marry him and she gleefully accepted. The proposal shouldn't come as a surprise when you take their history into account. Also, he pretty much stated they would get married as a fact when they were making out on the couch.
The proposal was incredibly sweet, funny and perfectly in tune with who they are as a couple. Michael could barely get the question out without Jane blurting "yes" over and over again. I love these two together, but I'm hesitant to pop the champagne. 
Michael: Are you breaking up with me now?
Jane: Never! No! I'm just saying I don't want to go back because we're better now, and I want you to know that you are absolutely who I want, and I'm not going anywhere.
While Jane and Michael were able to realize what broke them up in the first place, they still need to make sure their future plans align. They need to be a team going forward.
The love triangle between Michael-Jane-Rafael needs to officially end, and I'm not certain it will until Jane and Michael say "I do." Far too many shows drag on love triangles way past their expiration dates. There are plenty of storylines the writers could explore outside of the "will they/won't they" trope.
Elsewhere in the episode, Petra gave birth to her daughters. Of course nothing went according to plan as she started to go into labor just as Jane was about to confront Angelique Harper.
Without Rafael by Petra's side, Jane stepped in to be the support she desperately needed. Seriously, no epidural?! 
Suck it up, and push those babies out.

Jane
I loved how Petra immediately rejected Jane's kind words of reassurance and only responded to Jane giving her a cold, calm kick in the ass. Jane is very different than Petra, but she knows how to speak her language, so to speak. 
Watching Petra become a mother will be an interesting journey, and it's exciting to see how this will shape her relationship with Rafael going forward. He is now the father of three children. This is the absolute worst time for more family drama, so of course we cued Derek's arrival at the Marbella.
Speaking of family drama, Xo's confrontation with Alba was long overdue. Xo discovering Alba had slept with someone before marriage was eye-opening for her.
You have to figure that if Alba had just been honest with Xo when she was younger, their bond would be a lot different. Alba was hypercritical to judge Xo having premarital sex.
Extra Thoughts From The Episode
The whole Rogelio being held hostage storyline is kind of a yawn-fest. Is it just me, or does it seem like Rogelio has barely put up a fight against Lola? She's tiny! He could easily have taken her down. 
Despite not caring for the hostage storyline, I did love the # game in this episode: #RogelioDeLaDayLewis, #RogelioDeLaBrando, #RogelioDeLaDeniro
I definitely let out a laugh when Rafael went over the different birth control methods with the women he was about to sleep with.
So over to you guys! What did you think of the episode? Are you happy that Michael and Jane are engaged again? Is Derek going to be bad news for Rafael? What are your predictions for Jane the Virgin Season 2 Episode 15?
Sound off below, and don't worry about missing any episodes. You can watch Jane the Virgin online right now via TV Fanatic!
Amanda Steinmetz was a staff writer for TV Fanatic. She went into retirement in June of 2027. Follow her on Twitter.