Law & Order: SVU Season 17 Episode 19 Review: Sheltered Outcasts

Jack Ori at . Updated at .
It looks like Carisi's questioning everything he's ever known.
On Law & Order: SVU Season 17 Episode 18, his illusions about the Catholic church were shattered.
And on Law & Order: SVU Season 17 Episode 19, going undercover at a homeless shelter for sex offenders further shook his foundations.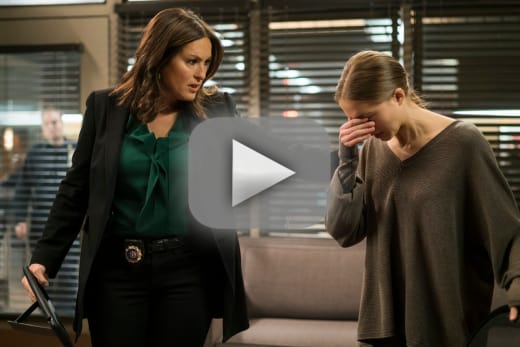 Rollins was afraid that Carisi would be seriously hurt during his undercover assignment, but she was unaware of what was really going on with him.
I think if they get 20 years, they're getting off too easy. But when you sit down with them, play dominoes, you wonder, are they the same guy 20 years later they were when they went in?

Carisi
Carisi's worldview used to be simple: he was a devout Catholic who went into SVU because rapists were bad guys. But thanks to his undercover assignment, he began to realize the world wasn't as black and white as he'd thought.
His impassioned defense of his new friend Richie suggested he was getting too involved with the guys he was supposed to be investigating. He began to see them as deeply flawed human beings who nobody would give a second chance to rather than simply as perps.
Carisi: Hey Richie, I wish I could say I never doubted you.
Richie: Yeah well, I'm a convicted rapist. My whole life people are gonna doubt me.
Carisi's suspicions of Richie were heartbreaking because they caused him to lose a potential friend. Richie went away realizing that he once again had been under suspicion because of his past, and Carisi realized there was no coming back from his error as far as their burgeoning friendship went.
It seemed to make Carisi question the entire system.
In a way, this makes rapists sympathetic, something that doesn't generally sit well with viewers. But in this case, that might have been the point. These guys were branded sex offenders for life and were judged for their crimes forever. The vigilantes who tried to beat Carisi with baseball bats didn't get into any trouble at all.
And only after getting to know them did Carisi realize they were still human beings.
Or we can get your PO officers down here, check your calendars and a spot check for drugs.

Rollins
Rollins used blackmail to get the guys to cooperate with being questioned after the rape. This is the second or third time in recent SVU history that the cops have used this kind of technique. Personally, I'd rather not see the lines between good guys and bad guys be quite so blurred. 
Carisi, you're holding your back. Are you sure you don't have to go to the ER?

Benson
Other than that, Rollins' main function throughout the hour seemed to be to worry about Carisi. It looks like their relationship is growing. I wonder where this will lead and if Donal Louge's character will show back up just as Carisi is bonding with the baby.
You people know about this homeless shelter full of deviants?

Sophie's dad
I'm glad that someone other than one of the guys at the shelter turned out to be the rapist/murderer. The victims' families were so sure that it had to be one of the sex offenders, and homeless people are so often depicted on television as violent criminals.
Playing against this stereotype was a smart move, though I suspected the attorney from the moment he walked through the door. Something seemed off about him.
Fin: A lot of things are changing around here. I mean, Rollins got a baby, you got a baby.
Benson: You want a baby? (pause) You want a life?
Fin: This is my life.
The Fin subplot was interesting. I was wondering why he was in such a bad mood. It's been a long time since Ken has been mentioned; hopefully this means he will make another appearance soon.
So what did you think? Is Carisi's new worldview going to lead him towards a breakdown by season's end? How soon did you realize the lawyer was involved in this? Was I the only one who hoped Carisi advocated for Richie to be downgraded on the sex offender list after all was said and done?
Weigh in below, and don't forget you can watch Law & Order: SVU online if you missed anything.
Jack Ori is a senior staff writer for TV Fanatic. His debut young adult novel, Reinventing Hannah, is available on Amazon. Follow him on Twitter.