Scorpion Season 2 Episode 20 Review: Djibouti Call

Allison Nichols at . Updated at .
I love Tim Armstrong so much.
On Scorpion Season 2 Episode 20, Cabe gets a new trainee named Tim Armstrong. I fell in love with him immediately. Of course it doesn't hurt that Tim is played by one of the nicest people I've ever met – Scott Porter.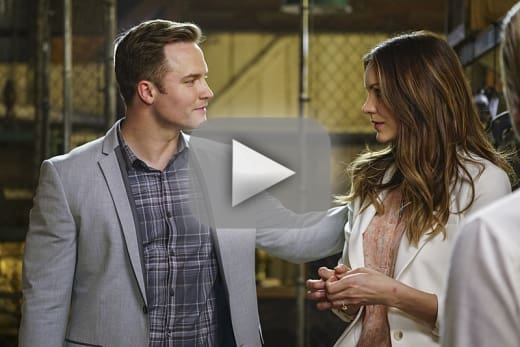 Tim was a fun addition to the team. It was amusing to watch everyone react to him. His initial meeting with everyone in Team Scorpion was fantastic. I loved watching everyone (minus Walter) warm up to him, and also Toby not holding back and immediately starting to pry.
Of course, Walter had issues with Tim. The logical reason was that Tim posed a threat to Walter's potential relationship with Paige, but thankfully, that wasn't the only reason.
Walter was threatened by Tim's relationship with Cabe. While Walter hasn't had the best relationship with Cabe, he's still an important father figure in Walter's life, and I liked that Walter was worried about his standing with Cabe. It showed how much Cabe means to him.
The one issue I had was that Walter immediately assumed that Tim was lying to everyone. Okay, well if we use logic, it would make more sense that Homeland is lying to everyone because Cabe wouldn't be led around by some trainee.
I understand that, even though Walter doesn't want to admit it, he's jealous of Tim, and that's part of the reason why Walter was suspicious.
However, Happy or Sly should have pointed out that the whole mission was off, and that's not something that Tim could do by himself. It had to come from higher up. It's not like Homeland has never lied to Team Scorpion before. Did this bother anyone else?
Tim is being marketed as a threat to Waige. Personally, I don't really see it.
Sure, if they were dating then maybe, yeah, Tim could pose a threat. Right now Waige is at a standstill. Paige isn't making a move and neither is Walter. The way I see it, Tim could be a blessing for Waige fans.
Aside from Ralph's father, Walter hasn't really seen Paige in a relationship. He hasn't felt jealousy or something else that could push him to leave his comfort zone and ask Paige out on a date.
Right now, Paige and Walter are happy living in this land where they are safe. They are spending time together and flirting, but they haven't made any game changing moves. There hasn't been a real threat that could take one of them away from the other, so there hasn't been a reason to make a move.
Tim might just be what Walter needs to step up, and he could also show Paige that the person she really wants to be with is Walter.
I hope that Tim is more than just one side of a love triangle. I want to see Tim become a part of the team and have a great dynamic with everyone. He's a way to shake things up. Do you think that Tim poses a threat to Waige?
Before diving into the absolute hilarity that was the rescue mission, I just want to talk about one more thing that I really enjoyed about Tim. He took charge.
When Cabe was taken, Tim stepped up and briefed the team and was able to provide them with all the information they needed to come up with a game plan. Tim doesn't mess around, and he's more than qualified to work with Homeland and Scorpion. What did you think of Tim?
This rescue mission and bowl swapping mission was just so much fun. I mean all of Team Scorpion was on site and sneaking around. How often do we have all of them out and about like that at once? I loved it.
Sylvester: Are there any monkeys on the base?
Happy: Okay don't embarrass us in front of the marines.
Sylvester: They make me very uncomfortable. They are human like, and yet they still throw their feces.
Sly trying to be covert and being attacked by the presence of monkeys was hilarious. I'm so disappointed that we didn't see how he managed to get away from the monkey that landed on his shoulder. Then, we were gifted with Toby and Walter failing at taking down a guard.
I really love when Team Scorpion is a fish out of water. It's just so much fun to watch. We often see the team have to work through some insane situation, but it's more of them problem solving when something goes wrong. It's not them trying to get out of harm's way or take down a guard. What was your favorite moment of the case?
What did you think of the episode? Are you excited that Tim is going to be sticking around? Leave your thoughts in a comment below.
Remember you can watch Scorpion online anytime via TV Fanatic.