Who else wouldn't mind being Detective Fisher's nurse?
It really appears as though they fixed some of the kinks on Stitchers Season 2 Episode 1. They've finally fleshed out characters and made many of them more likable. It also turned out to be an extremely informative hour but also brought up a lot more questions. 
Let's get right down to it and discuss "2.0."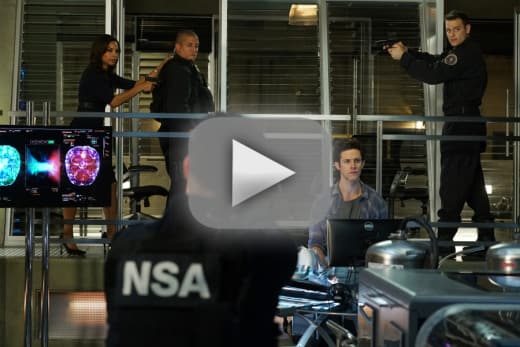 Even though we suspected Cameron was going to make it, it still made those first couple of minutes hard to watch. I wasn't surprised Kirsten decided not to tell Cameron everything she saw when she was stitched. Kirsten still needed time to come to terms with things, and she couldn't bring it up to Cameron until she knew how she felt.
I also found myself agreeing with Camille about this new Kirsten. A lot of people had a problem with Kirsten's cold demeanor, even though it made sense, and giving her emotions opens her up to a lot of different situations. I'm actually a fan of the theory of her stitching herself into Cameron reversed her temporal dysplasia. 
With these added emotions I imagine things are going to be a little more difficult for Kirsten. I fear the same thing that happened to Marta will possibly happen to Kirsten if she isn't able to handle all these new emotions. At least they came up with a different suit to address Kirsten's personality change. 
It was actually kind of comical listening to Kirsten and Cameron banter back and fourth. It's clear Kirsten wasn't the only one who changed after the stitch. I understood where Cameron was coming from, but the man still needs to take it easy. Who else loved hearing Kirsten talk about the memory of then they were kids?
I was disappointed how quickly they killed off Les Turner. Even though the guy was a complete creep, he was a wonderful bad guy. I was kind of shocked they'd stitch into his mind without taking precautions. Les had a lot of secrets, and he knew when he did eventually pass away they'd stitch into his mind.
Maggie taking the gun and refusing to take the blame for Turner's death was fantastic. As much as Maggie disliked the guy, she'd never have them stitch into his mind knowing they'd see her kill him. It was interesting how they put together his jumbled memories, but I knew they wouldn't find out who the killer was. 
At least the whole stitching into Turner wasn't completely useless. For Maggie being so high up in a secret government agency, she really doesn't know a lot of what goes on. I didn't understand why Kirsten was getting angry with Cameron for helping Tuner – he didn't know what the guy was planning. 
I'm really looking forward to seeing what this project grasshopper was and how Kirsten fits into this entire thing. It's become clear someone, possibly Kirsten's father, wants to use Kirsten for something even bigger. 
In the end, Kirsten still didn't come clean about what she saw in Cameron's memories. Cameron has to know Kirsten saw herself in his mind and it just wanting some type of confirmation. Being in the elevator would have been the perfect time for her to come clean. 
Now it's your turn! What do you think project grasshopper is? Do you think Kirsten's father will be coming for her soon? Are you still wondering if Kirsten's mother is possibly still alive?
Don't feel bad if you missed out! You can watch Stitchers online now via TV Fanatic. Just make sure to come back to let us know what you think. 
Samantha McAllister was a staff writer for TV Fanatic. She retired in November 2018.