Suits Season 5 Episode 16 Review: 25th Hour
Paul Dailly at . Updated at .
Pearson Specter Litt, what will become of you?
After Suits Season 5 Episode 16, it sure looks like the firm is no more. There's pretty much no way you can come back from having all of your staff walk out.
Can you really blame them though? Who would want to work for a firm who hired a fraud and notoriously tried to cover their asses?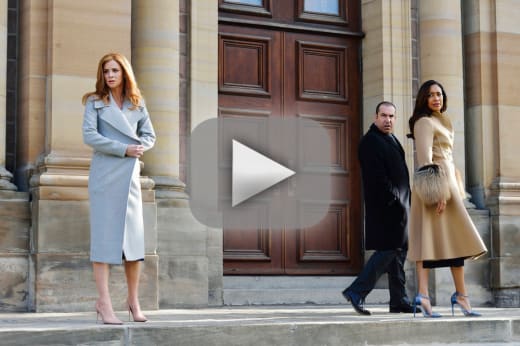 Everything Jessica built has went the way of the flip phone and don't expect her to take that lightly when the show returns in the summer. She's going to be pissed at Harvey the most and probably Donna, but that won't last for very long. Also look for a name change in the firm, or expect it to be gone entirely. 
There was something that made "25th Hour" feel like a series finale. Could it be that Mike FINALLY faced up to his crime? I have to give props to him because I honestly didn't think he had it in him. 
The Mike Ross of Suits Season 5 has been selfish to say the least. His decisions divided his loved ones. He committed the crime, so he deserved to do the time. Sure, Harvey played a part in it, but Mike should have known better. 
However, two years is a very small price to pay for what he's done. He has friends for life and a fiance who is going to wait for him. She could have been his wife, but after seeing the look on her parents' faces, it made him realize the true extent of what he's done.
That can't have been an easy decision for him. At least if they were married there would be a slimmer chance that she would move on without him. You can bet your bottom dollar that her mother and father will be lining up a group of worthy lotharios to try and sway her away from Mike. 
That's only natural from parents. Why would they want their daughter to marry someone who has spent a stretch inside?
Let's get to one of the more pressing points of the finale. That jury was going to find him innocent! I was so sure it was a guilty verdict and that in his own way, he was doing the right thing. The plea deal is like a slap on the wrist compared to what would have happened if he was found guilty by trial. 
I'm surprised Rachel didn't feel the same. Obviously it's a bitter pill to swallow, but would you rather lose the love of your life for two years or seven? 
In two years when he gets out, there's got to be a witty remark about how lucky they both really are.
The whole final scene was fantastic. I loved how Harvey was the one to take him to jail. Harvey was the one who introduced him into the world of law, so it was only fitting that he would be the final familiar face he seen before taking a hiatus from it. 
We're left at a very interesting time for the show. The central plot is over, but there's the whole thing with whether the firm can survive with skeleton staff. Did anyone else expect a time jump? 
I wouldn't have minded a few month skip, but I don't want to see one that picks up when Mike gets out. We need to see how the central characters pick themselves up from this mess. It wouldn't make sense to have the two years explained in a matter of scenes. 
"25th Hour" was a fantastic ending to a fantastic season. Everything seemed to fall into place naturally. It leaves us wondering what will become of everyone. How will they rebuild their lives in the aftermath? It's not going to be an easy task, but it's going to be intriguing to see it all play out!
Other tidbits from the episode:
Jack might be a snake, but why should he have stayed with the firm that would never make him partner? I totally get that Jessica was pissed, but no one wants to be in a sinking ship. 
Harvey made me laugh out loud when he barged in the courtroom and shouted expletives about Gibbs. The judge was seriously pissed off with him and was probably he happy that she wouldn't see him for a while. 
It was nice of Gloria to force Harvey to toughen Mike up for prison. He needed it, but that fight between the two friends was heartbreaking. 
Can we get Harvey and Donna together at some point in Suits Season 6? I don't think that's too much to ask for considering everything they've been through. 
Will the firm really have lawsuits coming from everywhere or was Jessica overreacting?
Remember you can watch Suits online right here on TV Fanatic. Get caught up on all the drama now!
What did you think of the final hour? What's going to happen next? Hit the comments below to discuss!
Paul Dailly is the Associate Editor for TV Fanatic. Follow him on Twitter.