Supernatural Season 11 Episode 16 Review: Safe House

Sean McKenna at . Updated at .
Should we be worried about Rufus' "oldest rule" the closer we get to the Supernatural Season 11 finale?
I'm hard pressed to think that Sam and Dean are on the chopping block, but might Castiel's time be up, especially in letting Lucifer in? Might he be soon making a sacrifice that puts an end to his time on the show?
I certainly hope not. After all, Rufus sort of amended his rule by the end of Supernatural Season 11 Episode 16.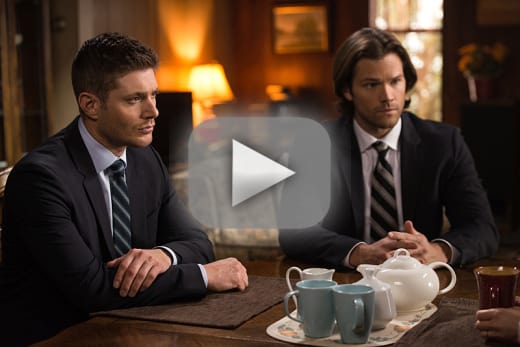 Honestly, I was worried about "Safe House" and the return of Bobby and Rufus. Supernatural Season 11 Episode 15 didn't quite send us into the month-long hiatus on a high note, and I feared that bringing back familiar characters could be a cheap tactic to smooth over a less than interesting episode.
It was such a pleasant surprise that this was a satisfying return, and one that didn't hinge on the larger story of the Darkness, even though it still referenced it with a few quick lines of dialogue.
If the CW is looking for its Supernatural spin-off, it should be with Bobby and Rufus. It'll probably never happen, but Jim Beaver and Steven Williams have been fantastic as Bobby and Rufus, and their chemistry, especially in this episode, makes them an enjoyable watch.
Their banter was top-notch, and it was great to see their personalties shine through, even if they had a Grumpy Old Men vibe.
And who didn't love that their FBI names were a shout out to Riggs and Murtaugh from Lethal Weapon?
But it was the use of blending the old case with the new that really stood out, making both the past and the present engaging and seamless. It wasn't wasted screen time telling the same story.
And I loved how Sam and Dean and Rufus and Bobby came to different conclusions but sort of wound up in the same area. Plus, it was great jumping back and forth without making it feel like some jarring flashback.
What's more, Sam and Dean had the luxury of some Men of Letters info to allow their end game to be killing the soul eater rather than just trapping it.
I was even pleased with how creepy the soul eater was and the general atmosphere that surrounded the case. It never felt cheesy, and the very minimal time of actually seeing the soul eater made it that much scarier. It was all about those creaks and anticipatory moments that elevated the creature of the week.
It was also pretty funny that Dean lost out on the rock, paper, scissors battle, forcing him to be the one to get taken by the soul eater.
I was a bit confused by Dean seeing Bobby while he was in the nest, but at least it was sort of explained in the end about space and time.
If anything, it was great to see that reiteration and care Bobby had for Sam and Dean during that glimpse into the past. But I also really liked that it was another look at Bobby working something outside of the larger story, and even Dean's humorous call telling Bobby to stop sitting around reflected that.
Not only was Bobby not sitting around, but he'd been spending tireless nights trying to find a way to help out his boys. And we've seen over the seasons just how much Bobby has cared for Sam and Dean.
It definitely made for the right amount of nostalgia with that fresh look at the character rather than just bringing Bobby or Rufus back as ghosts. Seriously, though, I'd love to see another episode with Rufus and Bobby on the case.
This was an enjoyable hour, especially because of Rufus and Bobby, but it was the mix of past and present cases while incorporating the parallels (with some excellent editing) that made it far more than just a typical one-off episode.
While there seemed to be some ominous hints at the future, the continued teamwork and generally positive ending made this a welcome return for Supernatural.
Did you enjoy Rufus and Bobby's return? Want to see them again? Sound off below, and check out Rufus and Bobby's past adventures when you watch Supernatural online now.
NOTE: Supernatural Season 11 Episode 17, "Red Meat," will air March 30 at 9 p.m.
Sean McKenna was a TV Fanatic Staff Writer. He retired in May of 2017. Follow him on Twitter.