The Magicians Season 1 Episode 9 Review: The Writing Room
Elena Zhang at . Updated at .
What a phenomenal episode. The Magicians Season 1 Episode 9 proved that when this show is firing on all cylinders, truly superb television can be created.
Dark, adult fantasy was in full force in this episode. The Magicians is always better when the storylines are operating outside of the confines of Brakebills.
When the plot is centered in the school, the writing becomes lazy, falling on superficial stereotypes and juvenile subplots.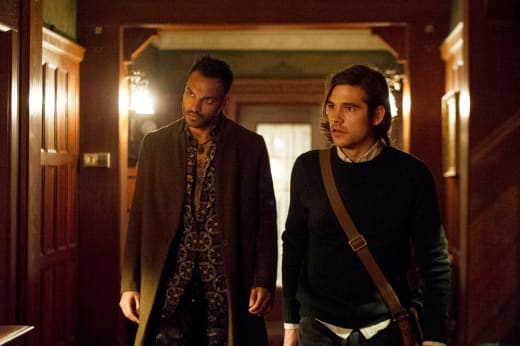 But when the gang goes out into the world, like in this episode, the possibilities are endless and anything can happen.
The truth about Plover was jaw-dropping in a horrific way. His backstory as a deplorable human being only serves to make The Beast more monstrous than anyone could have ever thought. 
Not only was the new information stunning and integral to moving the plot forward, the way Plover's true nature was revealed was a mark of wonderful storytelling. The haunted house setting is a classic for a reason, and provided an appropriately chilling backdrop to the events that unfolded.
This house is haunted as balls.

Quentin
The way Prudence was set up as a red herring was also inspired. I was fooled all the way up until the end, when it was shown that the innocuous author was part of the abusive household. 
Finding about Plover and Fillory will have a huge impact on Quentin's character. For his entire life, Quentin had been trying to escape into a fantasy world, a world he thought was better than the one he was currently living in.
Now, it turns out that Fillory is filled with just as much darkness as the real world. There are no fairy tales. Quentin will finally have to face reality and start living out his life in the here and now.
It's understandable now why Quentin had been so resistant to learn this lesson in the previous episodes. Over and over again, he was told to start embracing his life as a magician, and stop running away.
But even if he wanted to, he couldn't, because Quentin always had that last bit of belief in a fairy tale world to hold on to, a world where everything was better.
But now that this illusion is shattered, Quentin will have no choice but to finally live up to his potential.
Besides Quentin's character growth, Plover's reveal also makes the over-arching battle with The Beast more personal to the characters, especially Quentin. Before, The Beast was simply an evil creature whom everyone was afraid of for the generic reasons (he's dangerous and kills people). 
Now, Quentin realizes that he had been wrongly worshipping this murderer and rapist for his whole life. Quentin feels directly betrayed by The Beast, which will give Quentin the motivation he needs to really go after the villain in the coming episodes.
I also found it interesting how Jane and Martin's story serves as a parallel to Quentin and Julia's story. Jane had the ability to go to Fillory, like Quentin was accepted to Brakebills, whereas Martin and Julia always got left behind.
Julia: What am I supposed to do?
Richard: Whichever is hardest.
Both Martin and Julia were seemingly punished for their inability to enter the magical world. Now that we're seeing Julia find her way out of the darkness, I'm hoping that we'll also learn that Martin somehow learned to cope with being kept out of Fillory, and escaped the clutches of Plover.
It is a little frustrating knowing that Fillory is controlled by these omnipotent beings called Ember and Umber. They are described like gods, working in mysterious ways and deciding who comes into Fillory without explanation or reason.
If these beings are so wise, are all of the events that are transpiring simply part of their all-knowing plans? I'm hoping that there is more nuance to Ember and Umber; otherwise, faultless gods could become a deus ex machina, providing for unsatisfying storytelling.
In terms of the other characters, I actually enjoyed the interactions between Eliot and Alice. I was afraid that Alice was going to convince everyone to save the children, but was pleasantly surprised when Eliot convinced her that life is unfair, and not everything can be fixed.
Eliot's darker turn after Mike's death is giving his character a surprising amount of depth I didn't think possible. Slowly but surely, Quentin, Alice, Penny, and Eliot are becoming a dynamic group with natural chemistry, and completely enjoyable to watch.
What did you all think of this episode? Were you frightened by the haunted house? Did you guess the truth about The Beast? Share your thoughts with us in the comments below!
Don't forget, you can watch The Magicians online anytime right here at TV Fanatic!