You, Me and the Apocalypse Season 1 Episode 8 Review: Saviour Day
Elena Zhang at .
The emotional hits just keep on coming, with You, Me and the Apocalypse Season 1 Episode 8 being the most exciting episode of the series to date.
It seems that the heightened drama the show has always been capable of could not be fully realized until Jamie and Ariel's storylines collided.
After weeks of meandering plots and halfheartedly fleshed out characters, we're finally given an episode that is full of tension and excitement.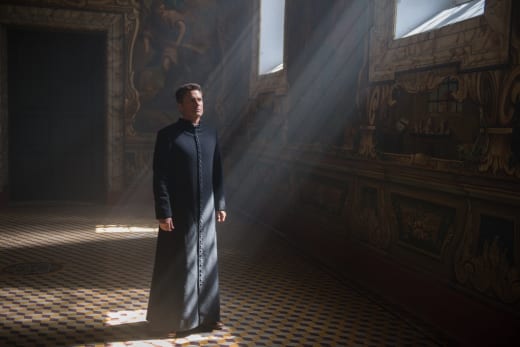 The hostage exchange plot managed to capture my attention for the whole hour, which is saying something given the previously lackluster episodes at the beginning of the season.
Funnily enough, as the drama became more and more serious, the comedic moments became more and more frequent. It makes perfect sense though, because when we become invested in characters and their fate, we become more sympathetic towards them.
And as the story becomes darker, the lighthearted moments stand out in stark contrast, and become all the more funny.
For example, the scene when Jamie was on the phone with Ariel pretending that he snapped was full of tension, with everyone freaking out about the situation. But it hilariously culminated in the normally calm and villainous Ariel absolutely losing his mind about Layla's foot being in a food processor. 
You don't put people's feet in food processors!

Ariel
On the flip side, Jamie wearing the giraffe hat with the bomb was a laughable image, but the underlying context of the scene made it intensely sweet instead of comedic.
The juxtaposition between light and dark is what the show has always been trying to accomplish from day one, but it never really succeeded until now. When we begin to sympathize with Jamie instead of roll our eyes in annoyance at his self-pity, the drama and the comedy finally come together in an organic and real way.
I've always believed that the most interesting and complex storyline this show had to offer was the religious aspect, and tonight proved me right in a profound way. Both Celine and Jude suffered a crisis of faith, and had to confront what they truly believed in once and for all.
For Celine, it was between her vows and her love for Jude. For Jude, it was between his vows and his love for God. Both of them initially turned back to their vows to the Church, Celine because she thought Jude didn't love her enough, and Jude because his work was his whole life.
But Jude finally had to face the reality that the Church was simply a committee of faulty men, and that he didn't have to stay within the Church in order to pursue God. 
I thought I was doing God's work. But He's out there, not in here.

Jude
Unfortunately, he realized this too late. It was devastating to see Celine finally believe she could have her dream honeymoon in Florence, only to find Jude's lifeless body hanging from the ceiling. 
Jude committing suicide would be fairly believable, having just witnessed his whole belief in the Church shattering to pieces. However, his death becomes suspect when we think about how happy he was at the thought of being with Celine, and being free of the confines of the system. 
The only logical explanation is foul play, committed by the cardinals and their need to keep their false messiah plans a secret. Hopefully Celine will see right through the setup, and uncover the truth for Jude's sake.
The show did itself a favor this week by weeding out the minor characters and focusing on the cast with the most character depth and potential for drama. Getting rid of Leanne was a great first step. Sidelining Scotty and Gaines was also a good idea, as they are all unlikable characters who drag the story down.
And as much as I love Dave, Paula, and Rhonda, it's better to leave them by the wayside, for a little while at least, in order to give the main characters the full attention they need.
What did you all think of this episode? Were you as shocked as I was by Jude's death? Do you think Celine will uncover the truth? Share your thoughts with us in the comments below!
Don't forget, you can watch You, Me and the Apocalypse online anytime at TV Fanatic!