Agents of S.H.I.E.L.D. Season 3 Episode 15 Review: Spacetime

Jay Ruymann at . Updated at .
Daisy gets a deadly glimpse of the team's future from a homeless Inhuman who is of no harm to anyone, but himself, on Agents of S.H.I.E.L.D. Season 3 Episode 15.
Chloe Bennet shines, once again, as Daisy's power mania further separates her from the human aspects of S.H.I.E.L.D. and she learned nothing from their awful, botched mission with the Watchdogs.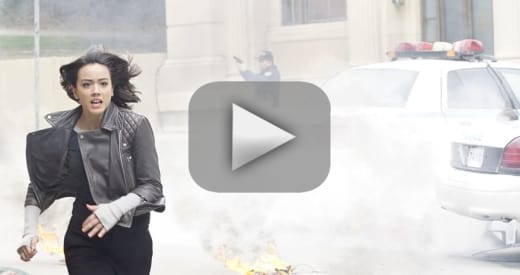 Daisy still is unable to see that her powers are an advantage, but not one she can, or should, take lightly. The Watchdogs existed because of fear, and her involvement with them did nothing besides prove them right for being afraid.
She used her powers to scare a member, shattering all of his car windows and basically torturing him, to get what she wanted, which in this case, helped the mission. Though she isn't considering the possible consequences.
The vision of the future that Daisy saw was focused solely around her involvement in the mission to save the Inhuman, but she stubbornly refused to sit out and let the very capable, if not more so, Agent May take the reigns. 
I understand wanting to be the hero and save another one of your own people, but putting your own life at risk and many others because of your personal feelings is not what an agent should do, but Daisy hasn't been thinking like an agent lately. 
She's blinded by her own abilities and being an Inhuman, taking the threat against her kind more seriously than her team.
The mission almost ended with her being killed by Malick and his new Coulson-amplified body armor that Hive gave to him as their anniversary gift, but the prophetic Inhuman sacrificed himself for her, giving her another glimpse into the future.
This time, she saw the flash forward scene that we saw in Agents of S.H.I.E.L.D. Season 3 Episode 11, giving it a bit more time to settle before the broken ship seeming catches on fire.
Malick's true purpose for helping Hive is revealed by Hive, who is also curious to know why someone with 9 billion dollars needs to help take over the world.
He is risen! What an improvement! Last time I saw you, you looked like an extra from Dawn of the Dead.

Malick
It's the answer we knew all along: Malick is power hungry. The legend has been passed down his family for centuries, sating that if Hive returns, they'll control the world together.
But Malick just wants physical power, which is granted to him with his new body armor that can squish a man's skull like gelatin.
The team is thrown as they finally find out that the beautiful Brett Dalton is still on the show playing Hive, in Grant Ward's body, who is working for Hydra and Coulson finally figures out that this thing is what Malick is reporting to. 
How long will that keep going? It seems that Hive is done with Malick and is ready to take his own path to get what he wants from the world, and we'll finally see his true form next week, according to the promo.
No one is as thrown as May though when Andrew returns, turning himself in to the agents to say his final goodbye.
Killer or not, their relationship is everlasting, but now that Andrew Lashed out, it's only a matter of time before the hard decision needs to be made.
Hopefully Jemma and May's guilt over Andrew will be put to rest now that he's in captivity and no longer killing innocents.
Next week, Hive finally reveals his plan for the Inhumans and the world, plus it looks like we'll be seeing more of the flash forward scene that all of us are so dreading.
Why did they have to use that unspectacular, overdone plot twist? It feels like a bad Arrow storyline. Oh wait, that's because it is a form of it. Never mind. 
Let us know what you thought of the episode in the comments below or on social media and don't forget, you can watch Agents of S.H.I.E.L.D. online right here at TV Fanatic. See you next week!
Jay Ruymann was a staff writer for TV Fanatic. He retired in January 2018.