Agents of S.H.I.E.L.D. Season 3 Episode 16 Review: Paradise Lost

Jay Ruymann at . Updated at .
On Agents of S.H.I.E.L.D. Season 3 Episode 16, Malick's unexpected vision of death by Hive leads him to take a trip down memory lane.
The flashbacks of Malick and his brother as their father died and they became twisted into Hydra's story were interestingly dark.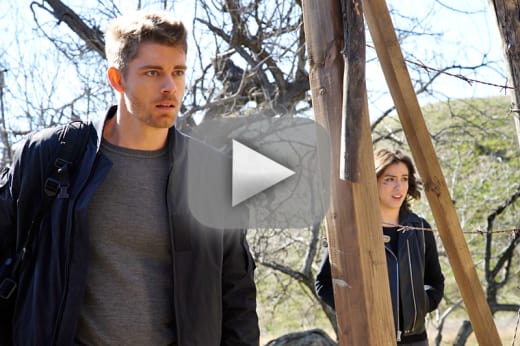 I didn't expect to get such a back story from Malick, but what started off tragic, ultimately was not. His father's death, being recruited because of their family ties to the Ancient Inhuman to bring him back, and the betrayal between Malick and his brother.
Am I surprised? No, not really. Gideon Malick is twisted, as we've seen, so it's no shock that he would betray his brother and get him sent to Maveth as Hive food. The threat from Hive while also having his brother's memories was an interesting concept, too, but I feel it's a little messy.
Hive remembers everything from everyone he inhabits. He remembers Ward's life, and Malick's brother's, but who is Hive? We saw a "brotherly" moment between the two after Hive murdered his daughter, in cold blood, but that was in memory of Malick's brother.
What is Hive's history? He had to be a person once, possibly have had a family, and now we know that the Kree had appointed him the leader of their Inhuman army centuries ago when they came to Earth.
Was he always an Inhuman, was he turned like Daisy, how did his life become this way?
Also, why does Hive need a Malick by his side? They're mere mortals, just cursed with the knowledge of Hive's existence passed down for centuries. Gideon had even told his daughter the stories. 
Now that the team finally knows Ward, or Hive, is alive, we had some interesting reactions, though some more revealing.
Daisy and Lincoln's trip to find information from a wannabe Inhuman resulted in a weird, metallic, Kree instrument, and Daisy discovering that Lincoln has a dark side and almost killed his ex-girlfriend. That, too, was disappointing. 
I wanted Lincoln to have a real dark side, gritty and horrible, but to see that this is who he is now and he overcame it.
Instead, we got some cheap drunk driving tale that didn't really do much for development other than force Daisy and Lincoln to have an adult conversation.
The rest of the team follows a lead, which allows them to bring in Hive's right hand man, the man who can throw fire extinguishers at your head without blinking an eye. Only they don't know it's a trap, and frankly, neither did I.
Hive knows this team better than they know themselves at this point. They were so easily tricked and stand no match to the Inhumans, which is a major problem on this show. 
The humans can't do anything to take out the Inhumans, so the agency is pushed into a corner. They rely so heavily on Daisy and Lincoln, because there's no way any human, even Melinda "The Cavalry" May, could take down an Inhuman like Lash. 
I want to go back to the simpler evils, where every member of the team can help on a mission and add something to the fights, but currently, it's an alien power war and anyone who doesn't fit into the scenario would die in seconds.
Coulson's reaction to Ward/Hive's return to Earth was what I needed to see.
All season long I've disagreed with Coulson, but never worse than when he killed Ward. In revenge. He crushed a man's chest for payback, which he finally saw as the team was being infiltrated and taken down by the Inhuman on their ship.
The agency has gotten so off course with justice, revenge, and helping people, that unnecessary deaths, like Ward's, were written off as justice.
That's not what government agents should do or how they should behave.
Just like Coulson, Daisy has crossed the lines several times. Against the Watchdogs, how she spoke down to Agent May because she lacked powers, the leadership she's appointed herself to because of those powers, Daisy has taken her agent status for granted.
She feels like a necessity now, she's no longer expendable. 
The team is now captured because of their stupidity, leaving Daisy and Lincoln to rescue them.
How will they do it? By uniting the Secret Warriors! Plus, Daisy's still grasping at the second vision she received of a team member dying. (Again, I'm still so over this plot device to create shock, especially after last week's Arrow episode.)
Will the team be able to recover from all of their poor decisions this season in time to stop Hive? What is Hive's mission? 
Don't forget, you watch Agents of S.H.I.E.L.D. online here at TV Fanatic! Don't forget to watch the beginning of this season again to see what fish oil supplements will give you Inhuman powers! 
Jay Ruymann was a staff writer for TV Fanatic. He retired in January 2018.