Eight weeks after being injured, Hodgins was still in a wheelchair and fighting for his recovery as his friends and family debated whether or not he should hold out hope on Bones Season 11 Episode 11.
Below, TV Fanatics Ashley Summered and Christine Orlando are joined by Pam from Castle and Bones Radio to debate if Hodgins will regain the use of his legs... if Cam should allow him back to work... and what their favorite moments were from "The Death in the Defense."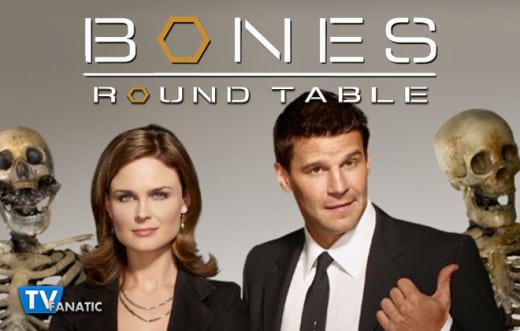 Do you think Hodgins will get back the use of his legs?
Pam: Yes, but I hope it will be next season as realistically you don't usually heal magically unless they time jump.  I'd like them to do at least the rest of the season as there is so much potential to his story arc if they keep him in his wheelchair. TJ Thyne is a superb actor and I can't wait to see how he plays this.
Ashley: No, I really don't. I think this is a permanent change, and it's one that will be really interesting moving forward. 
Christine: Much like Booth, I want to hold out hope but having Hodgins deal with learning to live in a wheelchair is a very different story for this character. I'm actually looking forward to seeing how this plays out for him and Angela. 
Should Cam have allowed Hodgins back to work?
Pam: Realistically no for insurance purposes but for his emotional stability I am glad she allowed him back to keep his mind busy and his mind off his injuries so as not to dwell.
Ashley: I think it's a definitely a tough call, especially considering she's both his friend and his boss. But I think it's clear that Hodgins needs to work for his well-being, so yes, I think she should have. 
Christine: In the real world, she wouldn't be able to let him back without his doctor's okay for liability reasons. But Hodgins would be horribly depressed if he weren't allowed to work which wouldn't help his recovery at all. I think perhaps his hours need to be limited but he definitely needs to be able to work to keep sane.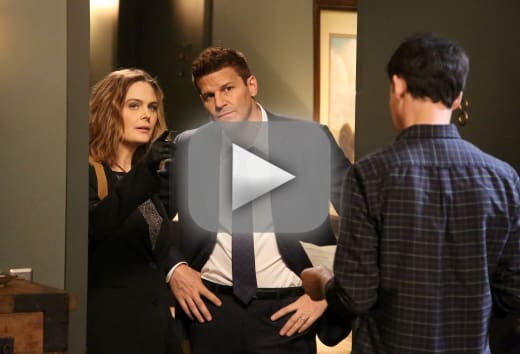 Nothing was mentioned about Arastoo in this episode, would you like to see him come back?
Pam: Not really as that means Cam will be thrown back with him and I'd like to see her explore a relationship with Sebastian. He's a mystery and sexy so we can explore that potential arc for the next 23 episodes.
Ashley: I was really on board with Cam and Arastoo a long time ago, but I don't know how I feel about them now. I think I'm just pathetic. But I do like Arastoo as a character either way. 
Christine: I'm over Arastoo. I'd like to see Cam move on and I agree with Pam that Sebastian has a lot of potential.
Was there anything in "The Death in the Defense" that disappointed you?
Pam: Yes, I would have liked to have seen more of Angie and Jack talking about what has happened since we left off with the couple after the accident. Also would have liked to have seen Angie and Temperance discussing her feelings about Jack's injuries. Maybe in upcoming episodes this will be  discussed.
Ashley: Not really. I think it was a solid spring premiere. As far as the characters, though, I was disappointed that Hodgins lied to Angela after that phone call. 
Christine: I hated that Hodgins lied to Angela at the end, even though I understood why. For his own sanity he can't give up hope and if she gives up hope it will really hurt him. Plus, I don't think he wants to feel like he's disappointing her.
What was your favorite quote or scene from this episode?
Pam: I liked when Wendell told Hodgins he was "King of the lab" and Hodgins reacted like he didn't quite believe it after what he has been through. The joking side of that was lost on Jack and Wendell. Wendell truly meant it but Hodgins wasn't sure he still was, even though he is.
Ashley: Nearly everything that came out of Caroline's mouth was a favorite quote for me. I love her so much. 
Christine: Brennan and Booth admiring their daughter's art work at the end. I really love the family scenes between these two. After 11 seasons, it's those moments that truly make me smile. 
Check back on Thursday for our review of Bones Season 11 Episode 12 and if you can't wait until then, you can always watch Bones online here at TV Fanatic. 
C. Orlando is a TV Fanatic Staff Writer. Follow her on Twitter.