Chicago Med Season 1 Episode 15 Review: Inheritance

Elizabeth Harlow at . Updated at .
For better or worse, we all inherit something from our families.
Addiction, poverty, illness, selfishness, or general douche-baggery – none of the legacies we saw on Chicago Med Season 1 Episode 15 were exactly heartwarming. Sometimes we have to make do with the endings we get, even if they aren't they fairytales we'd like.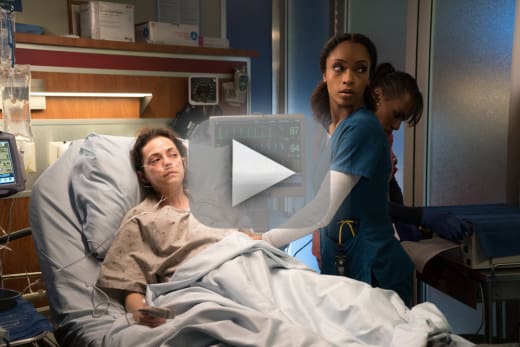 At least one story managed to finish on a positive note. I'm glad April realized that she was misdirecting her anger towards Tate. But I was even happier to have her two arcs intersect.
I've said before that April, on her own, is not the most compelling character. Noah was dropped in mid-season, and seemed like he might push her to pursue her dream of medical school through his own sheer incompetence. But then he disappeared, like Judy Winslow on Family Matters.
It seemed that instead of professional development, the writers were going to give her a love interest. I like Tate (and little Eric even more so), but the beautiful nurse being pursued by the handsome athlete felt a little high school fantasy.
Throwing Noah into her personal life to cause a disruption felt realistic and gave me a sense that Tate would support her goals as a person. I'd like to see them be more than just arm candy to each other. I'd be thrilled to see her baller beau support her dreams of medical school or getting her NP or something to fulfill her. 
This is why we all worked so hard to send you to medical school? So you could keep a bunch of party animals from getting hangovers?

April [to Noah]
It was very well done, but I found the surrogacy story to be the most upsetting by far. Still, I'm glad it was featured as laws on this issue vary by state and are sometimes woefully far behind the times. 
This was actually the second time the showrunners tackled surrogacy. Remember back on Chicago Med Season 1 Episode 1? The surrogate with the head injury? The parents there were more involved, and certainly qualify as better human beings, but that story hinted at the dark side of the baby business. 
As upsetting as the agency's contract was (somebody please call the local news to do an investigative report on these schmucks!), I was also pretty frustrated by Choi's trying to convince Neela to look at (and presumably accept) the baby. It was ethically shady, patronizing, and generally just gross.
The last thing this poor woman needed was a stranger passing judgment on her.
Sharon: What you're doing may be legal, but it sure as hell isn't right. No reputable surrogacy agency would have ever given Neela a contract like that.
Surrogacy Lawyer: This is an emotional process. I can understand you're upset.
Sharon: Don't you dare patronize me. What you do -- let's call it what it is -- human trafficking.
Nat's patient had the potential to have a happy ending, but the albatross around Mr. Newman's neck is probably going to end up dragging them both down. At least their temporary reconciliation inspired Connor to reconnect with his own family. Although his sister is dreaming if she thinks their mother's suicide is the only issue between father and son.
The medical aspect to the case was interesting, and more importantly, not easily predictable. But the conclusion felt like a cop out. The number of times a doctor has been able to recognize the symptoms of a presumably rare condition off the top of their head is beginning to become implausible. 
I did like how Nat was suddenly the one acting in an ethically dubious manner. I would give her a little more leeway than Will here, since her patient was a minor in an emergent situation with a considerable amount of pain clouding their judgment, but surely there was some other option than an opioid?
Nat: I just -- I can't believe what I just did. I have this teenage patient who adamantly refused drugs of any kind because addiction runs in her family, and I just convinced her heroin-addict father to let me give her pain meds anyway. What was I thinking? [pause] What?
Will: Well, I hate to say it, but going against the patients wishes because you think you know better...sounds like something you'd bust my balls for.
The blast from the past certainly helped to humanize Will to the audience, but he's in even hotter water at work now than he was before. Honestly, I was just surprised there was an attending working in the ED other than the eternally lost Dr. Charles. 
A resident (especially the senior resident) would presumably know better than to contradict an attending in front a patient, but then you'd also think they'd fill their superior in on the full patient history before handing them off, as well. Honestly, with all the brouhaha over Jennifer, Will's chances at being hired were probably already pretty slim.
Still, there's no way this would have been his first encounter with Perrington or that this one event would be enough to poison her against him. We can definitely expect this to play out in the last four episodes of season one
You've got to be kidding me. Ginger Spice is our doctor!

Brian Tate [about Will]
.
We'll be one step closer to the season finale when Chicago Med Season 1 Episode 16 ("Disorder") airs on May 3rd. Connor will be moving forward in his training with Dr. Downey, but things might get a little rocky between them when they disagree over how to treat a patient. Will this impact Rhodes' decision about his future in medicine?
Choi will be hitting the streets with Sylvie Brett, and what starts out as a routine call ends up with them facing some unique challenges. Sharon will be scrambling to keep everything ship-shape when an officials make a surprise inspection visit, while Nat and Sarah deal with a dog bite patient who has them scratching their heads.
You can always watch Chicago Med online if you missed an episode, or just to relive all he excitement one more time. We'd love to hear what you thought of "Inheritance," so join the conversation in the comments section below!
Elizabeth Harlow was a staff writer for TV Fanatic. She left the organization in October 2018.